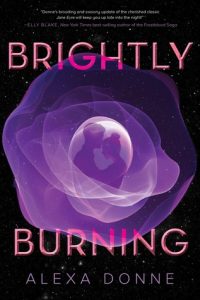 Brightly Burning
by
Alexa Donne
Purchase on:
Amazon
, 
iBooks
Add to:
Goodreads
Synopsis:

Seventeen-year-old Stella Ainsley wants just one thing: to go somewhere—anywhere—else. Her home is a floundering spaceship that offers few prospects, having been orbiting an ice-encased Earth for two hundred years. When a private ship hires her as a governess, Stella jumps at the chance. The captain of the Rochester, nineteen-year-old Hugo Fairfax, is notorious throughout the fleet for being a moody recluse and a drunk. But with Stella he's kind.

But the Rochester harbors secrets: Stella is certain someone is trying to kill Hugo, and the more she discovers, the more questions she has about his role in a conspiracy threatening the fleet.
**Many thanks to HMH Books for Young Readers for sending me an ARC. This in no way influenced my review-my opinions are my own**
This is one of those times where I emailed the publisher and didn't expect any response-and I didn't get one. Oh well, right? But then, one night when I had been having a bad day, I came home to the most exciting and unexpected package-this beauty of an arc. I knew I had to read it right away-and I'm so glad I did.
I just loved the two main characters so much. Especially, as many will probably agree, the captain. Hugo was absolutely breathtakingly adorable. Uncertain of himself, lonely, determined not to make the wrong decisions…but with a heart of gold and a quirky personality.
When Stella gets the job on his ship, he immediately has a connection to her. They begin to get closer, to hang out at their standing 'reading appointments' every night, and begin to form a bond that starts to ease the ache that being the captain of a ship brings.
I'll admit he broke my heart quite a few times. You could tell when they were hanging out he was desperate for someone he could talk to, relate to, be friends with…she would try to read and he'd continue talking to her and..agh those were just my favorite parts. Adorable.
And I enjoyed the turmoil that extra guests on the ship brought-I LIKE jealousy. It's just the BEST relationship jump starter [when it comes to books]. Come on now, I'm not THAT crazy-it may work in real life, but I certainly don't go looking for it nor do I condone it.
But here I am…just searching for more to say past that. This book was pleasant, it was well-written, even (my biggest fear when it comes to asking for ARCs, because I like to know what I'm putting my neck on the line for). And here-I don't regret asking for this book, I really don't. But I do feel bad not just adoring it like I've seen-because I know that, likely, it's just a matter of taste.
This book is a fun play on Jane Eyre. And it's set in space. Now. See. I'm neither a fan of classical books, mostly Jane Austen, nor do I read many space books. Did this work for me? It did. I really devoured it. But did I obsess over it, pine for night time when I could curl up under the covers and read it? Did I think about it all day every day just counting down the minutes until I could be reconnected with it again? The answer, sad as it may be, is no.
I'm beginning to understand that perhaps I'm not a huge fan of books set in space-only a few really stand out to me as unforgettable…and, unfortunately, this isn't one of them. I really really enjoyed it-that's not a lie. But, like in EVERY book I read, when I needed a HARD push, a big, dramatic event that gets larger and larger as it chugs along, this book stayed relatively even.
Which really is a good thing, honestly-especially to most people. So it's through no fault of the author or, if I'm speaking in a creepy way, any of the characters-it's me. I just wanted a huge eruption and a certain end…and it didn't go that way. *shrugs* What can I say? I'm picky.
And, perhaps, I wanted a denser writing style. For a story that was somewhat dark (well..it was very dark), the writing seemed light. Like maybe there should have been more of an edge, a sharper tone at times where, instead, there was a soft, pillowy feeling and the lack of an implication that anything TOO bad could happen. I can't explain what I mean-I can't. It was expertly written, to be sure. No errors to be found. Yet…I wanted or needed more, and I'm not sure what that means.
The addicting and heart-wrenching moments far outweighed the underwhelming, yet I find myself drawn to remembering the things that didn't work for me. Maybe I wanted to love this [more] too much. Maybe I had too high of expectations because everyone else is loving it-and, again, maybe I'm just spoiled, because I had a lot of fun reading it and I really liked Hugo. I thought about him, separate from the book, frequently. But, without him, this book wouldn't have been much to me-and that's not really a good thing, is it?
Related Posts