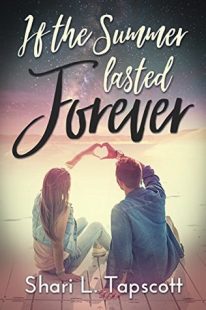 If the Summer Lasted Forever
by
Shari L. Tapscott
Purchase on:
Amazon
Add to:
Goodreads
Synopsis:

Every year when the weather gets warm, tourists flock to Gray Jay, the cutest little resort town in the Rocky Mountains. Seventeen-year-old local native Lacey has one rule: never fall for the summer boys. She's been there, done that, regretted it for a solid year. No one is going to change her mind, not even tall, blond, and handsome Landon Tillman.

Landon's not looking for a summer fling. Still nursing a broken heart months after his girlfriend dumped him, he's content to travel the country with his family and create videos for their wildly popular internet travel channel.

When well-meaning family members try to push Lacey and Landon together, the duo decides to fake a romance so they can enjoy their summer in peace. After all, what could go wrong?

True, they'll have to spend a lot of time together to make the relationship look believable. They might even have to share a kiss or two for the sake of credibility. And sure, it's possible lines will blur and fake feelings might morph into something real…

But that's just a chance they're going to have to take.
Review:
If the Summer Lasted Forever was a super quick and adorable book!  By the first chapter I was already smiling and laughing.  And while it seemed to move a little slower than I was use to, I happily found myself devouring this book.  I was shocked how addicted I became and that I even had tears in my eyes towards the last few chapters. This is the 4th book I've read by Sharri L Tapscott and I can't wait to read the rest of them!
Every time I see him, my breath catches, and my stomach flutters. I know it's just a crush, something meaningless, but I don't want to feel that way about him or anyone else.
Lacey lived in the middle of nowhere Colorado, and come summertime her tiny little town would become a tourist trap.  She worked at the campgrounds and cabins her mom owned, along with her Uncle Mark. Summer boys would always come and go, but after getting her heart stomped on last year, Lacey swore off all boys.  Unlike her best friend, Paige, who was the cutest ever and loved the summer boys! But when the Tillman's came to stay the summer at Lacey's family's campground, their oldest son Landon caught her eye.
Landon's eyes search mine, and his fingers tighten on my sides. I gulp. We've crossed a line—a very serious line. And I want to do it again. In fact, I want to erase the line, scratch it out, wash it away and pretend we never created it.
I heart Landon!  He was charming, adorable and made me constantly smile.  He would say and do the cutest things ever and while Lacey tried to keep her distance from him, it was impossible.  I also loved Lacey too. She was easy to talk to, such a hard worker and had the hugest heart ever. It was easy to see why Landon was pulled in by her.  And every time they were around each other they caught themselves flirting. It all felt like first love, it was so cute, a little bit awkward, entirely innocent and I loved every minute of it!
I freeze as Landon casually drapes his arm over my shoulder, pulling me to his side like an affectionate boyfriend would. He gives me a squeeze, reminding me to play along. The problem is that I'm trying not to swoon.
He doesn't need to know that though.
But each of them had their guard up.  Lacey didn't want to get attached because she knew he would just be leaving in a few months.  And Landon had his reasons for not jumping into a relationship with Lacey. But both of their mom's kept pushing for them to be together.  Now here's the funny thing. I completely forgot this was a fake boyfriend/girlfriend book. When it finally happened I had the hugest grin ever.  Finally they wouldn't have an excuse to not be around each other.  And that could only lead to touching and kissing, sigh. I was beyond ecstatic and loved how this story evolved!  What started out innocently, turned into something where the lines blurred.  Yes they were pretending to be together, but it felt real at times. And my heart was oh so happy!
"We're not in public," I remind him when he brushes his lips against my jaw. It's my last noble effort to keep things simple.
"No, we're not."
"I thought we weren't going to—"
"I changed my mind."
So if you're looking for a quick, adorable book with the fake boyfriend/girlfriend trope then definitely give this one a chance!  I loved how it mixed friendship, romance and family relationships together.  And I also loved how the secondary characters and even dogs played such an important part of this story.  If the Summer Lasted Forever had so much heart and I hope you enjoy this as much as I did!
Related Posts