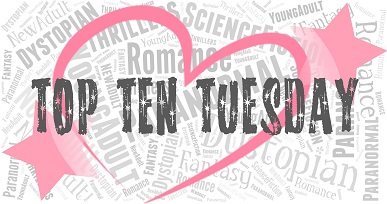 Top Ten Tuesday is a weekly meme hosted by That Artsy Reader Girl
Today we're sharing what Books Every YA Fantasy Lover Should Read.  And they are….
1. The Iron King (The Iron Fey #1) by Julie Kagawa
Amazon * Goodreads
I laughed, I cried and I even clapped out loud and I'm not a clapper while reading, or so I thought. I loved this book! I couldn't believe how much this series just kept getting better and better as you progress through the books!
2. Bring Me Their Hearts (Bring Me Their Hearts #1) by Sara Wolf
Amazon * Goodreads
If you enjoy YA Fantasies that are filled with banter, mystery, romance, political intrigue and darkness, then you definitely have to give this book a try!  Zara was sarcastic, witty, spoke her mind and wasn't afraid to challenge others.  And Prince Lucien was such a complex man who easily stole my heart.  I loved them both so much!

3. The Great Hunt (Eurona Duology #1) by Wendy Higgins
Amazon * Goodreads
The Great Hunt was absolutely enchanting! I became addicted to the story-line, infatuated with the characters, and I was reminded yet again why I love Wendy Higgins' books.  Deceit, lies, betrayal, hope, sacrifice, love, and friendship were splashed across the pages and I fell madly in love with this duology.
4. Six of Crows (Six of Crows #1) by Leigh Bardugo
Amazon * Goodreads
Do I REALLY need to say why this book belongs in the heart of every YA fantasy lover? DO I? I'll sum it up: Kaz. Heist. Journey. Loss love discovery and adventure. Need I say more?
5. The Demon King (Seven Realms #1) by Cinda Williams Chima
Amazon * Goodreads
I just really think this book has the most wonderful adventure, the most adorable, slow-burn romance, and a story so beautifully and intricately woven you can't help but fall in love as you soar through four books at break-neck speed. And Han. Always Han.
6. Falling Kingdoms (Falling Kingdoms #1) by Morgan Rhodes
Amazon * Goodreads
This one is by far one of my favorite series EVER…but it takes a minute for you to truly grasp how epic this series is-each book grips you more and more and you fall harder and deeper (that's what she said! Lol) in love with each of the characters (okay Magnus and Cleo for life) until you don't know how to breathe without them. Again-Magnus is the reason to read this series. Get past that first love 'interest' and you will just DIE. That is all.
7. Red Queen (Red Queen #1) by Victoria Aveyard
Amazon * Goodreads
One of my favorite series ever and a fantastic YA fantasy series. Adventure, romance, uprisings, strong female characters, swoon-worthy male lead, friendship and twists all over the four-book series. But the one at the end of book one is one of the best.
8. A Darker Shade of Magic (Shades of Magic #1) by V.E. Schwab
Amazon * Goodreads
Also fantastic side characters, amazing world building and plenty of action and romance to go around.
9. An Ember in the Ashes (An Ember in the Ashes #1) by Sabaa Tahir
Amazon * Goodreads
I was recently forced to read this thanks to Chelsea and I'm so glad she did, because I feel hook, line and sinker for this series. As with my other favorites, it's got an amazing world, strong male and female characters, romance and action.
10. Alanna: The First Adventure (Song of the Lioness #1) by Tamora Pierce
Amazon * Goodreads

This woman is my FAVORITE author of all time and is the reason why I am so obsessed with YA Fantasy in the first place.  If you haven't read any of her books, I suggest starting in the very beginning with this series as her characters are reoccurring throughout each new series based in Tortall.

| | |
| --- | --- |
| (Arielle's Choice) | (Arielle's Choice) |
11. The Winner's Curse (The Winner's Trilogy #1) by Marie Rutkoski
Amazon * Goodreads
Marie Rutkoski's writing is some of the best that I have ever seen.  This series is full of great world building, crazy intrigue, and of course a romance that will have you screaming for more. HIGHLY recommend.
12. Daughter of Smoke & Bone (Daughter of Smoke & Bone #1) by Laini Taylor
Amazon * Goodreads

Once again, I'm going with another series with writing that transcends so many other books in the YA genre.  I quickly fell in love with Karou's quirky personality and the mysterious Akiva.  Once you start digging into their past you won't be able to stop until the very last page.
So these are the Books Every YA Fantasy Lover Should Read. Have you read any of these or do you have them on your tbr?  If not, then what's a book you think every YA Fantasy lover should read?

Related Posts