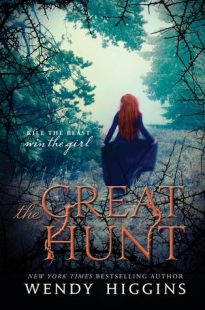 The Great Hunt
(
Eurona Duology #1
)
by
Wendy Higgins
Purchase on:
Amazon
, 
iBooks
, 
Book Depository
Add to:
Goodreads
Synopsis:

Wendy Higgins, the author of the New York Times bestselling Sweet Evil series, reimagines a classic Brothers Grimm fairy tale with The Great Hunt, a dramatic, romance-filled fantasy with rugged hunters, romantic tension, and a princess willing to risk all to save her kingdom.

When a monstrous beast attacks in Eurona, desperate measures must be taken. The king sends a proclamation to the best and bravest hunters: whoever kills the creature will win the hand of his daughter Princess Aerity as a reward. The princess recognizes her duty but cannot bear the idea of marrying a stranger—she was meant to marry for love—until a brooding local hunter, Paxton Seabolt, catches her attention. And while there's no denying the fiery chemistry between them, Princess Aerity feels that Paxton's mysteriousness is foreboding, maybe even dangerous.

Paxton is not the marrying type. Nor does he care much for spoiled royals and their arcane laws. He is determined to keep his focus on the task at hand—ridding the kingdom of the beast—but the princess continues to surprise him, and the secrets he's buried begin to surface against his wishes.
Review:
The Great Hunt was absolutely enchanting! I became addicted to the story-line, infatuated with the characters, and I was reminded yet again why I love Wendy Higgins' books. And while I thought I had it figured out, oh how wrong I was. Tears fell down long after I finished that last page. So I definitely can't wait to see how it all ends in the final book!
She knew she should say something, but words . . . there were no words. Her life, as she knew it, was over. Her future, and the freedom she'd imagined, was dead. – Aerity
I have to throw this out there, since so many reviews have talked about this – but yes the beginning was slow. BUT it made perfect sense to me. You see, the first fifth of the book set the characters, theme, and land into place. Learning all about the characters and the world they were in had a twofold affect. One – I became easily attached to all of the characters since I felt like I knew them inside out. Second – I completely understood the world and visualized everything so perfectly and beautifully. And no, there's no info dumps or overly detailed descriptions.
They were herding the beast straight for them.
"It's coming!" Tiern shouted from behind him. – Paxton
So in a world of castles, royalty, and forbidden magic (except in a few instances), a great beast terrorized commoners and royalty alike. The beast was enormous and could tear men's bodies to shreds in second. To restore peace to the land, the King declared a proclamation, kill the beast, and marry his daughter, Princess Aerity. Oh, how I loved the princess! Princess Aerity was brave, strong, honorable, and underneath it all she was compassionate and humbling. She was everything that would make a fair Queen one day! But at the same time, she pushed boundaries. Especially when those boundaries related to one of the hunters that was at the Castle to kill the great beast. And that hunters name was Paxton.
"What if I said I do want you to kill the beast, Paxton Seabolt? What if I want it to be you?" -Aerity
Paxton Seabolt is my favorite type of guy. Ever. He could be a jerk at times, he easily appeared closed off, yet he gave us these moments that showed he was so much more. Moments when he was selfless, rational, thoughtful and loved his family fiercely. Yet to Princess Aerity, he came across as a closed off jerk, the majority of time. I always have faith in those types of hero's, and all I can say is that I am completely head over heels in love with Paxton. You definitely want to meet him!
"No," Aerity whispered. A deep longing for Paxton expanded within her. "Seas, no. Please." Her stomach knotted so hard that it sent another shooting pain through her ribs.
But there was SO much more going on in the book than just Aerity and Paxton. There was the magical group of the Lashed, whose history and current situation was terrifying. Then there was the hundred of hunters, many from afar, that had come to slay the beast. And then there was all of the royalty in the castle. I found myself attached to so many of them, and that made me nervous since deaths happened left and right. So what started out a little slow, easily led to a tale that gripped me. The tension, plight, sexual tension, and my emotional attachment to so many of the characters made me fall for The Great Hunt. Now I'm off to read the final book in this duology!
PS My faves, besides Princess Aerity & Paxton, were Tiern (Paxton's brother), Lord Alvi, Harrison, Zandora, Lady Wyneth and Princess Dixie.
Related Posts