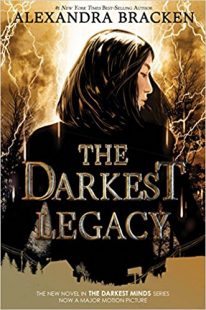 The Darkest Legacy
(
The Darkest Minds #4
)
by
Alexandra Bracken
Purchase on:
Amazon
, 
iBooks
, 
Book Depository
Add to:
Goodreads
Synopsis:

Five years after the destruction of the so-called rehabilitation camps that imprisoned her and countless other Psi kids, seventeen-year-old Suzume "Zu" Kimura has assumed the role of spokesperson for the interim government, fighting for the rights of Psi kids against a growing tide of misinformation and prejudice. But when she is accused of committing a horrifying act, she is forced to go on the run once more in order to stay alive.

Determined to clear her name, Zu finds herself in an uncomfortable alliance with Roman and Priyanka, two mysterious Psi who could either help her prove her innocence or betray her before she gets the chance. But as they travel in search of safety and answers, and Zu grows closer to the people she knows she shouldn't trust, they uncover even darker things roiling beneath the veneer of the country's recovery. With her future-and the future of all Psi-on the line, Zu must use her powerful voice to fight back against forces that seek to drive the Psi into the shadows and save the friends who were once her protectors.

From #1 New York Times best-selling author Alexandra Bracken comes a harrowing story of resilience, resistance, and reckoning that will thrill loyal fans and new readers alike.
You can get up.
You have to get back up.
I could get back up. I could do it myself. Again, and again, and again. As long as there was breath in my body, I could get back up.
WHATTTTTTTTTTTTTTTTTTTTTTTTTTTTTTTTT?!?!?!?!? Alright, people. It had been a LONG time since a book has made me ~feel~ this way so you better believe this review is going to be a jumbled mess of thoughts and feelings. First off, this was obviously SO GOOD. Like, a billion stars to Alexandra Bracken for this entire series. I'm angry with myself, though, because I was reading this on an app that didn't allow highlights and I was only smart enough to actually write one measly quote down so I'll have to add more the next time around—just know there were so many great ones. SO MANY. (This review might also be half in caps too, we'll see, I'm just really pumped up about how good it was.)
I started reading this a few days but didn't actually get into it until I had some time to myself yesterday morning. Once I started, I was COMPLETELY hooked. See, that's the thing about these books and Bracken's writing. I become so immersed that I have to drag my eyes away from the writing and when I do, it takes me a few seconds to come back to the real world. That's when you know you're reading something amazing. This book gave me the butterflies, it made me shake with rage, and it made me buzz with anticipation. It left me out of breath and has me hoping that even though it wasn't ended on a cliffhanger, that we will get more from this world—especially Zu's perspective.
She was always a character that I loved in The Darkest Minds series but getting this entire book from her perspective was amazing. We may not have actually heard her speak until Into the Afterlight but you can tell that once she started, there was no going back. I LOVED when she was in Moore's facility and was basically having PTSD flashbacks to her time in Caledonia that she finally came to the conclusion that she was not alright and that that was okay. She wasn't alright because horrible things had been done to her, and were still being done but she could do whatever it took to help turn things around for the Psi kids. She has grown SO much since we were first introduced to her that it gives me the shivers thinking about it. I am so proud of her.
In this book we are introduced to a few new characters, mainly Roman and Priyanka. I LOVED THEM SO MUCHHHH. They became so much more than what I first thought they would when I started the book. Roman is so serious and so caring—he would literally take a bullet for you. Priya was hilarious. She has so much sass and so many good one liners she reminded me a lot of Vida but without the potty mouth lol. Speaking of Vida though—I was so glad that we still were able to see all of our old favorites. Ugh I love them all so much I think I need to drop the other books that I'm reading and go re-read all of those books next.
I don't really feel like getting into the plot much because I fully enjoyed going into the book and not quite knowing what to expect. All you really need to know is that things are not all fine and dandy in America. Yes the camps had been shut down and Cruz had been trying to get more rights for the Psi kids, but that doesn't mean that things turned into rainbows and puppies overnight. Not in the slightest. In fact, some parts were still so horrible that it made me sick to my stomach, thinking as if those things were happening in real life (and in some aspects of this world and this government I think that they are). This is why I need more out of this story. I need to know what happens with Zu and the gang. I need to know how she continues to fight for their rights. And most importantly, I need to know what happens with the stupid, slimy, manipulative prick that is Clancy Grey…
Related Posts