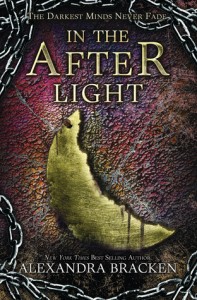 In The Afterlight
(
The Darkest Minds #3
)
by
Alexandra Bracken
Purchase on:
Amazon
, 
iBooks
Add to:
Goodreads
Synopsis:

Ruby can't look back. Fractured by an unbearable loss, she and the kids who survived the government's attack on Los Angeles travel north to regroup. With them is a prisoner: Clancy Gray, son of the president, and one of the few people Ruby has encountered with abilities like hers. Only Ruby has any power over him, and just one slip could lead to Clancy wreaking havoc on their minds.

They are armed only with a volatile secret: proof of a government conspiracy to cover up the real cause of IAAN, the disease that has killed most of America's children and left Ruby and others like her with powers the government will kill to keep contained. But internal strife may destroy their only chance to free the "rehabilitation camps" housing thousands of other Psi kids.

Meanwhile, reunited with Liam, the boy she would-and did-sacrifice everything for to keep alive, Ruby must face the painful repercussions of having tampered with his memories of her. She turns to Cole, his older brother, to provide the intense training she knows she will need to take down Gray and the government. But Cole has demons of his own, and one fatal mistake may be the spark that sets the world on fire.
Review:
"Are you sure this isn't a nightmare?" he asked quietly. "And that we won't just wake up?"
I stared ahead at the road, the way the dust blowing in from the desert covered it with a faint golden sheen even as gray clouds began to gather over us.
"Yes," I said after some time. Because dreamers always wake up and leave their monsters behind.
The final book, in The Darkest Minds series, was an explosion of emotions and events that I loved. They swept me away into another world and only my fear and hope could keep me momentarily grounded. Fear that someone I cherished would die. Hope that they would all get their happily ever after. The conclusion that entailed solidified that Alexandra Bracken is an author who has been added to my I-will-read-whatever-she-writes-list!
What started as a billowing thundercloud of unease was becoming sharper, taking on more distinct edges. I was afraid it wouldn't fully take shape until it was already raining down over us like knives.
President Gray struck against the Children's League and the Federal Coalition. L.A. has crumbled to the ground, and they have been surrounded. They need to escape L.A. and head north to the Ranch where they can regroup and make plans to free the thousands of children in the camps. But with holding Clancy hostage, the President's son, and discovering that some of the agents want to turn in the children for reward money, they are fighting an uphill battle. Ruby is still struggling to keep a handle on her grief and she is about to come face to face with the consequences of taking away Liam's memory. Will she be able to survive?
This was the danger of him. In an instant, he could lift everything off my shoulders and set it aside. He became the answer to every doubt and lingering question. My world refocused, settling on him – beautiful, perfect him. I didn't have to think about what I'd done, what would happen to us even five minutes from now.
I think one of my favorite things about this series are the characters. They are ones you want to be friends with, the ones that would make going through hell that much more bearable. You will always be able to rely on them because they will always have your back. Their nuances and disturbed or silly humor will put a smile on your face. They are your family. Each character in this book felt so real, so unique and always stood out. Whether it was Cole's dedication, Vida's tough front, Chubb's mother hen tendencies, Ruby's need to try harder or Liam's good, sweet, lovable self, I couldn't help but care for each and every one of them. Although there was a lot of darkness, there were moments that ensured my laughter and smile wouldn't disappear. Chubbs and Vida's constant ridiculous bickering made me laugh so hard. And with Ruby and Liam, I was guaranteed moments of swooning and smiling. Just the use of one word, one freaking word, I would melt. Liam could say darlin a million times and it would be just as powerful and beautiful as the first time. I kept hoping that Ruby and Liam's connection would be able to transcend horror and tragedy. But it seemed as though each time they would have a moment of happiness, then they'd be transported into something more terrifying than the last.
I closed my eyes tightening my fists against a second wave of nausea.
I want to live.
I want to live.
I have to live.
The whole time I read this book, I was terrified and glued to the pages. Terrified during the peril scenes and terrified during the peaceful scenes, because we all know that it won't stay that way forever. I desperately wanted to reach that final page with everyone I loved and cared for alive. But I had to keep reminding myself that dystopian books usually don't work out that way. While it was an emotional ride, and I ached with the direction that some scenes went, I loved The Darkest Minds. This is a series that I will be able to recommend again and again!
PS Keeping my fingers crossed that the sequel to Sparks Rise will be released someday. Because I have to know the end to their heart-aching story too!
PPS The reason I couldn't give a full 5 is because at the end of the book, I still have unanswered questions that will always drive me bonkers. I don't want everything wrapped up in a pretty little bow, but there are some things that I feel as though I have to know to move on. Maybe they will be answered in the sequel to Sparks Rise? I can hope! View Spoiler »Such as what happened to the reds from Thurmond? What happened to the reds from the West coast that killed Cole? Were Ruby and Liam able to get back together after having to spend time with their family? And what happened to Sam and Lucas? « Hide Spoiler
Related Posts