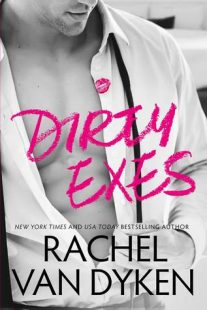 Dirty Exes
(
Liars Inc. #1
)
by
Rachel Van Dyken
Purchase on:
Amazon
, 
Book Depository
Add to:
Goodreads
Synopsis:

Blaire has never quite gotten over Jessie Beckett, the ex–NFL star whose kisses were hot enough to ignite the entire Eastern Seaboard. When he chose work over her, Blaire was left brokenhearted. Why else would she have married a skeezy two-timer, just to divorce him less than a year later?

Now Blaire is getting even by becoming one half of Dirty Exes, a PI firm fully committed to humiliating cheating jerks. If only the new jerk she's been hired to uncover wasn't Jessie Beckett himself.

Exposing Jessie isn't going to be easy, especially when she still daydreams about his sexy smile. Further complicating matters is Colin, Jessie's best friend. He's gorgeous, a little bit cunning, and willing to help Blaire get the inside scoop on Jessie—for a price.

Now caught between two men—one totally right and the other totally wrong—Blaire will need to decide just how much she's willing to risk…and whom she's willing to risk it for.
Review:
Dirty Exes caught my attention from the first page and from there I was a goner.  This book was so much fun, laugh out loud funny and had my emotions in a huge, disastrous mess.  I loved every minute of it and highly recommended Dirty Exes to all of those out there that love romance!
What. If.
Two very dangerous words.
Two horrible words.
Words that should never be put together in any way, shape, or form. – Blaire
Blaire had been screwed over in her past.  She was ditched by a boyfriend who was drafted into the NFL and then years down the road she caught her husband cheating on her.  While she was jaded, she ended up making a new best friend, Isla. And they opened up a business together where they were hired to catch high profile partners cheating.  But Blaire's latest target made her pause.  It was her NFL ex.
He put a hand on my shoulder then faced Colin, his body completely blocking mine as his fingers slid down my shoulder, hooked in the strap of my bra, and gave a little snap before caressing my skin with his knuckles the way he used to.
I jerked in response.
My body heated.
Bastard.
I closed my eyes.
Hate him, hate him, hate him.
I just needed to chant it about a dozen more times.
From the moment Blaire ran into her ex, Jessie Beckett, there was no denying that something was still there.  There was chemistry, attraction and a whole lot of what ifs running around. Their first time meeting up had me smiling while also fanning my face!  As if I wasn't intrigued enough, we got some chapters from Jessie's pov. As we learned about his life, my heart broke for him and he pulled me in even further.  Then we met Colin, Jessie's best friend, and I was completely confused over what was going to happen next.
And there I was, on my birthday, in a shitty bar, with a girl who stole sideways looks at my best friend, while all I wanted was for her eyes to be on me. – Colin
The way Colin and Blaire met was hilarious.  And while she tried her hardest to think of Colin in not the best of lights, it was impossible.  He was also hot, sexy and had a past that broke my heart. Just like Jessie, she had chemistry with him too.  To complicate matters, if Jessie and Blaire were around each other, Colin always seemed to be there. I was strongly on the Jessie team, but then we got chapters in Colin's pov.  And from here began the moments where my heart was pulled every which way.  I fell for them both.  This has NEVER happened to me before.  I have always had no problem just picking one boy.  But here?!  I had NO clue who I wanted Blaire to be with.  To say I was an emotional wreck is a huge understatement lol.  
"Damn, this is some messed-up shit," Isla said under her breath. "I'm witnessing a sordid love triangle, like an HBO drama I can't get out of."
As the story progressed, I eventually found myself rooting and cheering for only one of them.  And I hoped, prayed and wished with all of my heart and soul that Blaire and I were on the same page.  It was so hard to tell how it was going to pan out. Just so you know, I'm usually not the hugest fan of love triangles.  But this one was done absolutely perfect.  If all love triangles were written like this, I could handle them all.
Suddenly he was there. His scent wrapped around me, his fingers gripped mine, and I felt at home. Safe.
I felt everything in his touch.
His promises, his kisses.
Him.
Dirty Exes was so much fun and I found myself laughing so hard that I was shaking and had tears in my eyes.  If you haven't read one of Rachel Van Dyken's books before, you have to know that her characters are always unique, stand out and are so easy to connect with.  Also, her stories play out like I'm watching a movie.  I highly recommend Dirty Exes to everyone who adores romance, friendship and who can handle some love triangle vibes.  The next book is about Blaire's best friend, Isla, and I can't wait to read her story next!
Related Posts