I absolutely adored this book! So check out my review below and enter in a fabulous giveaway to win a copy of the first book in this series! Enjoy!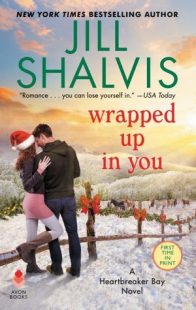 Wrapped Up in You
(
Heartbreaker Bay #8
)
by
Jill Shalvis
Purchase on:
Amazon
, 
iBooks
Add to:
Goodreads
Synopsis:

It's love. Trust me.

After a lifetime on the move, Ivy Snow is an expert in all things temporary—schools, friends, and way too many Mr. Wrongs. Now that she owns a successful taco truck in San Francisco and an apartment to call home, Ivy's reinvented life is on solid ground. And she's guarded against anything that can rock it. Like the realities of a past she's worked hard to cover up. And especially Kel O'Donnell. Too hot not to set off alarms, he screams temporary. If only his whispers weren't so delightfully naughty and irresistible.

Kel, an Idaho sheriff and ranch owner, is on vacay, but Ivy's a spicy reason to give his short-term plans a second thought. Best of all, she's a tonic for his untrusting heart, burned once and still in repair. But when Ivy's past intrudes on a perfect romance, Kel fears that everything she's told him has been a perfect lie. Now, if only Ivy's willing to share, Kel will fight for a true love story.
Review:
Wrapped up in You was a feel good story that ended with the most perfect epilogue. It was so emotional that I had tears in my eyes and you couldn't knock the smile off my face! If you aren't familiar with the Heartbreaker Bay Series, each book can easily be read as a standalone. Each one is about a different friend finding their happily ever after, but I definitely recommend going back and reading the previous books in this series! I heart them so much! So if you adore love stories that are complex and heartfelt, a group of friends you want to be a part of and a hero that'll make you swoon hard, then pick this one up!
She'd been making up stories about her family since she'd been little, each different, each more exciting than the last, and all as far from the truth as she could possibly get. Because the truth wasn't a story, it was a nightmare.
I loved Ivy Snow in the previous book Playing for Keeps, since she was Sadie's best friend. Ivy was sassy, tough and always helped others. And I loved that she took care of herself and ran the local taco truck. But while growing up, Ivy had a hard life. She was wounded and damaged from her past. Even her closest friend Sadie didn't truly know all there was about her. But from the moment Ivy met Kel, there were sparks between them and just his presence alone threatened to tear down her high walls.
"Okay, I'll give this to you—you're funny. And maybe also sexy as hell, but this isn't happening, Cowboy."
He'd take sexy as hell any day of the week. "We're just talking."
"Uh-huh," she said dryly.
Kel O'Donnell was the cousin of Caleb, who was engaged to Ivy's best friend. He was a cowboy from Idaho, who was on a two week leave from being a sheriff. I quickly fell for Kel, it was so effortless. He was a good guy who was protective of his friends and jumped right into situations to help others. But there was so much mystery surrounding this man. From why he was taking a leave to what was going on with his family that lived in SF. While we slowly started to learn about his past, I just wanted to hug and protect him, and never let him go.
He hadn't had much to smile about in a damn long time, but something about Ivy, hell, everything about Ivy made him feel . . . lighter.
Kel and Ivy felt like two peas in a pod. They were both damaged by their pasts and jaded from family. Plus they both had huge walls around their hearts. But any time they were together, sparks flew and their banter made me smile and laugh. It all felt so natural, but at the same time magical. And while Ivy tried to put up a fight, to not let him get to her, I loved that she started to waiver when mystery and suspense took hold of her life. But he was supposed to head back home to Idaho after two weeks in San Francisco. And while Ivy had never put roots down, this was the first time she truly had a home and friends.
He stroked the pad of his thumb over her lower lip, kissed it again and then did what he didn't want to do, what he was starting to realize he would never want to do—leave her.
Wrapped up in You was a complex love story that will pull at your heart. Ivy and Kel both made mistakes with each other and they had a very bumpy path. And while this was an emotional story, there was the banter, tentative friendship and heat between Kel and Ivy that rounded out this story perfectly. Plus their friends added so much lightness too. So yes, I absolutely adored this book and I can't wait to read the next one in the Heartbreaker Bay Series!
Buy Links:
KINDLE US | APPLE | NOOK | KOBO | GPLAY | PAPERBACK | AUDIBLE | SERIES BUY LINK
Read the First Chapter:
Read the First Chapter at https://www.jillshalvis.com/excerpts/wrapped-up-in-you
About Jill Shalvis:
New York Times and USA Today bestselling author Jill Shalvis writes warm, funny, sexy contemporary romances and women's fiction. An Amazon, BN & iBooks bestseller, she's also a two-time RITA winner and has more than 10 million copies of her books sold worldwide.

WEBSITE | FACEBOOK | TWITTER | GOODREADS | NEWSLETTER | BOOKBUB
Giveaway:
Win a digital copy of the first book in this series, Sweet Little Lies!
Related Posts