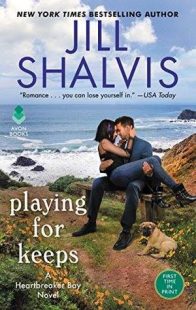 Playing for Keeps
(
Heartbreaker Bay #7
)
by
Jill Shalvis
Purchase on:
Amazon
, 
iBooks
Add to:
Goodreads
Synopsis:

If you're planning on falling in love…

When it comes to the confident, charismatic Caleb Parker, Sadie Lane feels the spark—the kind that comes from rubbing each other the wrong way. She's yoga pants, he's a suit. She's a tattoo artist, he's a straight-laced mogul. But after they accidentally co-rescue an abandoned dog from a storm, Sadie sees a vulnerable side to the seemingly invincible hottie.

you'd better be sure…

Caleb doesn't do emotions. Growing up the underdog, he's learned the hard way to build up an impenetrable wall. Perfect for business. Disastrous for relationships. He's never worried about it before—not until he finally gets behind Sadie's armor and begins to fall.

… someone is there to catch you.

Both guarded and vulnerable, Sadie and Caleb are complete opposites. Or are they? Shocked at their undeniable connection, can they ever admit to wanting more? That all depends on what they're each willing to risk.
Review:
Playing for Keeps was a heartwarming love story where opposites attract.  With the help of their friends and a dog that quickly stole both of their hearts, destiny seemed to be in the air.  I absolutely adore the Heartbreaker Bay Series and I couldn't wait to read Caleb and Sadie's story!  While each book can easily be read as a standalone, I highly recommend starting back at the beginning.  You don't want to miss a moment with this group of friends and coworkers.
He was everything she no longer let herself want.
Sadie Lane opened her heart up to us from that very first chapter.  The relationship she had with her mother was heart wrenching and she was jaded towards men.  But thankfully Sadie was working hard doing something she loved.  She was building up her clientele as a tattoo artist, but to make ends meets she also works at a spa.  Finances were tight and she was definitely struggling, so I found myself sympathetic to her from that very first chapter.
"Not interested,"said her mouth.
Her brain though, it was telling her a different story.
He just grinned. He knew. Dammit. She forced her gaze off his body and into his eyes.
One dark and stormy night, Sadie found herself helping Caleb Parker rescue a dog.  Caleb was someone who had been around Sadie for the last year.  They knew mutual people, worked near one another, but Sadie quickly labeled him Suits.  She didn't ever stop to think that his past wasn't just a golden spoon.  Or how hard he worked to get to where he was.  But when they both ended up rescuing a three-legged dog, Sadie named Lollipop, everything slowly started to change.
He'd taken Lollipop to a pet park. He held her hand whenever she got scared. Damn. The man was dangerous to her heart and soul.
Which made him the very opposite of perfect . . .
I have fallen for every single male Jill Shalvis has created, so of course I heart Caleb.  While he was in the Forbes top 100 and was labeled a billionaire, he was so much more than that.  Caleb was the most kind, patient, compassionate and thoughtful man ever.  He loved his family deeply and helped to take care of them.  They were such a huge part of his life.  And I loved watching how his sisters would meddle in his love life, whoops lol.  But Sadie intrigued Caleb from the beginning, and no matter what was thrown at them, he fought for them to be together.
"I keep telling you, there's no this."
"Are you sure?" Very slowly and carefully, clearly giving her plenty of time to get away if she really wanted, he stepped into her, making her extremely aware that she now stood hemmed in between the alley wall and his body, neither quite touching her.
Even though they now shared a dog, Sadie still had her walls up high and was closed off.  As they started to spend more time around each other, Sadie realized she judged Caleb wrong.  And while she started to share herself with him, it was not always easy.  You see, she lacked faith and jumped to conclusions at times with Caleb.  It hurt not only them, but me too.  Especially when she wouldn't just take a breath and listen.  Thankfully Caleb had the most patience ever and thankfully Sadie knew how to apologize and step up her game.  Their road to a HEA was an emotional journey, but I kept faith that it would all work out in the end.
When he was gone, she looked at Lollipop. "Okay, maybe I see a tiny bit of why you heart him so much. But just a little bit, mind you."
Luckily they both had help from their friends, Ivy, Rocco and Spence.  Plus Lollipop.  Lollipop was so important to this story.  Not only did she initially bring them together, but she helped them.  She got them to see each other in different ways.  She helped them  grow as friends and slowly into something more.  It didn't even matter that she was really good at interrupting them lol.  Lollipop added a ton of heart to this story, she was the hugest star ever!  Just don't tell Caleb I said that!
"Okay, fine," Sadie said. "I know what I have to do."
Ivy narrowed her eyes. "Do you really?"
"Sure."
Ivy shook her head. "You don't have a clue, do you?"
Sadie's eyes filled. "No," she whispered.
"You follow your heart."
So if you're a fan of Jill Shalvis, this series or stories where a kind man, an adorable dog and a women who's learning how to love and trust fill the pages then definitely pick up this book.  This story made me smile so much and this is completely random but I loved Sadie's take on food.  I love that she requested In N Out, they're my favorite burgers in the world, and I'm a huge sucker for muffins and everything else she loved  too!  Playing for Keeps was an adorable love story and I can't wait to see who the next book in this series is about!
*I voluntarily read and reviewed an advanced copy of this book, provided by the author. All thoughts and opinions are my own.*
Kindle  I  iBooks  I  Book Depository  I  Nook  I  Kobo  I  GPlay  I  Series Buy Link  I  Read First Chapter Here

About Jill Shalvis:
New York Times and USA Today bestselling author Jill Shalvis writes warm, funny, sexy contemporary romances and women's fiction. An Amazon, BN & iBooks bestseller, she's also a two-time RITA winner and has more than 10 million copies of her books sold worldwide.

WEBSITE | FACEBOOK | TWITTER | GOODREADS  I  NEWSLETTER  I  BOOKBUB
Giveaway:
Related Posts
I absolutely love this series and couldn't wait to get my hands on Playing for Keeps! So check out my review below and enter in a fabulous giveaway! Enjoy!