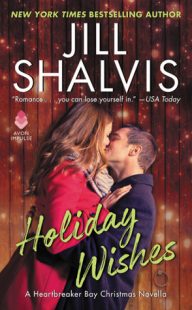 Holiday Wishes
(
Heartbreaker Bay, #4.5
)
by
Jill Shalvis
Purchase on:
Amazon
, 
iBooks
Add to:
Goodreads
Synopsis:

It's Christmastime again in Heartbreaker Bay!

When Sean O'Riley shows up at the Hartford Bed & Breakfast for his older brother's bachelor weekend, he's just hoping to make it through the weekend. What he's not expecting is to come face to face with the woman he lost his virginity to a decade ago—a woman he's never really forgotten.

The last time Lotti Hartford saw Sean, she told him she loved him while he said nothing. Now, ten years later, she's just looking for a good time. For once, she wants to be the wild and free one, and Sean – the good time guy – is the perfect candidate.

But as the weekend continues, Sean realizes that after a lifetime of being the hook-up king, he's ready to find happily-ever-after, and he wants it with Lotti. But will she open her heart to him again? As Christmas sweeps through the little B&B, he can only hope love and magic are in the air.
Review:
Holiday Wishes was sweet, heartwarming, and had an oh so perfect ending! I was surprised with how much was packed into this second chance novella! And I was surprised again with how quickly I connected to the characters and was invested in this story-line. So I definitely wasn't ready to say goodbye to them, but thankfully I'll get to see them in the future books of this series.
He had to laugh. "Lotti, when I first met you, you were in PE class wearing a baggy T-shirt and sweats and I wanted you."
"I'm being serious, Sean."
"So am I."
Sean is Finn's younger brother, and he's in charge of his brother's joint bachelor/bachelorette party. They're going to spend the weekend in Napa, and the group is in tow. So Sean ended up renting out a whole B&B, just for them. But when they get there, he didn't expect to see the girl that was behind the check-in counter. Lotti was the first girl Sean ever slept with, and then he proceeded to break her heart. And Lotti doesn't want anything to do with Sean.
"Okay, tough girl," he said softly, nuzzling at her throat. "No questions. No talking. You go ahead and give ignoring what's still between us your best shot. I'll wait right here."
Sean is determined to make amends for how he treated Lotti ten years ago. And he wants to prove how much he's changed. Lotti was rightfully stubborn and didn't want to see how much Sean has grown up. But it was beyond obvious how much he had changed in every single one of their interactions. And Lotti also saw how much he had grown up when he was interacting with his friends. But the best part? Sean made it impossible for her to ignore him. He was persistent and everywhere Lotti seemed to turn. I love when a man knows what he wants and tries his hardest to win the girl. So I easily fell for Sean, especially since he was cocky, seductive, sweet, and thoughtful.
His smile was badass wicked and filled with trouble as he put a knee on the bed and began to crawl toward her with nefarious intent in his sharp gaze.
This novella can easily be read as a standalone. And if you're a fan of novellas that pull you in quickly, or a fan of this series or author then I definitely recommend it! You can't help but laugh and smile at Sean and Lotti's interactions and there were a few fun, sexy scenes! The only thing I could wish for, was that it was longer. I would have loved more peeks into their past when they were younger. But at least we will get peeks into their future, with this series future releases.
*ARC kindly provided by Random House Publishing in exchange for an honest review*
Related Posts