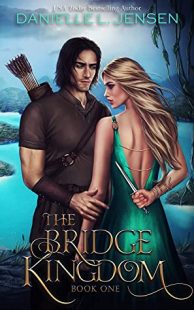 The Bridge Kingdom
(
The Bridge Kingdom #1
)
Purchase on:
Amazon
, 
iBooks
, 
Book Depository
Add to:
Goodreads
Synopsis:

"Heart-pounding romance and intense action wrapped in a spellbinding world. I was hooked from the first page!" – Elise Kova, USA Today bestselling author of A Deal with the Elf King.

A warrior princess trained in isolation, Lara is driven by two certainties. The first is that King Aren of the Bridge Kingdom is her enemy. And the second is that she'll be the one to bring him to his knees.

The only route through a storm-ravaged world, the Bridge Kingdom enriches itself and deprives its rivals, including Lara's homeland. So when she's sent as a bride under the guise of peace, Lara is prepared to do whatever it takes to fracture its impenetrable defenses. And the defenses of its king.

Yet as she infiltrates her new home and gains a deeper understanding of the war to possess the bridge, Lara begins to question whether she's the hero or the villain. And as her feelings for Aren transform from frosty hostility to fierce passion, Lara must choose which kingdom she'll save… and which kingdom she'll destroy.

Passionate and violent, The Bridge Kingdom is a seductive fantasy perfect for fans of From Blood and Ash and A Court of Thorns and Roses.
Review
Ithicana needed a queen who was a warrior. A woman who'd fight to the death for her people. A woman who was cunning and ruthless, not because she wanted to be, but because her country needed her to be. A woman who'd challenge him every day for the rest of his life. A woman Ithicana would respect.

And there was one thing he was certain: Lara Veliant was not that woman.

At this point I have seen this book recommended a thousand times over in several different Facebook groups I'm in. Did I listen to any of those people? No. Do I feel like an idiot about it? Yes. THANK GOD I finally found people to push me about it with previous book opinions that I trusted or else who knows how long it might have been before it would have been picked up.

"I'm sorry I've been so terrible. You deserve someone better than me."
Aren exhaled, but said nothing. The methodical movement of him climbing the stairs lulled her, consciousness slowly fading away. She didn't fight it, because against all the odds, she trusted him implicitly. Still, she was aware enough to hear him, his voice hoarse as he said, "Since the moment I set eyes on you in Southwatch, there's been no one but you. Even if I'm a goddamned fool for it, there will never be anyone but you."
You are a fool, she thought as darkness took her.
And that made two of them.

After reading ACOSF I'm realizing that I'm in need of more adult fantasy recs. I will always love YA but it's getting to the point where I want more darkness, more sexy times, and more characters that are legitimately adults. This was the perfect book for those wanting to transition from YA to NA/Adult fantasy I think. The characters still feel on the younger side and there's nothing so explicit as what we saw in ACOSF (too bad really, lol) but damn there was a lot of darkness in this book. A lot of angst and real world countries-at-war-and-people-are-slaughtered type problems if you know what I mean. This is my first book by Jensen and I have to say, her writing was not what I expected in an entirely good way. I sometimes make the terrible assumption that for some series that don't have as big of an audience/ are written by authors I know nothing about, that they aren't that great. AND THAT IS, AGAIN, TERRIBLE. Don't make the same mistakes as me, people. Read this book. Honestly you probably could read any of her books and they would be amazing (Dark Shores I'm coming for you next).

"I don't want to leave." The words were a truth dug from the depths of her heart. She did not want to leave Ithicana. She did not want to leave him. She wanted to stay, to fight and sweat and bleed for him and his harsh, wild, and beautiful kingdom.

On to the characters. Lara. Ooof you stubborn ass. She reminded me a lot of Celaena Sardothian if I'm being honest. She has a lot of really great growth in this book and beyond (I'm actually halfway through #2 right now) and I enjoyed watching her realize how much of a liar her father was and how she grew to respect the Ithicanian people. Aren. You're also a stubborn ass. But with a heart of gold. Their romance was definitely of the slow burn nature but it was perfect for this book. While both of them might have felt a glimmer of attraction and connection early on, it did take time for them to actually fall in love and I really appreciated that.

"Look at me." She did, pressing her cheek against his hand as he reached up to cup the side of her head. "I love you," he said, his lips grazing against hers. "And I will love you, no matter what the future brings. No matter how hard I need to fight. I will always love you."

The plot and ending. Well, well, well. The plot of this series is an interesting one. There is some really interesting world building and I was very glad for the map to reference places throughout the book. It was a lot but because Jensen's writing is so colorful and descriptive I never had a problem envisioning what things looked like, only where exactly they were really. I am so interested to learn more about this world and these characters and to hopefully not have my heart ruined any more than it already has been by the ending! Lol good luck to all you who haven't read this yet. You will certainly need it!

Aren cast his gaze over the replica of his kingdom. "Ithicana has always been at war, and what do we have to show for it?"
"We're alive. We have the bridge."
"Don't you think it's time we fight for something more?"
Related Posts