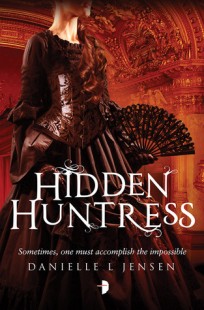 Hidden Huntress
(
The Malediction Trilogy #2
)
by
Danielle L. Jensen
Purchase on:
Amazon
, 
iBooks
Add to:
Goodreads
Synopsis:

Beneath the mountain, the king's reign of tyranny is absolute; the one troll with the capacity to challenge him is imprisoned for treason. Cecile has escaped the darkness of Trollus, but she learns all too quickly that she is not beyond the reach of the king's power. Or his manipulation.

Recovered from her injuries, she now lives with her mother in Trianon and graces the opera stage every night. But by day she searches for the witch who has eluded the trolls for five hundred years. Whether she succeeds or fails, the costs to those she cares about will be high.

To find Anushka, she must delve into magic that is both dark and deadly. But the witch is a clever creature. And Cecile might not just be the hunter. She might also be the hunted.
Review:
***I did NOT like the final book in this series. It was missing everything that I had previously fallen in love with. And that's not even the worst part. Worst of all was that ending. That ending left me completely unsatisfied and utterly depressed. You can see my review of Warrior Witch here – Warrior Witch: 1/5 Stars***
*Spoilers for Stolen Songbird
*
Hidden Huntress was mysteriously intriguing, and it was entertaining trying to unravel the questions that surrounded Tristan and Cecile.  There is so much more at stake, and it felt as though their trials were insurmountable.  But at times, I found myself distracted.  Because honestly, I was desperately racking my head as each page passed trying to figure out how in the world they were going to find their way back together again.  While I whole-heartily love Tristan ad Cecile separately, I desperately missed their chemistry.  The way they were capable of making my heart clench and then become elated on a single page, sigh.  Together they were intoxicating.  So while I struggled in the middle of the book, I was without a doubt happy to be drawn back into their world!
Upon escaping from Trollus and healing, Cecile has taken residence with her mother in Trianon.  By night she performs and by day she hunts for the witch who has cursed the trolls.  While she knew it would be a near impossible search, what she doesn't count on is that she is still within the grasp of the King.  And his incessant need to be freed from Trollus.  But Tristan isn't able to protect or help her, because he is being held captive within his own city that he was once destined to rule.  With their lives continually piling up with obstacles, how can they ever start to dig themselves out?
Even though situations were changed, Tristan and Cecile still contained all of the same attributes that made me love them in Stolen Songbird.  Cecile was still daring and brave.  The decisions she had to make were difficult and at times selfless.  And I love that no matter how hard or dark times got, she still pushed ahead.  She still searched and never gave up trying to find a way to be with Tristan again.  I was rooting for her on every single page!
Oh, and Tristan, how I love you!  This time we got to be in his head so much more!  His thoughts, agony and suffering were ours to behold.  Nothing was held back and we got to understand every single tiny part of him.  How he wanted to be a better person, err troll, for not only Cecile but everyone else in Trollus that is counting on him.  I did miss his witty, sarcastic side, but circumstances definitely wouldn't have allowed that to happen.
So yeah, I did struggle in the middle.  I started to ache for Tristan and Cecile to be back together again because I desperately needed their chemistry to be on the pages I was reading.  Yes I know that I am being whiny but my goodness, the way they were written in Stolen Songbird together was phenomenal.  It was impossible not to miss that feature while starting this book.  But, and this is a big but….the characters are strong enough to stand on their own and the mystery was still a lot of fun!  Ohhhhh, and the way this book ends?!?!  It looks as though we will get to experience the peril that elated yet terrified me in Stolen Songbird!  I am counting down until the final book is released next year!  I. Can't. Wait!
*ARC kindly provided by Angry Robot Books via Netgalley in exchange for an honest review*
Save
Related Posts