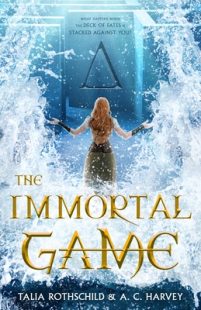 The Immortal Game by Talia Rothschild & A.C. Harvey
by
Talia Rothschild, A.C. Harvey
Purchase on:
Amazon
, 
iBooks
Add to:
Goodreads
Synopsis:

An exiled goddess goes on a quest to clear her name and save Mount Olympus in Talia Rothschild & A C Harvey's action-packed young adult debut, The Immortal Game!

Galene, daughter of Poseidon, desperately wants to earn her place among the gods. But when a violent attack leaves Mount Olympus in chaos and ruins, she is accused of the crime. Banished from Olympus, Galene sets out to prove her innocence and discovers a more deadly plot―one that threatens even the oldest of Immortals.

Fortunately, she has allies who willingly join her in exile:

A lifelong friend who commands the wind.
A defiant warrior with deadly skill.
A fire-wielder with a hero's heart.
A mastermind who plays life like a game.

All-out war is knocking at the gates. Galene and her friends are the only ones who can tip the scales toward justice, but their choices could save Olympus from total annihilation, or be the doom of them all.
Review:
The Immortal Game was an enthralling story that swept me away! Trials, friendship, teamwork, and twists laced through the pages and made for such an exciting read! If you're a fan of Greek mythology, then you should definitely pick up this book.
I'm the reason they're leaving, Galene thought with a heartthrob, and they're more prepared for this than I am.
This story started off with heart pounding scenes that quickly pulled me in. The children of the Gods and Goddesses had to battle a combination of mythological creatures that were terrifying. Upon winning their Trial, they were granted eternal life. But from Galene's Trial, she was led down a path where she was accused of a deadly attack and banished from her home, Mount Olympus. In a quest to prove her innocence she was joined by four others. The journey and this group of outcasts had me turning the pages as fast as I could to see what happened next!
"Being a hero is about fighting for something bigger than yourself, despite the obstacles, despite the fear." He caught her gaze again. "You did that for Galene. You do that every day." – Braxtus and Iyana
My heart became attached so quickly to this group of outcasts. We had Galene daughter of Poseidon, Iyana daughter of Zeus, Kostas son of Hermes, Braxtus son of Apollo and Demitri son of Ares. With every step they took, it felt like there was an insurmountable obstacles in their way. Not only was it physically challenging, and we got to watch the powers and gifts each of them had. But it was also mentally taxing too. They knew they had to work together, even if there were struggles between some of those in the group. So I loved watching them learn to trust, put faith and try to have each other's backs every step of the way.
She tumbled backward through the air.
And smiled.
Stretching her hands to either side, she unleashed the tempest inside her.
The story alternated between four of the characters and while that's usually not my thing, I loved this format! Each of them became that much more entrenched in my heart and I was shocked how equally invested I was in each of them! My heart ached as they faced different fears and worked their way through personal struggles. But from beginning to end they grew. And the friendship between Galene and Iyana and Kostas and Braxtus warmed my heart. On top of that, there were two different romances I was rooting for. I don't want to say anymore other than my heart was so, so, so happy with how it all turned out! Plus I loved that this story made it feel as though I was watching a movie play before my eyes.
Galene fell, a sob tearing from her lungs.
Gold ichor pooled around his head, his bare arms and legs stained with deep golden bruises. His eyes were closed, his lips parted, his body still.
She clawed her way to him, shuddering with sobs.
The Immortal Game led us down a path filled with peril and friendship! If you love Greek Mythology, like I do, you're going to fall head over heels in love with all of the elements that can be found in this tale. From the characters, to their richly imagined world, to even the mythical creatures that nightmares were created from, so much can be found in these pages! I was so happy that my favorite Gods, Goddesses and even creatures I was terrified of were included in this epic quest and battle. This is a book I can't wait for my littles to read and I think it would be a great transition for when they're ready to step from MG to YA!
"Believe it or not, I still don't want to hurt you."
"Funny," she growled. "Because I do."
She pulled back and let a spike fly.
PS While this is a standalone that ends absolutely fabulously, I can definitely see other stories panning out in this world in the future *fingers crossed*.
*I voluntarily read and reviewed an advanced copy of this book, provided by the author. All thoughts and opinions are my own.*
Goodreads / Amazon / Barnes & Noble / iBooks / Kobo / Google Play
About Talia Rothschild & A.C. Harvey:
Talia Rothschild, Italian American, is passionate about stories in many forms—music, dance, photography, film and, of course, great novels. She believes in thick hot chocolate and creamer in your tea. When she's not happily writing, she's mothering the sweetest baby girl and making memories with her husband. Her debut book The Immortal Game, coauthored with A. C. Harvey, hits the shelves May 2021.

Ashleigh Harvey is teaching high school physics and bringing her writing dreams to life. English-born and world-traveled, she loves filling her life with new adventures, such as visiting a new country or exploring the Wild West with her husband. She also finds escape in movies, music, literature, and yearly comic conventions. The Immortal Game is her debut novel, created alongside Talia Rothschild, her close friend.
Giveaway:
Hosted by:

Related Posts
I'm so excited to be on the tour for The Immortal Game! I'm a huge Greek Mythology fan and there was so much to love within these pages! Checkout my 4.5 Star Review below and enter to win a copy of this book! Enjoy ♥