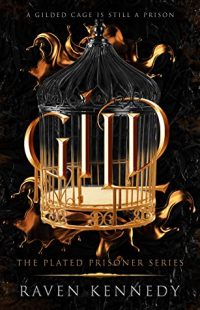 Gild
(
The Plated Prisoner #1
)
by
Raven Kennedy
Purchase on:
Amazon
, 
iBooks
, 
Book Depository
Add to:
Goodreads
Synopsis:

The fae abandoned this world to us. And the ones with power rule.

Gold.

Gold floors, gold walls, gold furniture, gold clothes. In Highbell, in the castle built into the frozen mountains, everything is made of gold.

Even me.

King Midas rescued me. Dug me out of the slums and placed me on a pedestal. I'm called his precious. His favored. I'm the woman he Gold-Touched to show everyone that I belong to him. To show how powerful he is. He gave me protection, and I gave him my heart. And even though I don't leave the confines of the palace, I'm safe.

Until war comes to the kingdom and a deal is struck.

Suddenly, my trust is broken. My love is challenged. And I realize that everything I thought I knew about Midas might be wrong.

Because these bars I'm kept in, no matter how gilded, are still just a cage. But the monsters on the other side might make me wish I'd never left.

The myth of King Midas reimagined. This compelling adult fantasy series is as addictive as it is unexpected. With romance, intrigue, and danger, the gilded world of Orea will grip you from the very first page.
I'm the gold-plated prisoner.
But what a pretty prison it is.
Full disclosure, for those who do not read my lengthy reviews, that I have already finished book two and started book three, and those are far superior to this story. Also, talk about having trouble picking the shelving tabs, wow. That being said, though, this book was clearly a set up, a path leading somewhere that has been wondrous and addicting through and through. I can't quite pinpoint when I started loving this series (HA LIES, LIES DETECTED), but I think I did the moment a certain someone sauntered [because you can't describe his swagger any other way] onto the scene.
And I know books aren't about the male leads but, in this specific case where the males are pig-headed, toxic, woman hating slugs who get off on a woman (Or women) with Stockholm Syndrome, yeah…I can get behind a sexy man walking into the story who understands what it is to take care of a woman or treat her as an equal.
And I bet you're shocked I even brought this up, as it never really is something I touch base on, but this book is heavily reliant on the power men hold above women and how they can abuse that power, especially when they are regarded with status and flash. I know all this is triggery for some people, so I thought I should preface it ahead of time, no matter where my review takes me.
But memory and time aren't friends. They reject each other, they hurry in opposite directions, pulling the binding taut between them, threatening to snap. They fight, and we inexplicably lose. Memory and time. Always losing one as you go on with the other.
Again, I don't think I have much to say about this particular story, riddled with girl hate, delusion, and a narcissistic male, but I did want to review it all the same, not gloss over it as I do sometimes when I am busy. Very little in the way of plot happens for 60% of the story, but after that (though I still didn't love it at this point) it marginally begins to find a pace that is more up to the standards I had hoped it could reach. Obviously, though, the disgust I felt after she is out of the palace was not palatable and I still felt myself skimming.
Do not confuse me skimming with a book being poorly written, for that title goes to my previous read, The Savage and the Swan-That was poorly written and a convoluted story to boot. But Gild? Nah, I respect the path of this book, the journey. Because once I got past the drivel of the sniveling bastard Midas, I really started to see where this was going and I quite enjoyed it. And, to be fair, I am on book three and…..wow. Just WOW. I LIVE FOR IT. I just hope I finish loving it, so I can look forward to the final book coming out next year.
You can have all the gold in the world and yet lack everything of real worth.
I kind of wanted to address the hate of how Auren acts, how she keeps accepting things, how she crawls back to Midas, buys his bullshit repeatedly, because…isn't that, like, the exact definition of Stockholm Syndrome? To fall in love with your captor, to eat the spoon fed lies, the pretty (and in this case, literal) cage? I really don't see how people wouldn't understand that process, how long it would take to fix that, piece together what is fiction or reality. What I CAN understand, though, is the desire to cease reading because the repetitiveness just isn't for you, or you simply don't like it-that's fair. What isn't fair, though, is implying she is weak or spineless (especially after reading further) when that's literally the point of the whole book. I'm no expert though, just my thoughts.
So, I don't know-it's hard to write a review about your least favorite of the series while also urging them to try the books, knowing full well they get better and better. But that's me here, now, trying to tell people that if you get past the first book, they get infinitely better-at least to me. Book two is far from perfect, but the feels were rampant, and book three has me literally dying to read, on the edge of my seat, and like a giddy little girl. Do with that what you will.
Related Posts