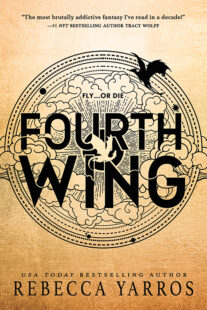 Fourth Wing
(
The Empyrean #1
)
by
Rebecca Yarros
Purchase on:
Amazon
, 
iBooks
Add to:
Goodreads
Synopsis:

Enter the brutal and elite world of a war college for dragon riders from USA Today bestselling author Rebecca Yarros

Twenty-year-old Violet Sorrengail was supposed to enter the Scribe Quadrant, living a quiet life among books and history. Now, the commanding general―also known as her tough-as-talons mother―has ordered Violet to join the hundreds of candidates striving to become the elite of Navarre: dragon riders.

But when you're smaller than everyone else and your body is brittle, death is only a heartbeat away...because dragons don't bond to "fragile" humans. They incinerate them.

With fewer dragons willing to bond than cadets, most would kill Violet to better their own chances of success. The rest would kill her just for being her mother's daughter―like Xaden Riorson, the most powerful and ruthless wingleader in the Riders Quadrant.

She'll need every edge her wits can give her just to see the next sunrise.

Yet, with every day that passes, the war outside grows more deadly, the kingdom's protective wards are failing, and the death toll continues to rise. Even worse, Violet begins to suspect leadership is hiding a terrible secret.

Friends, enemies, lovers. Everyone at Basgiath War College has an agenda―because once you enter, there are only two ways out: graduate or die.
Review:
We can live as cowards or die as riders.
Fourth Wing was epic, breathtaking and consumed my every thought.  This is easily one of my top favorite books, ever.  This book had me screaming from excitement, gasping from betrayal, and crying all the happy and sad tears. Foreshadowing of what was to come was secretly laced into the pages, leaving us with the feeling of dread that was all consuming. The betrayals cut deep. The friendships were beautiful. The enemies to lovers romance was a slow burn that was passionate and steamy. And the battles were intense and epic. If you love romantasy, you definitely need this one on your tbr!
"I'm used to functioning in pain, asshole. Are you?" I raise the dagger in my right hand just to prove that I can despite the blood that runs down my arm and drips from the tip of my blade, saturating the wrap across my palm. My gaze drops meaningfully to his side. "I know exactly where I sliced into you. If you don't get to a healer soon, you'll bleed out internally."
Rage contorts his features, and he moves to strike.
Violet Sorrengail is one of my favorite heroines.  She was smart, cunning and brave.  She was so easy to connect to and feel all of her emotions.  She thought she was destined to enter the Scribe Quadrant, but her mother changed her future.  As the commanding general, her mother forced Violet to go to the Basgiath War College.  And there she would either survive and become a dragon rider or die trying like countless others. The trials she went through were gutting, and I found myself cheering out loud for her every step of the way! Violet is a heroine that you can respect and love!
His eyes flare, and I don't miss the hint of a smirk on that infuriatingly decadent mouth of his. It should be against the Codex to look that good and be so ruthless.
Xanden Riorson was someone that was so easy to obsess over. He was Violet's enemy, because his parents had a rebellion that went against Violet's mom. In punishment, he and the other children of those who rebelled had to attend the Basgiarth War College. Yet by the end of Chapter 7 I was definitely betraying Violet, I was obsessed. Xaden was smart, sly and seemed honorable. His subtle banter with Violet was EVERYTHING! So when Violet would follow through with one his suggestions for training, I was grinning from ear to ear. And when he taught her how to grapple on the mats, it was so hot *fans face*. It seemed like Xaden was trying to protect Violet, yet in her world deception and backstabbing were done without a second thought. So while I was under his spell, I still didn't know whether I could trust him or not. I kept whispering for him not to betray her.
The inches between us feel like kindling, ready to burn at the first suggestion of heat, and I'm a living, breathing flame. This is everything I should run form, and yet denying the primal attraction I feel is completely, utterly impossible.
"We'll both regret it." He shakes his head, but there's more than hunger in his eyes as he stares at my lips.
"Naturally," I whisper. But knowing I'll regret it doesn't stop me from wanting it – wanting him. Regretting is a problem for future Violet.
"Fuck it."
This world was fascinating!  Maybe I was putting the clues together wrong, but it seemed like not everything was as black and white as Violet was taught.  All the while, others around her elicited so many emotions.  It was terrifying not knowing who you could trust.  There were those who had no problem killing a threat, or just killing for fun.  Even the grappling was intense, and I was shocked with my mouth left hanging open over how that would play out.  Broken bones were the least of your concerns. So as people showed their true colors over time, some of that made my blood simmer. But at the same time, be careful who you get attached to. Death found some of them too soon.  One especially I still can't handle, even after finishing this book *sobs*.
"Are you pushing for a reason?" Tarin asks.
"Can you give me one not to?"
"He cares for you. That's already hard enough for him."
I scoff. "He cares about keeping me alive. There's a difference."
"Not for him there isn't."
The dragons in this book were larger than life! I can't say much, because of spoilers, but the conversations and interactions were spellbinding. Also I loved the friendships that were formed between the humans. They were the type of friendships where you knew they would do anything to protect your life. Which is desperately needed since life and death moments were always present. Throughout this story, there was always this charge in the air that left me terrified of what was to come. And it was impossible not to have sweaty palms during some of the scenes or to feel your heart pounding in your chest! Plus the twists and turns were done beautifully! Some of it I saw coming, but others left me with my mind blown!
"There is no me without you," he says against my skin.
With the most epic of last lines, this book left us at the perfect spot where we can breathe. For a bit. Yet you'll still be left desperately wanting to grab that next one! With emotions and tensions running high, this was an action packed ride! The dragons, sparring, battles, political intrigue, friendships, and scorching hot and seductive scenes made this book beyond memorable. It had my whole heart in the palm of its hand and made me cry all the tears! Fourth Wing was beyond addictive and will easily become a favorite for romantasy fans!
"Going for blood today, are we, Violence?" he whispers. Metal hits the mat again and he kicks it past my head and out of my reach.
He's not taking my daggers to use against me; he's disarming me just to prove he can. My blood boils.
"My name is Violet," I seethe.
"I think my version fits you better."
PS The nickname that was given to Violet? I loved it so much!
I arch into him and claim his lips, kissing him like this might be the only time I'll get the chance. This kind of desperation isn't natural; it's a wildfire that's likely to burn us both to the ground if we let it.
*I voluntarily read and reviewed an advanced copy of this book, provided by the author. All thoughts and opinions are my own.*
Related Posts