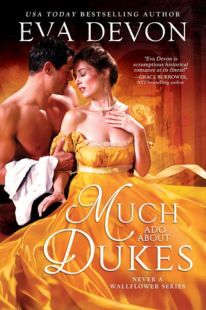 Much Ado About Dukes
(
Never a Wallflower #2
)
by
Eva Devon
Purchase on:
Amazon
, 
iBooks
Add to:
Goodreads
Synopsis:

Shakespeare meets Bridgerton in this witty and lively marriage-of-inconvenience romance.

As far as William Easton―the Duke of Blackheath―is concerned, love can go to the devil. Why would a man need passion when he has wealth, a stately home, and work to occupy his mind? But no one warned him that a fiery and frustratingly strong-willed activist like Lady Beatrice Haven could find a way to get under his skin...and that he might enjoy it.

Lady Beatrice is determined to never marry. Ever. She would much rather fight for the rights of women and provoke the darkly handsome Duke of Blackheath, even if he does claim to be forward-thinking. After all, dukes―even gorgeous ones―are the enemy. So why does she feel such enjoyment from their heated exchanges?

But everything changes when Beatrice finds herself suddenly without fortune, a husband, or even a home. Now her future depends on the very man who sets her blood boiling. Because in order to protect his esteemed rival, the Duke of Blackheath has asked for Beatrice's hand, inviting his once-enemy into his home...and his bed.

Each book in the Never a Wallflower series is STANDALONE:
* The Spinster and the Rake
* Much Ado About Dukes
* The Duke's Secret Cinderella
Review:
Much Ado About Dukes was romantic, charming and impossible to put down!  With characters that were full of life, a story-line that kept me turning the pages faster and an ending I adored, this book was everything!  If you love historical romance or adult romance, you definitely need this book in your life!
His head lowered ever so slightly. "Are you blackmailing me?" And then he smiled, a beautiful, teasing, devastating sort of smile. "Are you going to make every family dinner a complete catastrophe until I agree?"
She cocked her head to the side. "Possibly."
Beatrice was convinced that love was never in her future.  Being raised by her Uncle, and having her cousin as a best friend, she was happily living her life and speaking out about women's rights.  But when her fortune disappeared, she found herself in trouble and complete disarray.  To the rescue came Will.  William Easton, the Duke of Blackhearth, was the man she wrote to about women's rights and never heard back from.  He was a formidable presence and she was convinced he was the enemy.  But when he proposed they marry and that they would both avoid the pitfalls of love, Beatrice paused to consider and I was already addicted!
"Perhaps we have more in common than we thought," he said softly.
"The horror," she teased before she inclined her head. "Who'd have thought it?"
Beatrice made a name for herself and she seemed so put together, driven and I loved that she would never settle for less when it came to love. She had seen how much her parents truly loved one another, before they died, and she only wanted that. She was perfectly content remaining single and I loved the relationship she had with her cousin, Margaret. They truly loved and cared for one another. Yet, Beatrice felt so lonely. Except when Will was in her vicinity, her life felt less lonely and fierier during those moments!
There was only one word for her.
Magnificent.
He did not know what he had expected, but this was not it. She was a positive force of a woman, and he was… stunned.
I am officially obsessed with William Easton, the Duke of Blackheath!  To a stranger he could come across as focused on his work and maybe closed off, but getting to see the side of him with his brothers….ohhhh there was so much to Will! He was such a good guy *cries because I want to steal him from the pages!*. I loved the interactions he had with his brothers but I loved even more all of Will's thoughts that we got to hear as we alternated between him and Beatrice. He proved again and again why he was trustworthy and good. He apologized. He stood up. He surprised Beatrice time and again. But best of all he could joke and tease her, and those moments made my heart beat faster! Will was considerate, thoughtful, kind and extremely sexy.
"Beatrice, we shall make London quake underneath our polished boots, for you and I can make the world sit up and take notice. Nothing will ever be the same."
How right he surely was.
Much Ado About Dukes made me laugh out loud and smile! The banter between Beatrice and Will was so much fun and I loved how it showed their other sides! From the moment they met, there was chemistry and the tension between them that was electrifying. But they were both weary of love. So the moments they caused each other to faulter was exciting and left me hoping for more! And as they spent more time around each other, they helped each other see who they truly were and open their eyes to the ways of the world. I loved that they brought out the best from each other. When their moment together led to more, this book was sensually seductive!
Will smiled down at her.
She met that smile with one of her own. A smile full of determination to succeed.
Yes, this was the beginning of something beautiful, and he would not let them fail.

Much Ado About Dukes was romantically addictive! I loved the way this book unfolded, I loved the moments that tugged at my heart and I also love that it made me scream out loud for how something played out. This book constantly pulled on my emotions! And fyi, you definitely don't have to read the first book in this series to enjoy this one! I just have to say one more thing…. I absolutely loved Ben, Will's brother.  He needs his own book please!
She beamed at him. "Together?" she whispered. "How can we lose?"
*I voluntarily read and reviewed an advanced copy of this book, provided by the publisher. All thoughts and opinions are my own.*
Related Posts