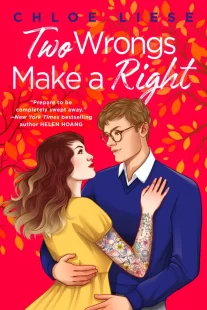 Two Wrongs Make a Right
by
Chloe Liese
Purchase on:
Amazon
, 
iBooks
, 
Book Depository
Add to:
Goodreads
Synopsis:

Opposites become allies to fool their matchmaking friends in this swoony reimagining of Shakespeare's beloved comedy, Much Ado About Nothing.
 
Jamie Westenberg and Bea Wilmot have nothing in common except a meet-disaster and the mutual understanding that they couldn't be more wrong for each other. But when the people closest to them play Cupid and trick them into going on a date, Jamie and Bea realize they have something else in common after all—an undeniable need for revenge.
 
Soon their plan is in place: Fake date obnoxiously and convince the meddlers they're madly in love. Then, break up spectacularly and dash everyone's hopes, putting an end to the matchmaking madness once and for all.
 
To convince everyone that they've fallen for each other, Jamie and Bea will have to nail the performance of their lives. But as their final act nears and playing lovers becomes easier than not, they begin to wonder: What if Cupid's arrow wasn't so off the mark? And what if two wrongs do make a right?
Review:
It's a text. Just a text.
But it feels like so much more.
With humor, romance and heart, Two Wrongs Make a Right was so easy to love! Enemies to lovers was mixed with fake dating, and it played out beautifully! The characters were vivid and ones that you will be rooting for, the story-line was so much fun and I left this book knowing I had to read all of Chloe Liese's books!
He grins. A crooked, soft Jamie grin that once again fills my heart to a shimmering, golden pop. "I have a feeling you're going to be a bad influence, Beatrice."
"Ah, James," I tell him through the buttercream sweetness lighting up my tongue. "Now you're catching on."
Beatrice Wilmot aka Bea and Jamie Westenberg didn't get off on the right foot. They rubbed each other the wrong way and Bea had no problem slaying Jamie with her words. It didn't matter that something was there and that the chemistry could be felt. That first impression did them in. But when their friends wouldn't give up and set them up on a blind date, that was when they realized they could finally agree on something. Revenge. So what's a little fake dating to trick their friends into thinking they did what was best, and then breaking up once their friends were truly invested. It was a solid plan, yet feelings don't always seem to go the way you want them to.
Holding me close. He turns his face so slightly, until his mouth brushes the shell of my ear.
And for a moment, I forget why this is happening.
I adored Bea! I loved listening to her thoughts and watching how she saw the world. She was an artist who had a twin sister and a wonderful group of friends. She claimed they were her sister's friends, but you could tell they loved her just as much too! And I loved how much fire Bea had in her! Her words and even her flying carrots had me cracking up! Ohhhh and her second hand embarrassment was all of mine too.
Being in a fake relationship isn't supposed to be complicated. Kissing isn't supposed to make me think foolish, ridiculous thoughts about Bea actually wanting me when she kissed me, too. This situation is terrifyingly beyond me.
Through Bea's eyes, Jamie came off as so cold. But we also got chapters in his voice and Jamie was definitely one of the good guys! He could be so thoughtful and sensitive, it was heart melting. As we spent more time with him, you realize that there was a whole lot more going on with Jamie then meets the eye. Anxiety clung to him at times. That representation was so relatable to me, so Jamie was so easy to click with and love.
You're the best thing in my life, I want to tell her. You're safe and real and perfectly imperfect . We started as a lie, and now we're the truest thing I've ever known.
But I don't say it, don't speak those fragile words into the delicate space between us.
Bea and Jamie fought and bantered so fabulously! Yet they both had a lot more in common than they thought. They had been burned in the past and hearts will hurt listening to their stories. So they both lied to themselves for how felt towards the other, even though they wanted each other! I loved watching how they both surprised one other with kindness, insight, understanding, and generosity. It was impossible for them not to become friends with the path they were going down. Especially when you have to tell each other personal stuff. True boyfriends and girlfriends would talk about that right?! *smirks* Eeps, their fake dating was a ton of fun. And when emotions got involved it was difficult not to be giddy!
"My fake boyfriend isn't supposed to ruin me for everyone else," I whisper.
Jamie's eyes fall shut as he drops his forehead to mine.  "Sometimes, Beatrice, I want to ruin you for everyone else."
With friendships that were strong and beautiful, self-doubt, pushing the line and fabulous date nights, this book was so much fun! There were sentimental moments that made tears gather in my eyes, and steamy moments that fit so well together. And even watching wrong choices being made, I was cheering them on! Two Wrongs Make a Right was lovable, entertaining and such a fabulous mix of enemies to lovers and fake dating!
*I voluntarily read and reviewed an advanced copy of this book, provided by the publisher. All thoughts and opinions are my own.*
Related Posts