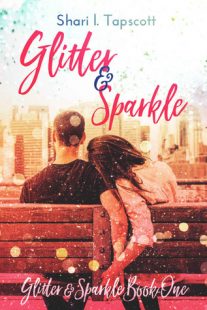 Glitter and Sparkle
(
Glitter and Sparkle #1
)
by
Shari L. Tapscott
Purchase on:
Amazon
Add to:
Goodreads
Synopsis:

Lauren's senior year is going exactly as planned. Her craft blog is getting more visitors every day, and she knows what she's going to do with her life after graduation: get her associate's degree, marry someone fabulous, and live happily ever after.

Sure, she doesn't know what she's going to get that degree in...and there's no Prince Charming on the horizon yet. But, still, that's the plan. At least it is until her older brother's cocky best friend shows up out of nowhere and announces he's moving in.

Now Lauren's crafting area has been relegated to the garage, and Harrison's stuff has taken over the guest house—her guest house. He's the only boy she's ever despised, and he's always there, getting under her skin, looking and smelling just a little too incredible for Lauren's good. She wants to hate him...but she's going to have to stop daydreaming about him first.

Lauren's counting down the days until Harrison leaves. But when time runs out, will she be able to let him go?
Review:
Glitter and Sparkle was the cutest book ever!  If you're a fan of Cookie O'Gorman, or even the feelings you got while watching the movie Clueless, then you definitely have to give this one a try!  From that very first chapter, I found myself laughing so hard I couldn't catch my breath.  And as I dived deeper into the story, I had butterflies, couldn't knock the smile off of my face, I kept sighing and then gasping out loud and I fell madly in love with the story and characters.  This book is definitely going on my favorites list and I can't recommend it enough!
Why did Harrison, of all people, have to grow up to be so devastatingly good looking? It's such a shame.
It's such a waste.
Right from the start I loved Lauren!  She has the most adorable voice. She was honest, heartfelt, and I loved her passion for crafting and her blog.  She pulled me right in and she was someone I would love to be best friends with!  On top of that, she has an annoying older brother, who's away at college. But they definitely love each other.  And her parents reminded me so much of mine, especially when I was in High School. They were caring and involved in her life.  But Lauren's wonderful little world is about to get very complicated when her brother's best friend, Harrison, ends up moving in with them.  Even though he's also her mom's best friend's son, they haven't seen each other in seven years since his family moved away.  Their past was filled with Harrison teasing or being awful to Lauren. And well, not much has changed lol!
Then he strides to me and does the unthinkable—he sets his hands on my shoulders and leans down.
And, much to my horror, my heart stops. It just stops. I go cold and then hot, and every square inch of me tingles. Oh, and I hate him. But good heavens, his lips look scrumptious.
Ohhhhhh I loved Harrison SO much!!  Harrison could be so sweet, thoughtful and caring but in the next minute he could be the biggest douche on the planet to Lauren.  It was so much fun!  I loved watching what he would say or do to get a rise out of Lauren, because I'd find myself gasping and then laughing so hard I'd have tears pouring down my face.  But I was left feeling so guilty because I loved Lauren, and the games Harrison played with her was sooooo bad.  It was all so hilarious, but oh so wrong, on so many levels. And I loved every twisted moment of it! But regardless of what Harrison would say or do to Lauren, I loved him with my whole heart and soul.  Harrison was so charming and captivating and he sailed right to the top of my book boyfriends list!
He stretches higher, and his shirt shifts a little more. "Like this?"
Bad Lauren.
I rub a spot behind my ear, feeling a little guilty. "Maybe just a little higher…" Oh, I give up. I can look at him, can't I?
I can detest someone while admiring their hotness?
So the story followed Lauren through her final year of High School.  And I have to give a warning that there were jumps in time. It made me pause the first few times it happened, but I quickly warmed up to how the story progressed.  Lauren was big into drama, and a guy she always had a crush on ended up being roped into her class.  Grant was an all-star athlete and since he needed to bring up his grade, his coach forced him to take drama.  You could tell that Grant really liked Lauren and it was cute to watch their awkward moments together. From accepting rides with Grant, to hanging out, to even dating, it all progressed easily.  But her feelings for Grant? They weren't anything like her feelings towards Harrison.
Then there's Harrison. He stands, his hands in his pockets, his eyes on me. The world fades; he's all I see. All I want to see.
Lauren tried her hardest, but she couldn't ever get Harrison out of her head.  And as time passed, Harrison became even more involved in her life.  He was always there. Through her worst moments. To her happiest moments.  He always seemed to be in the background witnessing her life unfold. And as Lauren started to know more about Harrison, she saw this other side of him.  The one he kept hidden. Harrison could be so considerate and kind to Lauren.  And sometimes it seemed to happen at the worst moments, and my heart started to break for him.  I even got tears in my eyes a few times. But Harrison made it clear that he was not interested in Lauren.  And to complicate matters, her best friend Riley crushed so hard on him.  But Lauren shouldn't be jealous because she was supposed to be with Grant…..right?  
"I thought you decided high school girls are off limits," I whisper as I lean forward.
"They are." His breath tickles my lips, making me feel heady and reckless.
"Then what are we doing?"
"Breaking the rules."
This was a book I hope all of my friends will read!  This was such a heartfelt book and I loved ever single minute of it!  Between the back and forth banter, the scenes that made me laugh and cry and the beautiful characters, it was just all so perfect!  And as if that wasn't enough, the epilogue was the most amazing thing ever!    If you are an epilogue junkie, like me, you're going to love it so much!!  Now I'm off to go read the next book in this series that's about her best friend!
Related Posts