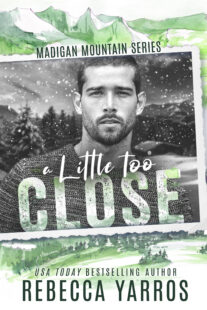 A Little Too Close
(
Madigan Mountain #2
)
by
Rebecca Yarros
Purchase on:
Amazon
, 
iBooks
, 
Book Depository
Add to:
Goodreads
Synopsis:

From USA Today bestselling author Rebecca Yarros comes a small town, single parent romance.

Nine years ago, Weston Madigan saved me. I came to Colorado penniless, heartbroken, and pregnant, searching for a fresh start. Weston gave me a job at his family's resort, then left the next day and never returned, not even to visit.

Then I stumble in on Weston cooking breakfast shirtless-gloriously, inappropriately shirtless-in the shared kitchen of my duplex in employee housing. Given the shock on both our faces, he wasn't expecting a roommate either, let alone two.

The growly pilot is only home to start his family's new heli-skiing operation. I can handle being his temporary roommate, right? Chemistry and attraction aren't impossible to ignore when you agree on ground rules. Besides, even with those gorgeous, brooding brown eyes, the guy is a walking thundercloud...until my daughter, Sutton, makes him laugh and he smiles at me. Then everything changes. Cue inconvenient heart flip.

This is only temporary.

I can't fall for Weston.

I. Will. Not. Fall. For. Weston.

But rules go out the window when you're a little too close.
Review:
A Little Too Close was a steamy story about opposites attract! With a forced proximity that was done phenomenally, a story-line that will tug at your heart and characters you can't hep but love, this story was such a huge hit. With the right amount of hope and laughter, mixed with an emotional backstory for both characters, this romance story is bound to sweep you off your feet!
Staring at my roommate's mouth was the worst idea in the fucking world.
Nope. Kissing her would be the worst. Staring is just…bad.
Callie Thorne was a single mom that was dedicated, a hard worker and had the most beautiful heart. She had put so many of her plans aside for others happiness, and the joy she filled a room with was infectious. She was the photographer for the ski resort, and living in a duplex in employee housing while saving money for her and her daughter, Sutton's, own place. Yet when she found Weston Madigon cooking in her kitchen shirtless, everything changed. This was the same man who gave her a job ten years ago when she was pregnant and absolutely lost in life. And then he disappeared the next day. When Callie and Weston agreed to share the duplex, along with a list of rules, neither of their lives would ever be the same again.
Weston smiled. He really, actually smiled, and I almost lost my balance. He was gorgeous while broody and serious, but smiling? He was beautiful.
Weston Madigan didn't expect to find himself back at his family's ski resort. He left after he helped raise his younger brother, since his mom died and his father checked out while being an alcoholic. He was now in the army as a helicopter pilot. Yet his older brother Reed needed him, to help branch the resort into heli tours and drops for skiing and snowboarding. With resentment towards Reed, questioning himself and a whole slew of other emotions, Weston found himself back home. And sharing living quarters with Callie and her daughter Sutton. Being around Callie and Sutton showed us how considerate, thoughtful, caring and protective he could be. Weston was sigh worthy. For someone who didn't even want a pet for fear or attachment, I loved watching him come to care for the both of them. And I loved even more the attraction between Callie and Weston that couldn't be ignored.
A second later, he ripped his head back. "This is a really bad idea." But his grip tightened on my hips.
"The worst," I agreed, my hands sliding to his neck and behind, up into his hair.
"Fuck it." He slanted his mouth over mine and kissed me, his tongue parting my lips and sliding into my mouth like he owned it.
While Weston and Callie each had their walls, I loved watching them get to know each other. As the weeks went by, they let the other in just a little bit more each time they interacted. The friendship that forged felt natural, along with how they cared for the other. Yet they were also both attracted to each other. So the longer they lived together, the more impossible it became for them to ignore the sparks between them. And when they pushed the boundaries from friends to more, oh it was hot *fans face*!
I was a compass, and she was north. I was powerless to fight whatever this was between us.
A Little Too Close was a charming, romantic, opposites attract that will capture your heart. With side characters that I loved, both of their groups of friends were fabulous! And a happily ever after with a look into the future, this book was so wonderful! Ohhhhh I have to share that one of my favorite things in this book was Weston and his bond with Callie's daughter, Sutton. He was her biggest cheerleader and their relationship will give you all the smiles! And while yes you could technically read this as a standalone, I can't recommend A Little Too Late enough! I read that story first, since it's about Weston's older brother Reed and how he ended up back at the ski resort. So if you love adult romance that has some steam in the pages and lots of heart then this is one you'll want to check out!
*I voluntarily read and reviewed an advanced copy of this book, provided by the author. All thoughts and opinions are my own.*
NOW AVAILABLE!!
Amazon l Nook l Apple l Kobo l Audio
Find all of the Madigan Brothers books HERE
Add to Goodreads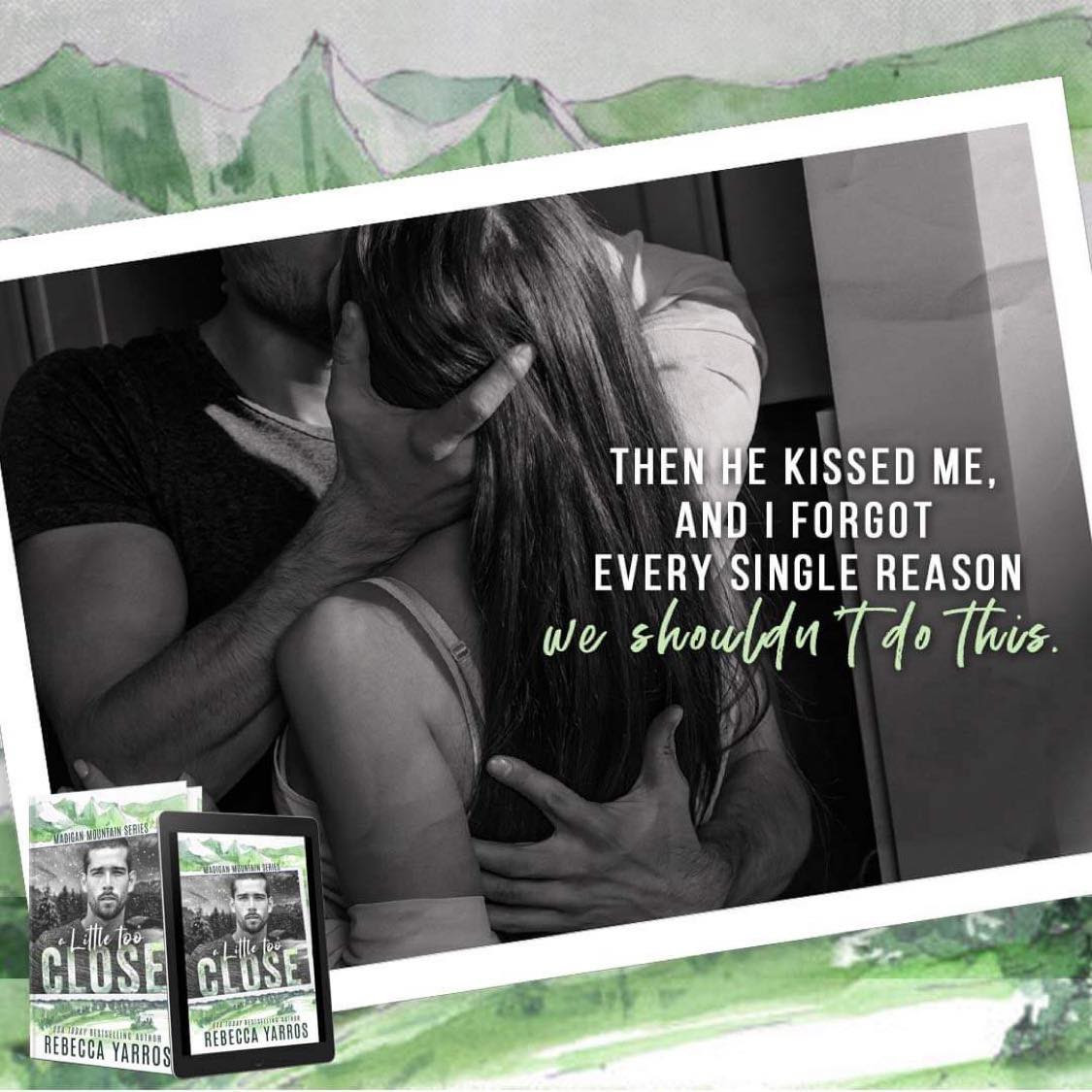 About Rebecca Yarros:

Rebecca Yarros is the USA Today bestselling author of over fifteen novels, including The Things We Leave Unfinished and The Last Letter. "A gifted storyteller" (Kirkus), she is also the recipient of the Colorado Romance Writer's Award of Excellence for Eyes Turned Skyward from her Flight and Glory series. Rebecca loves military heroes and has been blissfully married to hers for over twenty years. She's the mother of six children, and is currently surviving the teenage years with three of her four hockey-playing sons. When she's not writing, you can find her at the hockey rink or sneaking in some guitar time while guzzling coffee. She and her family live in Colorado with their stubborn English bulldogs, two feisty chinchillas, and a Maine Coon kitten named Artemis, who rules them all. Having fostered then adopted their youngest daughter who is nonverbal and on the autism spectrum, Rebecca is passionate about helping children in the foster system through her nonprofit, One October, which she co-founded with her husband in 2019. To learn more about their mission to better the lives of kids in foster care, visit www.oneoctober.org. To catch up on Rebecca's latest releases and upcoming novels visit www.RebeccaYarros.com.

Connect w/Rebecca: Website I Facebook I Facebook Group I Twitter I Instagram I Goodreads I Bookbub I Amazon
Related Posts
I'm beyond excited to be on the tour for A Little Too Close! I love the books Rebecca Yarros writes, and this opposites attracts story was so fun to devour! Enjoy ♥