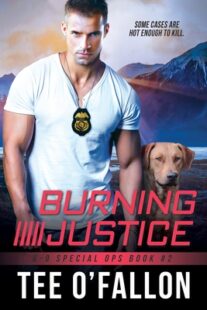 Burning Justice
(
K-9 Special Ops #2
)
by
Tee O'Fallon
Purchase on:
Amazon
, 
iBooks
Add to:
Goodreads
Synopsis:

Some cases are hot enough to kill.

After narrowly surviving a childhood fire that killed two of his friends, ATF Special Agent Brett Tanner knows what it's like to get too close to the flame. The trauma only spurs him and his K-9 partner to track down the arsonists targeting a Colorado town. This latest warehouse blaze looks suspicious as hell...and there's a body. Now it's murder.

Fiercely independent insurance investigator Gemma Scott has been burned enough times to know she doesn't need anyone—especially a handsome agent with an agenda. Teaming up with the hardened and determined ATF agent means not just trusting her instincts...it also means trusting him.

Now they're racing against an arsonist with a lethal agenda—one who's willing to burn and kill to hide the evidence. But the killer is only part of a larger mystery. And the searing attraction between Gemma and Brett adds fuel to an already dangerously lethal fire. One that will smoke out a killer...along with Brett's darkest secret.
Review:
Burning Justice was an action packed, romantic suspense that was a lot of fun to read. With characters that were easy to adore, a dog that will melt your heart, a storyline that will keep you guessing and some steamy scenes, I devoured this book so quickly! Fans of romance and romantic suspense definitely need to have this one on their tbr!
Gemma's eyes gleamed with the same energy thrumming through his veins.
Because they now had a prime suspect.
Gemma Scott worked for the National Insurance Crime Bureau and ended up on the same case as Bret Tanner, an ATF special agent. While Gemma had been burned in the past while partnering on a case, working with Bret seemed inevitable. Not only did they both have the same gut feeling, but it looked like they were after an arsonist who had no problem murdering too. I loved that Gemma was brilliant, confident and how self-sufficient she was. She was a woman so many others could look up to. Yet Gemma wasn't too happy with herself that she was attracted to Bret. Truly I couldn't fault her, I was too lol!
His dark blue gaze met hers and held it. How she wished she could read his mind at that moment.
Bret Tanner was broody, smart, kind, and utterly sexy. He had no problem telling Gemma how much he appreciated her and what she did for their case! And while they were such a fabulous team, it hurt that Bret thought so low of himself. I didn't understand where it came from. And once we figured it out, oh my heart, it was horrific. Bret was beyond tortured from his past and struggled with PTSD. My heart broke for him. So I was grateful that he had Blaze in his life! He was his K-9 therapy dog who was absolutely incredible! Blaze could be hilarious, heartfelt and was so easy to love! How could you not love a dog that enjoys watching Animal Planet lol?!
"Good job, partner." When he removed his hand, the warm imprint of his long fingers on her bare skin sent a shiver of awareness through her, this one stronger than what she'd felt in Hicks's office. Along with a surge of happiness.
Their attraction to each other couldn't be denied. So while their first time kissing turned incredibly hot *fans face*, they needed to focus on their case. Not get emotionally involved with one another. And definitely not be kissing or more. As we alternated between Gemma and Bret, I loved watching them put the clues together. We got to witness events unfold that led to people's stories that felt so real. And were heart wrenching to listen to. The trauma Bret and Gemma came upon in their fields could be so consuming. Yet as the clocked kept ticking by, we watched as they tried to solve the case with chases, attacks and life and death battles swirling around them!
They were being targeted, and if they didn't get a solid lead to follow and fast, sooner or later…
The perpetrator would find his mark.
I have to say that I typically don't read romantic suspense, but I previously gave Tough Justice a try and was hooked by Tee O'Fallon's writing! Her characters found their way so easily into my heart and her storylines keep you turning that page until you reach the last one! I fell for another one of her books, and I loved catching up with Deck and Tori from Tough Justice! We got to see a new aspect of their relationship, and I was so over the moon happy! Burning Justice's ending will leave readers with a smile on their face! And I can't wait to read the next book in this series!
"Sit," Brett said, pointing an admonishing finger at his dog. "We do not eat other people's pets for breakfast. Understood?"
Woof.
PS I adored that Gemma had a pet that I have never read someone else having! The name was so cute!
*I voluntarily read and reviewed an advanced copy of this book, provided by the author. All thoughts and opinions are my own.*
Related Posts