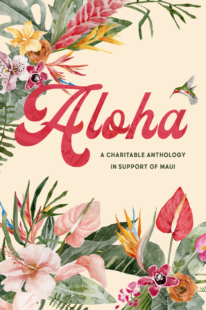 Aloha: An Anthology for Maui
Purchase on:
Amazon
, 
iBooks
Add to:
Goodreads
Synopsis:

ALOHA is a charity romance collection of swoon-worthy, never-before-seen short stories from over FIFTY of your favorite bestselling authors, all with a twist of Hawaii. All royalties from the collection will be donated to Maui Food Banks and the Maui Fire Relief Fund to help support the survivors of the devastating fires. ALOHA will only be available for a limited time, so one-click your copy before it's gone.

AUTHORS INCLUDE: K.A. Linde, Adriana Locke, Alessandra Torre, Penny Reid, Rachel Van Dyken, Willow Winters, Brittainy Cherry, Aleatha Romig, Heidi McLaughlin, Crystal Perkins, Helena Hunting, Jessica Ashley, L.B. Dunbar, Ren Alexander, Skye Warren, Tara Brown, Tia Louise, Diana Peterfreund, Jamie K. Schmidt, Alexandria Bishop, Maria Luis, Kasey Metzger, Julia Kent, Karina Halle, Trilina Pucci, Carly Phillips, Aarti V Raman, Jill Ramsower, Amber Kelly, Eric R. Asher, Julie Leto, Lucy Eden, Kimberly Reese, Kayti McGee, Lauren Rowe, Pepper Winters, M. Robinson, J.L. Baldwin, Brittany Holland, Angelina M. Lopez, Jiffy Kate, Lex Martin, MJ Fields, Emma Louise, Catalina Snow, Dee Lagasse, Cary Hart, Aly Martinez, Fiona Cole, Jay McLean, Jana Aston, Emma Scott

All royalties from this project will be donated to organizations working in Maui to bring relief to the survivors of the Maui fires. We aren't affiliated or endorsed by these charities. We are authors who are helping the best way that we can.
Reviews:
Amber Kelly: Changing Tides ★ ★ ★ ★ ★
This island changed me.
Changing Tides was a beautiful story of finding oneself after your heart is broken.  Avie was dumped the day before their Hawaiian vacation, so she went on the vacation with her best friend Amiya instead.  Of course the setting was breathtaking and I could see it all unfolding before my eyes like I was watching a movie.  While snorkeling she met Sebastian who stole my heart.  Sebastian and Avie clicked and there was no denying the chemistry between them.  I loved their brief time together and how steamy it was.  And there was even a moment that was so sweet *cries*.  Yet those final few sentences, oh my heart!  I will desperately be counting down until Sandcastle Cover Series is released in 2024!
Our night of passion will forever be a beautiful memory of my time here in paradise, but that's where it needs to stay.
In my memory.


Jana Aston: Crazy Little Meet Cute ★ ★ ★ ★ ★ 
Georgina Reeves made me laugh from that first page!  Her thoughts were absolutely hilarious and I felt for her.  She was attending her ex-boyfriend and stepsister's wedding.  And wellllll, she said she had a plus one yet her boyfriend didn't exist.  So her attempt at finding Ben were laugh out loud funny.  But OMG Jana I NEED MORE!  This story was adorable, cute and so much fun!  I laughed, smirked and the world around me disappeared.  Can this please be a full length book?!  Please?!  I would love more of these characters!
I eye him. I want to believe I've had a change of luck, so very badly. "What's your name?"
"Ben," he quips, a playful smirk on his face.
"It's not," I reply, snaking my hand into his jacket pocket to nab his lanyard.
He doesn't stop me.

Lauren Rowe: Horny and Healing in Hawaii ★ ★ ★ ★
This story started off with a bang!  Julia was supposed to marry the love of her life, but before the wedding she found out he was cheating on her.  And the texts she read out loud?!  Wow lol!  I was cheering her on!  Julia ended up going on her honeymoon alone, yet there was a man in her bungalow.  Since they were double booked, Mateo and Julia decide to make the best of it.  Their time together was steamy and I was so happy that their story ended with a HEA!
"What happens in Hawaii stays in Hawaii?"
"Exactly. A fun distraction to make us forget . . ." I stop speaking, as emotion unexpectedly rises up inside me. I take a deep breath and finish my sentence. "All the lies and deceit. Even if it's only for one night."
His chest heaves. He rises from the couch and extends his hand.
I will update my post as I share more reviews from this book ♥.
*I voluntarily read and reviewed an advanced copy of this book, provided by the author. All thoughts and opinions are my own.*
Grab Your Copy!
✦ Amazon → https://geni.us/Amazonoha 
✦ B&N → https://geni.us/NookAloha

✦ Apple → https://geni.us/AppleAloha

✦ Kobo → https://geni.us/KoboAloha
✦ Google Play → https://geni.us/GoogleAloha


Hosted by:
Related Posts