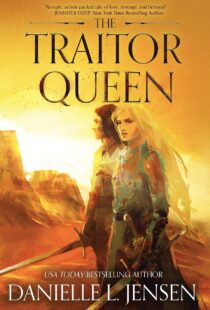 The Traitor Queen
(
The Bridge Kingdom #2
)
by
Danielle L. Jensen
Purchase on:
Amazon
Add to:
Goodreads
Synopsis:

A queen now in exile as a traitor, Lara has watched Ithicana be conquered by her own father, helpless to do anything to stop the destruction. But when she learns her husband, Aren, has been captured in battle, Lara knows there is only one reason her father is keeping him alive: as bait for his traitorous daughter.

And it is bait she fully intends to take.

Risking her life to the Tempest Seas, Lara returns to Ithicana with a plan not only to free its king, but for liberating the Bridge Kingdom from her father's clutches using his own weapons: the sisters whose lives she spared. But not only is the palace inescapable, there are more players in the game than Lara ever realized, enemies and allies switching sides in the fight for crowns, kingdoms, and bridges. But her greatest adversary of all might be the very man she's trying to free – the husband she betrayed.

With everything she loves in jeopardy, Lara must decide who – and what – she is fighting for: her kingdom, her husband, or herself.


Oooh boy. This book was a monster's dream. It's me. I'm the monster. This book was perfection wrapped in evil, desperate things, and I lapped it up so quickly-so quickly, in fact, I found that I had read the whole book in one night and that hasn't happened since, like, 2013? Maybe? It's that sinfully evil, I tell you.




I couldn't be torn from these pages. Not even death itself could have pulled me from these pages, because my heart was woven so delicately within these words and moments that I had no way of escaping.

Aren is…in a predicament. Lara 'banished'. Okay, Tinkerbell. Come on now. But anyway. Lara is willing to do ANYTHING to right her wrongs, to make things right, to save the love of her life…but no one WANTS her to.

Thus is the struggle of being a total raving brainwashed loon in book one, I suppose, but it didn't make it any less hard to swallow, watching the way she gets treated even as Aren knows in his heart he'll always love her despite all she did and could do-he won't give in, but his heart will never let her go.

This book sang to my soul so deeply-it's rare you find a book that can encapsulate everything you love and admire about stories without it being too over the top. The types of books I love and cherish are rife with boy tears, deceit, and romantic peril so dire we don't KNOW if they will make it out alive. I really do only get the most enjoyment out of when they DO make it, but there are times I make exceptions for my truly macabre moments.

Never a dull moment, these two fight for their life, for their kingdom, for EACH OTHER, so fiercely that it emanates off the page. Their love and passion for one another and the place they call home is spell-binding and it shines bright on each and every page, making every horrendous, treacherous trial and moment they go for fraught with tension and heartache. I was truly head over heels for every trial and tribulation these two went through, even though it I didn't fully buy it had to be this way.

That…was my biggest issue with book one. Did it have to be this way? NO, sorry. But I also understand it led to one of the most amazing second books ever, so beggars can't be choosers. But, to be fair, this wasn't simply a miscommunication, this was a lack of total regard for the worst imaginable scenario possible when not handled correctly. I just….come on, Lara. And Aren….just forgive her already-we all know you know it was an accident and you WANT TO. (F THEM KIDS (THAT KINGDOM).

Riddled with terror, treacherous elements, and the absolute uncertainty if they would ever end up together again, if they would even survive, in the end…this book was everything I could have asked for and more. I didn't even mind (view spoiler)[The HFN end. We know they're together. They made it. IT'S PLENTY. (hide spoiler)]. So, to say this was the perfect novel, for me, would be an understatement. The tears, the lack of trust, the hope, the absolute desperate cries for one another in battle *even thought they aren't supposed to care*? Sign me up for infinite re-reads. For eternity. For all time. I will never stop.