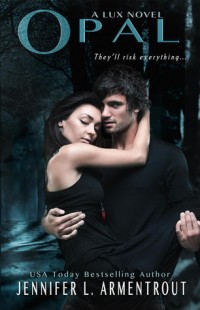 Opal
(
Lux #3
)
by
Jennifer L. Armentrout
Purchase on:
Amazon
, 
iBooks
Add to:
Goodreads
Oh man did this book get me… It literally took me forever to finish the last 50 pages because I just KNEW that Jen was going to leave us with a killer cliffhanger-and that she did and then some. The previous two installments had cliffhangers that had you begging for more, but Opal left you feeling like you were a fish out of water gasping for breath with no relief. I was on the edge of my seat until the very last sentence, and it nearly killed me.
How am I going to wait until JULLLYYYY????
I am so addicted to this series, and I never knew about it until recently! Thank you Goodreads! I would never have found such an awesome series without using this site. This series was so unexpected..paranormal can be written stupidly, and frankly after all the paranormals I have read I have been trying to stay away from them. These books are far from stupid-they are beautifully written and even have you laughing out loud. I would have truly been missing out if I passed this series up-it has literally everything. Seriously. Love, loss, BETRAYAL to the nth degree, humor, suspense, action and more.
This is one of my new top favorite series and I suspect I will be re-reading it..despite my best efforts to move on and find another series until the sweet release of book 4 in July that will hopefully satisfy the gaping hole this book left in my heart. It will be virtually impossible. I would not pass this series by…it hooks you and leaves you begging for more.
Related Posts