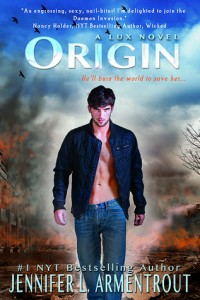 Origin
(
Lux #4
)
by
Jennifer L. Armentrout
Purchase on:
Amazon
, 
iBooks
Add to:
Goodreads
Synopsis:

Daemon will do anything to get Katy back.

After the successful but disastrous raid on Mount Weather, he's facing the impossible. Katy is gone. Taken. Everything becomes about finding her. Taking out anyone who stands in his way? Done. Burning down the whole world to save her? Gladly. Exposing his alien race to the world? With pleasure.

All Katy can do is survive.

Surrounded by enemies, the only way she can come out of this is to adapt. After all, there are sides of Daedalus that don't seem entirely crazy, but the group's goals are frightening and the truths they speak even more disturbing. Who are the real bad guys? Daedalus? Mankind? Or the Luxen?

Together, they can face anything. But the most dangerous foe has been there all along, and when the truths are exposed and the lies come crumbling down, which side will Daemon and Katy be standing on? And will they even be together?
Review:
*Spoilers if you haven't read the previous books in the Lux Series*
Another gripping, action packed, heart-wrenching story by Jennifer Armentrout! I was addicted from the very first page and I never wanted to escape Katy and Daemon's world. The fourth installment of this series adds a new element that I thoroughly loved, alternating voices. I loved hearing the story in both Katy and Daemon's voices but I became enamored listening to Daemon's intoxicating, bad-ass, sexy self. Listening to both Katy and Daemon's hearts breaking while they faced struggle after struggle added a potent level of becoming lost in their lives. The world around me easily faded away into nothingness. Well, until that ending. That ending left me petrified for how this series is going to conclude.
Katy – I had no idea what was going to happen from here on out, and even thinking about it scared the ever-loving crap out of me. Tomorrow wasn't guaranteed. Neither were the next couple of hours. My breath caught with that realization, and I stiffened. The next minute was unknown to us, and it might not even come.
Katy wakes up still trapped in her nightmare. While helping to break out Beth and Dawson from Mount Weather, Katy was caught in the process. Daedalus has transferred her to the state of Nevada and she is petrified of what will happen to Daemon when he does the same thing she would do for him, rescue her. Daemon is on a suicide mission to rescue Katy and no one can stop him. Not the whole Luxen community, Dawson and certainly not Dee. How can you be rational when you are flooded with a million and one emotions? How can you be rational when you know the one you love is being tortured, just like Bethany was. You can't. From here, you get taken on a dark and twisted path of betrayal, heroism, torture, true love, and sacrifice.
Daemon – She burrowed into me, her fingers clutching the strands of hair at the nape of my neck. The tears…they kept coming, and my heart was shattering at the raw sound of each of her breaths. Never in my life had I felt more useless. I wanted to fix this, to make her better, but I didn't know how.
One of the many reasons I love this author so much is that not only is the storyline enthralling but the couples she builds are mesmerizing. The love they feel for each other, the moments that make you sigh out loud and the happiness they create within you adds to the fact they are real. Well, at least they are in my mind. In Origin, we get to watch Daemon and Katy's love for one another grow to epic proportions. In the end, they always knew that they had each other's love to build strength from. When Katy was at her darkest place, when not even sleep but nothingness becomes an unanswered prayer, she knew she could find strength in Daemon's love for her. They are truly a couple that you could get lost thinking about. And their self-sacrifice to protect one other is absolutely beautiful. I will forever love this couple.
I caught the tear with a kiss. "And I'm not going to let you do this by yourself. You're my everything, Kat." At the sound of her soft inhale, I smiled again. "Come on, Kitten, did you really expect anything less from me? I love you."
I'm a little obsessed about this series, can you tell? I'm addicted to Daemon, Katy, Dee and a new character you will get introduced to in this book. I'm dying of anticipation to figure out how this series is going to end! Will the final installment allow the Lux Series to stay at the top of my list of my all-time favorite series? I'm going to keep my fingers crossed and hope for YES!
Related Posts