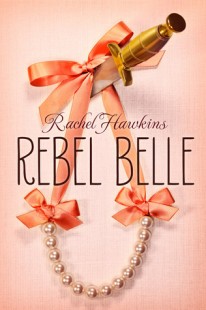 Rebel Belle
(
Rebel Belle #1
)
by
Rachel Hawkins
Purchase on:
Amazon
, 
iBooks
Add to:
Goodreads
Synopsis:

Harper Price, peerless Southern belle, was born ready for a Homecoming tiara. But after a strange run-in at the dance imbues her with incredible abilities, Harper's destiny takes a turn for the seriously weird. She becomes a Paladin, one of an ancient line of guardians with agility, super strength and lethal fighting instincts. Just when life can't get any more disastrously crazy, Harper finds out who she's charged to protect: David Stark, school reporter, subject of a mysterious prophecy and possibly Harper's least favorite person. But things get complicated when Harper starts falling for him--and discovers that David's own fate could very well be to destroy Earth.
Review:
This book was just what I needed! It seems like the last few books I've read are overly emotional or had me holding my breath because I was scared for what was going to come next. I was in need of an easy read that was going to make me giggle and smile and that's exactly what Rebel Belle gave me! While I definitely didn't feel everything the main character felt – such as being nervous during times of danger – it didn't bother me. Usually that is a huge sign implying I'm not a fan of the book because I'm not connecting with the main character but that was not the case in this book. Rebel Belle was so entertaining, constantly had me smirking, Harper and David were great characters and I liked how the story progressed, so the fact that I didn't connect with Harper didn't bother me in the least!
All superheroes have origin stories, like how Bruce Wayne's parents get killed and he goes to Tibet or whatever, and Superman is an alien, and Spider-Man had that radioactive spider. Me? I kissed a janitor in the school bathroom.
I adored Harper Jane Prince. Watching the events unfold through Harper's eyes is a blast and amusing. She reminded me so much of Cher from Clueless and that made me like her that much more. Harper is a little obsessed with her image – making sure she looks super cute each day, getting great grades, dating the hottest guy in school and being the head of almost every organization known to man. Then when the bathroom scene from the above quote happens all of her plans for her life get thrown up in the air and she is left struggling with how to proceed from there. She gets stuck spending more and more time with David Stark and that in and of itself is hilarious!
David scowled at me over the rims of his ridiculous hipster glasses – the kind with the thick black rims. I hate those. I mean, it's the twenty-first century. There are fashionable options for eyewear.
David Stark is the nerdy but kinda hot guy. His attire was entertaining to visualize and he is so sweet, innocent and a tad bit bratty that you don't know if you want to pinch his cheeks or kick him upside the head. He is insanely smart and he's constantly giving Harper a run for her money to become Valedictorian. Those aren't the only strikes he has against him. He seems to know how to get under Harper's skin and it doesn't help that the two of them have been bickering since Kindergarten. They had this innate way to make me feel like a High Schooler all over again and that I was knee-deep in the middle of their drama.
I didn't knee him in the groin, although I didn't rule that move out. Instead I…ugh, this is so embarrassing. I head-butted him. I know, like a soccer hooligan or something.
The other characters in the book either created a meh, like or hate emotion from me. MB was one of those girls that you just love to hate. That girl drove me crazy and unfortunately we'll probably be seeing more of her in the future books. Overall, I enjoyed this book way more than I thought I would. It was such a cute, sweet, easy read and I enjoyed being in Harper's life.  While I originally thought I'd continue the series, not connecting with Harper has made me second guess that decision.  I think I'll pass on finishing the remaining books on Rebel Belle but I hope you enjoy them if you continue on!
Related Posts