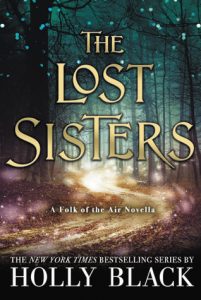 The Lost Sisters
(
The Folk of the Air #1.5
)
by
Holly Black
Purchase on:
Amazon
, 
iBooks
Add to:
Goodreads
Synopsis:

Sometimes the difference between a love story and a horror story is where the ending comes . . .

While Jude fought for power in the Court of Elfhame against the cruel Prince Cardan, her sister Taryn began to fall in love with the trickster, Locke.

Half-apology and half-explanation, it turns out that Taryn has some secrets of her own to reveal.

The Lost Sisters is a companion e-novella to the New York Times bestselling novel The Cruel Prince by master writer Holly Black.
Let's start with a love story.
Or maybe it's another horror story. It seems like the difference is mostly in where the ending comes.
LOOK. We all know this girl is OBSESSED with her boy Cardan, her homegirl Jude, and this wonderful world of twists and turns, lies and betrayals. Is it really so shocking to know I loved this story, too? Even if it was about that-that-Ugh, That GIRL Tarryn? I did like Tarryn-frankly, I still do. Especially since I get what it's like to be enraptured by a guy and all the stories he's woven around you. I get that part-even sympathize.
Be bold, be bold, but not too bold.
HOWEVER. HOWEVERRRRR. I hate Locke-and I HATE something about WK to do with Tarryn. I know. I KNOW. That's not fair to this story! But, alas, life is not fair and I didn't get this review done before finishing WK, so SUE ME OKAY. I HAVE FEELINGS, OKAY.
Fairy tales have a moral: Stay on the path. Don't trust wolves. Don't steal things, not even things you think no normal person would care about. Share your food but don't trust people who want to share their food with you; don't eat their shiny red apples, nor their candy houses, nor any of it. Be nice, always nice, and polite to everyone: kings and beggars, witches and wounded bears. Don't break a promise.
SO, I was debating giving this a 5 because…well, why not? I really enjoyed it. It kept me satiated while I waited to get back to the main show, Cardan and Jude. But what I WILL NOT and CANNOT forgive is what is in book three, and I have to say that this book only slightly helped her plight…in that sense. Before WK, I was kind of extremely sympathetic. Now I'm like…burn in Hell with Locke, B****.
Be good, but not too good. Be pretty, but not too pretty. Be honest, but not too honest. Maybe no one got lucky. Maybe it was too hard.
So. Yup. My feels are, once again, scattered across the wind and spread across faerie where my heart truly lies. Cardan <3
************
Annnndddd who's finally ready to DEVOUR Wicked King tomorrow??
Guiltyyyy.
I'll probably write a small review on this one…probably ha I don't much care to read anything more on Locke, so eh
Related Posts