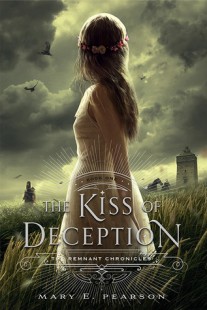 The Kiss of Deception
(
The Remnant Chronicles #1
)
by
Mary E. Pearson
Purchase on:
Amazon
, 
iBooks
Add to:
Goodreads

**Arc kindly provided by Netgalley in exchange for an honest review**

It can take years to mold a dream. It takes only a fraction of a second for it to be shattered.
Admittedly, I had started this months ago when I first received it from the publisher. I was SO excited because it was the only book I requested that I just REALLY wanted and HAD to have. But as I jumped right into the story, I started to gradually notice how little I felt for the characters and how bored I was….but I knew there was a chance that if I kept going, I might find that it was just the beginning I didn't care for. Well, here we are months later, and I can say without any hesitation that, while I DID have to skim quite a bit and was STILL disappointed up to a certain point, I WILL be continuing onto the next installment.
If one can't be trusted in love, one can't be trusted in anything. Some things can't be forgiven.

At first, when I started reading this again, I just knew there was no way I could finish this and that I'd force myself to get to 60% at least, no matter what. I am SO glad I did. I rarely tell myself that I am going to DNF something and then finish the book, so I think that tells you how much better this got….at around 60%. Ironic, isn't it?
That's the way of death. There's no dignity in it.
The thing I want to make abundantly clear is that while the story was not doing it for me, the writing was what kept me reading-it's as simple as that. There were no errors, it had a nice flow that kept me reading even as I wanted to put it down-I saw something great in the writing that made me think that there was something the author was leading up to, something bigger than our main character, Lia. And I was right.
His arms circled around me, his face nestled in my hair, holding me so tight I could almost believe we would never part again. I breathed him in, his touch, his voice, and for a moment as long and short as a heartbeat, all of the world and its problems disappeared and there was only us.
I think my biggest problem with the story was Lia. She was dreadfully boring and I found myself skimming the parts she was in without the two male leads. I felt the only interesting thing about their love triangle was the presence of the two males, Rafe and Kaden. One is a prince, one is an assassin sent to kill Lia-but we don't know which one it is. At the beginning of the story, Lia was about to marry the Prince whom her father, the King, had arranged a marriage for….but it wasn't for love, and it isn't what she wanted for her life, so she fled the palace with her best friend early on the morning of her wedding…never to be heard from again.
I will find you.
In the farthest corner, I will find you.

One of my favorite things about this book would have to be the fact that the author completely tricked me on who the Prince was-I was literally reading the story thinking about one man as the Prince and one the assassin and then when they were revealed, I literally just stopped reading, went back a few pages, and tried to see what I had missed-had I skipped a chapter?? Was I looking at it wrong? So I went back EVEN FARTHER to about 20% when they all meet and tried to see how I could have been reading this so plainly-as if I just knew what was going on when I wasn't even close to knowing at all. It was baffling to me and made me laugh, because I had no doubt in my mind what and who I was reading about. So…that was embarrassing.
I swallowed. He closed what gap was left between us, and I had to lift my chin to see him. He looked down at me. "Because ever since that first day I met you, I've gone to sleep every single night thinking about you, and every morning when I wake, my first thoughts are of you." He stepped impossibly closer and lifted his hands, cupping my face, his touch so gentle it was barely there. "When I'm not with you, I wonder where you are. I wonder what you're doing. I think about how much I want to touch you. I want to feel your skin, your hair, run every dark strand through my fingers. I want to hold you, your hands, your chin." His face drew nearer, and I felt his breath on my skin. "I want to pull you close and never let you go," he whispered.
I have to comment on the two men-one is the Prince, and one the assassin. All I will say is that while I like both guys, my Prince fetish flared to life again like a raging inferno in the last 30% of this book and it took me totally by surprise. I was just reading along, finally happy with where the story was going (out of that boring city they were in for 60%) and all of a sudden they are both revealed and I did something similar to the emoji scream face where your jaw totally drops and you look like a moron. Both sweet, considerate guys, but, for me, the Prince stole the show. (And no, I can't even gush about their attributes because it would give it away. Grr).
The wind swirled between us, threw mist in our faces. Whispered. In the farthest corner…I will find you.
I wiped at my eyes, the real and true blurring.
But I knew this much. He came
He was here.
And maybe, for now, that was all the truth I needed.
So all in all, I would say that this is a pretty well put together novel, indeed. I didn't think the random quotes and passages fit in very well, seeing as they were sporadically spaced throughout (maybe I missed the pattern before chapters?) and I know I skimmed quite a bit. I had this pegged as a two because I didn't think there was a possible way the excellent writing and the two men could be the sole reason I gave this a three, but when the action started and these men showed their true colors, everything changed for me. A DNF case became an 'I have to finish this and not skim' in a matter of seconds. The last 40% drew me in more than I could have imagined and I was so happy I decided to keep going. The ending had an awesome cliffhanger that left me begging for more, and now I have a very long wait before I get some answers. This is going to suck.
Related Posts