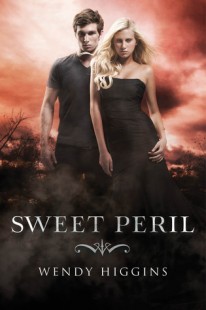 Sweet Peril
(
The Sweet Trilogy #2
)
by
Wendy Higgins
Purchase on:
Amazon
, 
iBooks
Add to:
Goodreads
Oh bloody hell (in a horrible british accent), I've fallen in love with Kaidan all over again. Not only did I finish reading this book in less than 24 hours, with a full day of work mind you, but I DEVOURED it. After waiting for a month following that hopeless ending of Sweet Evil, I am happy to say that I was completely enthralled with SP and all of it's characters.
Anna has had to embrace her new party girl image while feeling guilty the entire time she is influencing those around her to partake in the madness that is her sin. A prophecy changes everything, and Anna finds herself traveling the world with Kope to find comrades among the Dukes' sons and daughters. But in all this chaos, the most important person she could possibly want around isn't. Anna is having trouble moving on from Kaidan and what she thinks they had/have. One problem is that Kaidan isn't making it easy for her to contact him. The other-well, does he TRULY care for her??
I have to be honest. As my reading updates suggest, I was literally giggling like a little girl. I am not joking. Near the end of SP, I was so involved in the story that nothing else mattered. Shower? No..it could wait. Dinner? Hell no, I have a SPICY read going on here. So, the moral to the story is-we wait F-O-R-E-V-E-R for what we all want to happen..to happen. So much mindless nonsense and traveling the world and then BAM. Kai Kai time. Thank the lord. And not only did we get Kai time, it was Kai happy hour. Interpret that how you like, but for me it means that the end of the book didn't lack any of our leading British man. Jealousy, anger, adoration, and love (and drama, duuuuh)-all abundant in SP. I LIVE for these emotions all bundled up in one neat little package, so I am on cloud nine right now. Sigh. I wish there could have been more. More than that, though, is we have to wait a bloody year to read the final book in the series. If that's not a tragedy, I don't know what is. Seriously.
So all in all a great read. I was a little put out with the scarcity of Kaidan in the beginning half of the novel, but the latter half was more than worth the wait and I couldn't be happier. I realize I didn't say anything about the secondary characters, oops, so here is a final thought. Marna and Ginger were great and I really enjoyed their presence throughout. I think they are more fun and interesting than Veronica-is that her name? I can't even remember lol. And Kope. Poor Kope. Such a sweet guy, but he is no match for Kaidan and that is all I can say about that. Kai has a permanent residence in my heart. So here's to a year of waiting for more of one of my favorite couples. But I have to say, I am more than fulfilled with this latest read, so it won't be such a long wait with happier circumstances this time around.
Related Posts