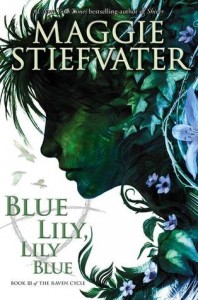 Blue Lily, Lily Blue
(
The Raven Cycle #3
)
by
Maggie Stiefvater
Purchase on:
Amazon
, 
iBooks
Add to:
Goodreads
"Blue," he warned, but his voice was chaotic. This close, his throat was scented with mint and wool sweater and vinyl car seat, and Gansey, just Gansey.
She said, "I just want to pretend. I want to pretend that I could."
He breathed out.
What was a kiss without a kiss?

Oh, Richard Gansey III, you've swept me away again!!!!
It was too much, it was too little….it was perfect.
Let's take a moment to breathe and reminisce about the latest installment of one of my favorite series on the face of this earth. Let's think back to every heart-stopping, soul-crushing, and earth-shattering moment within this series thus far. Let's remember where this all started-a girl, a graveyard, St. Mark's Eve….an apparition of my beloved Gansey. In case you're just tuning in or live under a rock, since Blue saw dear Gansey in the graveyard on that night, he is destined to die within the year. Not only that, but whenever Blue, our heroine, kisses her true love….he will die.
She wished she could still evoke that Blue who despised him. She wished she knew if Adam would feel terrible about this. She wished she knew if fighting this feeling would make Gansey's foretold end destroy her any less.
Beautiful, poetic, magical, out-of-this-world writing, Maggie Stiefvater ensnares me in her web, tangling me up and not letting me go. I can't focus on reality when I am in this world. Nothing else matters but seeing how much closer Gansey is to his fate and what the others are willing to do to prevent it. I sit and I stare ahead at my computer screen, trying to work, but failing as my stomach flutters because I am reminiscing about a Gansey mannerism, a Gansey and Blue encounter, his touch….it's all too much and I am a heartbroken fool longing for any and every opportunity that might save him. And, even more than that, I crave for the moment when (when, it has to be when or I'll die) he and Blue can kiss and he won't keel over and cease to exist. The emotions I feel while reading these stories are palpable and written all over my face. Everything that happens is amazing, but everything that happens is terrible. Nothing good comes from a curse, and Maggie Stiefvater isn't afraid to do what she's foretold-for our sakes, I sure hope it was always in her writing plan to find a loophole…..if not, she doesn't seem the type to stray from her maniacal prophecy because we are all a bunch of love-sick saps who fell head-over-heels for a walking dead man (boy).
There was something unfamiliar about him when he arrived in the Pig. Something ferocious about his eyes, some sort of bite in his faint smile. Something altogether hectic and unsettled. She stood on the ledge of his smile and looked over the edge.
This wasn't the Gansey she'd seen in the kitchen earlier; this was the Gansey she secretly called at night.
Before I start on the characters and why I officially love them all (yes, even Adam, shocker, right??!!) I want to say one last thing before I forget. Everyone knows how an old movie reel sounds, right? Well, these books are like that. They play out in front of me with a tick, tick, tick and a hazy, grainy feel. It almost unfolds in a slow-motion sort of way, letting you savor each individual word. They're special, ya know? They're wholly individual and unlike anything I've ever read-Maggie isn't afraid to play things out just how she wants them to. No one sways her vote, undermines her confidence, or altogether makes her re-think what she's doing. These stories stay at the pace they've set since book one, and I have never seen anything played out otherwise. I've said it before, and I'll say it again-when I'm reading Raven Boys, it's like sitting on the front porch in a rocking chair on a hot summer day with only a light breeze to cool me. Each story is like sweet, smooth honey slowly pouring out of a Ball jar…they aren't hurried, the writing is poetical and un-rushed, and I'm utterly enraptured by each and every page. That's what reading is all about.
The stars winked through the beech leaves. She'd read that new stars tended to form in pairs. Binary stars, orbiting in close proximity, only becoming single stars when their partner was smashed off them by another pair of wildly spinning new stars. If she pretended hard enough, she could see the multitude of pairs clinging to each other in the destructive and creative gravity of their constellations.
Impressive.
******
Orla wasn't wrong, of course. But what she didn't realize about Blue and her boys was that they were all in love with one another. She was no less obsessed with them than they were with her, or one another, analyzing every conversation and gesture, drawing out every joke into a longer and longer running gag, spending each moment either with one another or thinking about when next they would be with one another. Blue was perfectly aware that it was possible to have a friendship that wasn't all-encompassing, that wasn't blinding, deafening, maddening, quickening. It was just that now that she'd had this kind, she didn't want the other.
I think I'll mention Adam before anyone else because, well, I've hated him since book one. He was whiny, petulant, and he altogether gave Blue and Gansey problems (both individually and separately) from the beginning. That's not to say I'm not biased because I've wanted Blue and Gansey together since the beginning, but it wouldn't deter my thinking in this manner-he was cruel and unkind to people who only deemed themselves his friends and wanted to help, and to me, that is unforgivable. Gansey may have first started as someone who didn't realize he was saying the wrong things, but even now as he has grown to understand that some things are better left unsaid or rephrased for those around him, he's always been consistent-he loves his friends to a fault, and he's only trying to help. And, again, to me, it's nasty and unnecessary to fault your best friend because he is more privileged than you. But, that's neither here nor there. My point, which I'm finally getting to, is that Adam, himself, was selfish in the first two installments even as he accused Gansey of acting in such a manner because of his wealth and how he takes it for granted (it all comes back to the wealth). But, something happened this time around-he has matured. He didn't want to fight with his friends, he realized the error of his ways and wanted to improve his attitude, even if he had to swallow some of his stubborn pride along with it. He was funny, witty, and helpful. This is the Adam I've always wanted, and here he is. He has redeemed himself (a fact I never thought possible). Finally.
"No, it's not. It's disgusting of me." Gansey didn't open his eyes. "Everything has gotten so ugly. It wasn't supposed to be this way."
Everything had begun ugly for Adam, but he knew what Gansey meant. His noble and oblivious optimistic friend was slowly opening his eyes and seeing the world for what it was, and it was filthy, and violent, and profane, and unfair. Adam had always thought that was what he wanted-for Gansey to know. But now he wasn't sure. Gansey wasn't like anyone else, and suddenly Adam wasn't sure that he really wanted him to be.
Ronan!!!! I've always liked Ronan. There's never been a question of that. But in this installment, I grew to adore him. He became an absolute favorite of mine. He was funny, raw, unfiltered-with a single tear, he became more human to me. His feelings became tangible and recognizable, whereas before I think I was missing his humanity. I know that's weird, but Ronan has always been the wildcard of the group. And while I've always liked him, he always felt unreal and a tad…inhuman? to me. I loved his evil smirks, his snark, almost everything he said made me bust out laughing. Needless to say I have yet another Raven Boy to fret over…my heart can't handle all four of these boys being in danger, but inevitably so, it will happen.
Instead she said, "You know, you're not such a shithead."
"No," Ronan replied, "really I am."
There was such a creepy undertone to this novel. And I think quite a few of those times the source of that malicious atmosphere centered around Noah. Yet again I'll say that I fell even harder for yet another guy. He's always been sweet, our darling Noah, but he was also hilarious (and wholly creepy) in this one. He always said the obvious thing that made any situation lighter and a whole lot funnier (to us as readers), and I couldn't help but to grasp onto that comic relief. It was spread throughout, as it always is in a Maggie novel, but it centered around Noah, Ronan, and Adam in this one. (And Blue's inner thoughts, but I'm getting ahead of myself)
He remembered this: He had been lost.
Which meant that if he had come alone, he would have been dead now.
"Sorry," he said. "I was being sort of a dick."
"Noah replied, "We weren't going to say it."
"I was," Blue said.
I'd be a liar if I didn't admit one thing: this story is, and always will be, to me, the Gansey and Blue show. I'm sorry. I love every single character without a doubt, but Gansey is my first priority and my true love of the story. I was smiling ear-to-ear for the first fifty percent, just happy to be back in Gansey's world of mint leaves, Welsh kings, and new love for his best friend's ex-Blue. One of the cutest things about Gansey since day one, even above his kindness and motivated way of life, is how he's always had a soft spot for Blue, even though he didn't realize it. He calls her Jane, just because he wants to, and I melt every time he says it. That's his personal coined name for her, and it kills me every time it's repeated. He breaks my heart with his loyalty and devotion to his friends (and now crush, Jane), and one scene in particular brought tears to my eyes-(view spoiler)[Gansey and Ronan ran to Adam's court case to speak on his behalf, even though Adam didn't tell them about it-they got there right after it started. (hide spoiler)] And…I dunno-it warmed my heart. His curiosity, his strength, his palpable fear, it touches me and burns deep in my soul. He will always be a favorite male lead of mine, no matter his fate in book four.
Casually, out of view of Ronan, making sure Adam was still sleeping, Gansey dangled his hand between the driver's seat and the door. Palm up, fingers stretched back to Blue.
This was not allowed.
He knew it was not allowed, by rules he himself had set. He would not permit himself to play favorites between Adam and Ronan; he and Blue couldn't play favorites in this way, either. She would not see the gesture, anyway. She would ignore it if she did. His heart hummed.
Blue touched his fingertips.
Just this-
He pinched her fingers lightly, just for a moment, and then he withdrew his hand and put it back on the wheel. His chest felt warm.
This was not allowed.
In all reality, there was no way I wouldn't have loved this-it's impossible. But, there were many ways I could have been disappointed in different areas. But, as it was, I loved every page and every quote and every idiosyncrasy. The banter for these books is unrivaled and unlike any other I have ever seen, taking bickering to an almost educated level. Some of the banter is petty, of course, but it still has a different quality to it that I admire. Ronan was the best at banter, though-any person he went up against, it was hilarious. Even he and Blue had great chemistry in this installment…one scene in particular makes my heart soar. Both in the beginning and the end Ronan proves he'd risk it all for them (which we knew already)-but we never saw such loyalty to Blue. I loved that aspect. Blue's inner dialogue was cute and funny, adding yet another intricate layer to this finely woven masterpiece. This was complex story-telling at it's finest. My only regret? I read it way too fast. Now I have to wait a year for the tragic (or maybe not so tragic? Please, Maggie, Pleeeeeeease??!!) final installment. With the unraveling of book four I'm sure something wicked this way will come…..and here I am devouring the third book in one damn day.
But the horror was his spine, bent back on itself. It was his hand, pressed to his throat. It was his breath-a gasp, a gasp, a choked-off word. It was his fingers, shaking as he held them to his mouth. It was his eyes, open too wide, too bright, cast up to the ceiling. Seeing only pain.
My final exclamation, true story, as the final page was withering away before me:
"Oh, my God. Oh no."

Guess there's nothing left to do but wait for hell to inhabit the tiny town of Henrietta. Or has it already done so?

"Queens and kings
Kings and queens
Blue lily, lily blue
Crowns and birds
Swords and things
Blue lily, lily blue"
*****************************************
Aaahhhhhh Omg-Prologue and Excerpt HERE-
http://www.scribd.com/doc/238426271/S…
OMG OMG OMG OMG OMG GOMGOMGOGMFGOSsfsadfashfsdafasdkjfdahfjasdhfjasdhfhsdafhsdafhasdhfhsadfhasdfhsadhfhasdhfjsdahfsdjafhasdhjfhsadjkfhkjsdahfjkhasdkjfhsdkjahfasdhjfhjashfksh
Yes, that about sums THAT up perfectly.
Maggie you evil genius….I can only imagine the amazing amount of peril you have up your sleeve for this book…
I NEED this book like I need my next breath. That excerpt???!!!! Maggie you about ruined all my hopes and dreams for my dear, dear, dear, sweet Gansey.
If you haven't read this series, you are SERIOUSLY missing out. If you haven't, you must read it IMMEDIATELY.
See what all the
is about.
GO ON. NOW. READ IT. What are you F'in WAITING FOR?! GO.
Related Posts