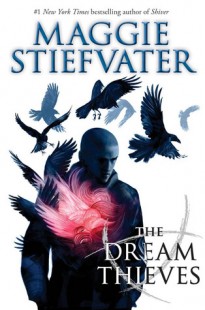 The Dream Thieves
(
The Raven Cycle #2
)
by
Maggie Stiefvater
Purchase on:
Amazon
, 
iBooks
Add to:
Goodreads

In that moment, Blue was a little in love with all of them. Their magic. Their quest. Their awfulness and strangeness. Her raven boys.

Wow. There are so few words to express how I feel about this stunning and brilliant series. When I first picked up The Raven Boys I knew it was going to be a toss-up on whether I would enjoy it or not. What I didn't know was that I was going to get swept into a world where magic is real and anything is possible. I didn't know I was going to fall in love with the oh-so-proper Richard Gansey III. And I didn't know just how great it could possibly get.
This book focused a little more on our mercurial and mysterious bad boy Ronan. At the end of book one we discovered that our beloved Chainsaw, the raven, came from Ronan's dreams. Yes, Ronan can quite literally bring things back from his dreams.
It was a fascinating way to end book one and it continued into book two with maximum force. More than once his nightmares made me look around the dark room and stare pointedly at shadows in the corner. That is correct-while it's amazing to bring fun things back, his nightmarish creatures can also be brought back to the real world-and they want nothing more than to destroy Ronan.
Secrets and cockroaches-that's what will be left at the end of it all.
While I did find being in Ronan's head to be a bit refreshing after being stuck in Adam's morose mind (I STILL don't like him-he was even whinier in this one!), I still think that being in Gansey's and Blue's heads made me by far the happiest. I love how Gansey and Blue have come full circle since Gansey's astronomically horrific first encounter with Blue at Nino's. We are starting to see how they are fascinated by each other and have subtle jealous or longing tendancies for one another. I also love Gansey's subtle protectiveness of Blue, er, Jane. (He calls her Jane because he likes the name Jane lol). What I am both looking forward to, though, and dreading….is what will come of their blossoming love for one another. It will most likely end in heartbreak and sorrow, because if you remember Neeve's cryptic words, once blue saw Gansey's spirit on St. Marks Eve, he was doomed to the fate of death before next St. Marks Eve. He has one year to live, and because Blue saw his spirit that night, he is either her true love, or she kills him.
If you never saw the stars, candles were enough.
And let's not forget….since Blue was a child, she's been told that if she kisses her true love, he will die.
Her first kiss, will be his last.
There's an adorable prelude of what's to come for Blue and Gansey in this installment, and it rendered me breathless and anxious for more. I can't wait for more stolen moments between them, because I am kind of living for them at the moment.
When she blinked, two tears appeared like magic on her cheeks. The fast tears. The ones that were in your eyes and down your chin before you realized you were crying.
Beautiful, heartbreaking, addicting, and brilliant, Stiefvater has created a world that I am happy to come back to after being away. She's made it so I can't stand to put the book down and when I do, I think about it constantly and wonder what will come next and how it can all possibly end. I absolutely adore this series and I am so sad I have to wait until (maybe-it's an estimate and with no blurb) September to read the next installment! But until then I will hold what I've read dearly to my heart, because it's an absolutely breathtaking series with so much to offer.
Related Posts