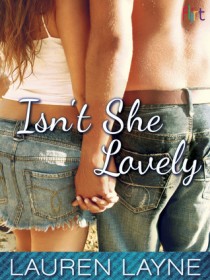 Isn't She Lovely
(
Redemption #0.5
)
by
Lauren Layne
Purchase on:
Amazon
, 
iBooks
Add to:
Goodreads
Synopsis:

Stephanie Kendrick gave up her whole summer to ace her NYU film school screenwriting course, so she's pissed to be stuck with a preppy, spoiled frat boy as her writing partner. Then again, with her piercings, black-rimmed eyes, and Goth wardrobe, Stephanie isn't exactly Ethan Price's type, either. He's probably got his eye on some leggy blonde with a trust fund . . . or does he?

As the summer scene kicks off in the Hamptons, Ethan is desperate to make his snobbish mother forget the pedigreed girl who broke his heart. While Stephanie's a stretch as a decoy, the right makeover and a pastel cardigan just might do the trick. She may not love the idea of playing Ethan's brainless Barbie girlfriend, but the free rent and luxurious digs make a tempting offer. So does the promise of a ready-made screenplay idea inspired by their charade.

But when Stephanie steps into Ethan's privileged world, the "acting" begins to feel all too real. The kissing and touching that were intended to fool the Hamptons crowd wind up manipulating them. And Stephanie faces a question she's too afraid to ask: Is Ethan falling for the real her or for the dolled-up princess he wants to see?
Review:
I laughed, I cried, I fell head over heels in love with Isn't She Lovely.  It was the perfect blend of everything that makes a book fabulous.  It was sweet but sexy and hilarious yet serious.  And the banter between Stephanie and Ethan was spectacular!  I'm still in shock over how much I loved this book!
After an embarrassing run in, Stephanie and Ethan get stuck as partners in a summer college film class where they have to write a script together.  Stephanie is a closed-off goth girl who recently just lost out on where she was supposed to live.  Ethan is a rich, preppy frat boy who is in desperate need of a fake girlfriend for upcoming family events.  In an attempt to not only have material for their school project, Ethan proposes that Stephanie pretend to be his girlfriend in exchange for getting a free place to live in his two bedroom apartment.  Sounds innocent enough right?  Wrong!  Because in the middle of kissing and acting like you love someone, what happens when you start to feel more than you should?  When you don't want it to all be an act anymore?  Where do you go from there?  Be prepared for an amazing story!
I'm thinking that Ethan Price is putting on a damned good show in an effort to cheer me up. In an effort to make me forget.
But mostly I try not to think about what I'm feeling.
Because what I'm feeling has nothing to do with our charade.
What I'm feeling seems real. – Stephanie
Stephanie is a multi-layered girl that you can't help but love and sympathize with.  She is quick witted and hilariously sarcastic!  She made me laugh time and time again and quite a few of those laughs were so hard that I had tears pouring down my face and couldn't breathe!  But at the same time when she was experiencing self doubt, I felt her pain and just wanted to reach through those pages and hug her.  Not like she would let me though haha.  Her past and family will tear you apart but at the same time her ability to hold her own and tackle uncomfortable situations will make you so proud of Stephanie.  She was a phenomenal character that constantly pulled at my emotions.
She doesn't finish the sentence, so I turn to glance at her, and … ah, hell, she looks vulnerable. Those wide blue eyes are silently begging me to reassure her that yes, she can pull this off, and yes, she'll be okay without her black-eyeliner defense against the world.
"You look beautiful," I say softly. – Ethan
Ethan was a beautifully flawed person.  Not only was he gorgeous, but his intentions were breathtaking.  He made me weak in the knees how he would tease and banter Stephanie one moment and then the next he would be holding her cheeks in his hands.  His past will drag you in, and the sadness of it all is so unfair.  It's hard not to get twisted in everything that is Ethan.  He was sweet, stubborn, hilarious and guarded.  And when you pair Ethan with Stephanie together, be prepared to be hypnotized and for fireworks to explode right before your eyes!
I want to get back to the easy companionship we had before the trip. Before that kiss. Because now I don't just have to play pretend when other people are around. I also have to put on a show when we're alone. And in some ways, the act when it's just the two of us is that much harder. Who knew that pretending you're not falling for someone would be so much more difficult than pretending you are.
Isn't She Lovely is like eating you're favorite ice cream (or cheesecake for me) while curled up in front of a fire with your favorite throw.  I still have a smile on my face and my heart is so happy from all of those sweet, beautiful and heartbreaking scenes.  You don't want to miss this one!  Now don't mind me while I go devour the rest of Laruen Layne's books!
Related Posts