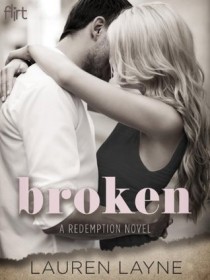 Broken
(
Redemption #1
)
by
Lauren Layne
Purchase on:
Amazon
, 
iBooks
Add to:
Goodreads

See, not so long ago, I was a bona fide romantic. I believed in true love and happy endings.
And then I grew up.
Ya know….I wasn't going to give this five stars. It made me happy, it was clearly going in a totally different direction than book one with Ethan and Stephanie, but it was clearly only a solid four star from page one. I loved it, but I didn't LOVE it. Then, at about 50-60%, I realized that I could. Not. Put. This. Book. Down.
It started to consume my thoughts and take away any coherent function I attempted throughout the entirety of my day…and that's when I became obsessed. In Isn't She Lovely, I was hooked at the very beginning…it was light, provocative, and all around just funny. With Broken it was a different kind of build, a different story altogether. From page one it was darker and perhaps a little melancholy. It was no longer a story about the cheated-it was about the cheater. It was about a young war veteran who is scarred not only on his body, but in his mind. This story, my friends, was about not only the physical kind of scars, it was about emotional scars. The scars no one sees as they fester away at your soul and eat at your heart.
I force myself to walk out the door. For one heart-stopping moment, I don't know how to live with myself.
But then I remember: I'm half dead anyway.
-Paul
Olivia wanted redemption from her past misdoings. And Paul…well Paul just wanted to remain a recluse. Now, here's the kicker. Olivia is Ethan's (from book one) ex. How could I possibly like this chick? For one, she cheated on Ethan. Secondly, I hate series where the main characters from book one are no longer the main characters as the stories continue. If anyone wondered what (another, yes another) one of my pet peeves was, this is one of them. Countless times BG (Before Goodreads)I would read these series and literally just get so bored. Each story was as monotonous as the last, continually recounting the same problems over and over for different couples in different areas. But not with Lauren Layne. If anyone could convince me to read a series with different characters in each book, it's her. See, I broke my own cardinal rule about not reading continuations because I hate rating books low when I know going in I will get annoyed or bored….but this is turning out to be one of the series that puts me in the best of moods ever-I just can't believe it.
"Come on," she says, scooting around to get in front of me. "Don't you want to know why a hot twenty-two-year-old with everything going for her is hiding out here in Maine?"
I give her a glance over my shoulder. "Did you just call yourself hot?"
Olivia smiles a gotcha smile. "Aren't I?"
I flick my eyes over her. Yes. "Maybe."
I think what I loved most about this book was its ability to be as harsh as it was sweet. No, it's NOT okay to down someone to make yourself feel better, but after the initial shock of seeing how Paul reacted to anyone within a 10 foot radius at first, it became natural. Like…I was always waiting for the next mean thing he'd say. It was beyond harsh and absolutely appalling…but it broke my heart. He was just so….wounded. I fell for him the minute it switched to his POV and we got to see this tortured soul. He wants to be mean, he wants to chase people off-but only because he is so broken (see what I did there? *wink wink*) on the inside. He doesn't believe he's fit to be a part of society, not anymore, not with his jagged scars, limp, and overall hideousness. Except he's still gorgeous-it's his attitude that makes him ugly, and that's the biggest obstacle. So he does the only thing he knows how-he pushes person after person away with his brutal words…until he's finally all alone.
She's tempting. Not just in the sexual way, although yeah, there's that. But with that briefest of glimpses, she tempts me with something worse: she makes me long for normal.
She has to go. Now.
Until Olivia. Olivia has dropped out of school and wants to atone for hurting the person she's loved since they were children. She wants to volunteer to help another to cleanse herself of the guilt she feels and the things she did wrong. Her vapid lifestyle doesn't escape her-she realizes she hangs with snobs, and she wants nothing more than to reach out and make a difference, far from New York right into the heart of Maine. But what she finds isn't an old war vet. No, she's found an all new kind of monster, a monster named Paul Langdon.
She makes me forget to breathe. She makes me forget everything.
It's obvious from the start they are both using each other. But what I loved most about this story is that they both knew they were in it for very different reasons-it's refreshing that that wasn't the climax where they both run away crying because they realize their new feelings are only a way to get to their ultimate goal-no, from the very beginning they go blow for blow with one another with only a cringe and a nod, and I loved it. It is SO hard to make a mean guy likable. Maybe that's a fad for some girls, but for me, if the guy is an ass, he better have some damn good redeemable qualities, and somehow Layne made me fall for Paul within moments-no matter how nasty he got. He had a heart of gold and it shone through with each nasty comment he spat as he attempted to keep his heart from inevitably breaking-it was all just a farce and it was so sweet to see that crusty exterior crack and eventually break.
I love Paul, the person. I love his darkness and his shadows. I love his smile and the kindness he tries so hard to hide. I love the boyish quarterback beneath the war veteran, and I love the scarred right side of his face even more that the perfection of his left. 
I love him.
So, if you didn't catch it before, I'll tell you now: I loved this story. I have fallen for this series. It is amazing. It is crazy. It is addictive. Even with all the heartbreak and angst and turmoil in this story, I was obsessed with seeing how it all ended. Even through the tears they shed, Layne managed to lift my mood and make me laugh despite the harshness and tone of the story. I still giggled, I still laughed and I was still fanning myself because of how hot the sexy scenes were. I think I've found one of my favorite authors for both sweetness in the male leads and hilarious banter. The banter in these stories is so over-the-top funny but yet so believable-I feel like they are conversations I have every day with my friends and boyfriend (yes, I have the weirdest, most hyper conversations) and it's so hard to portray real life banter. So I guess now I will finish this review and wait for the next amazing installment…and wait….and wait…and wait. Damn, I don't want to wait.
**ARC received via Netgalley in exchange for an honest review. Some of the quotes above are subject to change upon the books impending release.**
****************************************
Can I just say HOW EXCITED I AM to have this ARC in my grubby little fingers?!?!?!?!?! SO. ECSTATIC.
Can't. Wait. To. Read.
Just Sayin'
Related Posts