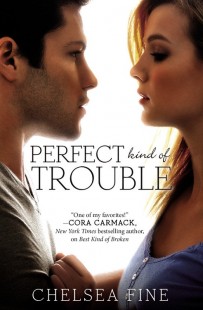 Perfect Kind of Trouble
(
Finding Fate #2
)
by
Chelsea Fine
Purchase on:
Amazon
, 
iBooks
Add to:
Goodreads
Synopsis:

Sometimes when perfect falls apart, a little trouble fixes everything . . .

Twenty-one-year-old Kayla Turner has lost everything. After spending most of her life taking care of her ailing mother, she just wants to spot a glimmer of light at the end of the tunnel. So when her late father-a man she barely knew-leaves her an inheritance, she finally breathes a sigh of relief . . . until she learns the inheritance comes with strings. Strings in the form of handsome playboy Daren Ackwood, her father's protégé. To see any of her inheritance, she's forced to team up with him. From his expensive car to those sexy dimples, Kayla's seen his type before. But Daren isn't who he seems to be . . .

Struggling to make amends for his family's mistakes, Daren has a life more Oliver Twist than Richie Rich these days. He's beyond grateful that James Turner included him in his will, but working with Turner's princess of a daughter to fulfill his cryptic last wish is making Daren wonder if being broke is really so bad. Still, she's just as beautiful as she is stubborn, and the more time he spends with Kayla, the less it feels right being without her. Soon Daren and Kayla begin to wonder if maybe the best gift Kayla's dad could have left them . . . was each other.
Review:
Perfect Kind of Trouble was the perfect kind of book to put a smile on my face.  It was exactly what I needed!  It was heart-warming, smile inducing and when the last page closed, I had this happy feeling floating around me.  There's a reason I love this author's writing and that's because in my eyes she always creates female leads who are like-able and that will have you rooting for them, males who are drool worthy, broken and definitely hard to forget, and a fun, entertaining story-line that makes you want to read the book again and again!
Kayla Turner's father has passed away.  She has traveled from Chicago to Arizona, to not only attend his funeral, but to deal with his will.  But Daren Ackwood is involved with the will also.  As far as Kayla knows, Daren use to mow her father's lawn, has a crazy amount of drama clouding his past, and is gorgeous.  Now they have to make a choice together.  If they want to receive whatever it is that Kayla's father has left them, they have to team up together.  Handcuffed.  Little do they know what is in store for them!
An elderly couple walks past us, looking horrified when they see the glinting metal binding us together, and the old woman's mouth drops open.
I smile at them reassuringly and explain. "We're not felons," I say, shaking my head. "We handcuffed ourselves together on purpose." They look even more horrified. "Not for a kinky reason," I quickly add. "For money."
Kayla mutters, "Please stop talking."
Kayla was so easy to like!  She is level headed, careful in her life plans, and thinks things through.  She deals with a lot of stigma for being gorgeous, but instead of coming off as stuck-up or trying to use her beauty as an advantage, it nearly hinders her at times.  Plus, the fact that she does not put up with any of Daren's douche-bag ways, made me love her resolve!  She puts him in his place again and again, and I almost started to feel sorry for him.  Almost.
"Hi. I'm Daren Ackwood— all-around nice guy and legendary lover. Nice to meet you."
She doesn't even look at my hand.
"No." I blink.
"No?"
"No."
As I said, Darin could be a douche-bag, but then two seconds later his heart would peak out and he verged on the border of being a sweetheart.  Probably my favorite aspects of Darin was that he was cocky and charming.  He kept asking Kayla for a kiss and to be her friend.  Such simple requests, and it was so hilarious when Kayle would turn him down.  But there's more to Darin than meets the eye.  What he has going on underneath it all?  Oh wow.  He truly is a beautiful, broken person inside.  His situation and past seemed so real.  That it could have happened to anyone in his situation.  And with how he handled it all, just made me love him that much more.
I trail my eyes over her face, down her body, and to our joined wrists, oddly satisfied by the fact that she's literally locked to my side. Twisted, I know. But everything about this girl tangles me up.
This was an adorable, feel good book.  I was guaranteed that when Kayla and Darin were in the same area, I got to witness hot sexual chemistry and hilarious banter!  But personally, the beginning was a little slow for me, since we have to learn about each of them separately.  Thankfully that part doesn't last too long and shortly after, I found myself snagged and falling for their story.  I'm so happy I read this book, and I can't wait to start Right Kind of Wrong next!
Related Posts