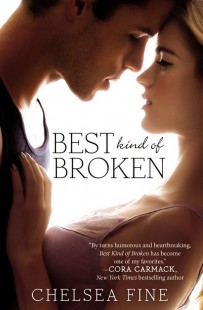 Best Kind of Broken
(
Finding Fate #1
)
by
Chelsea Fine
Purchase on:
Amazon
, 
iBooks
, 
Book Depository
Add to:
Goodreads
Synopsis:

SOMETIMES MOVING ON MEANS MOVING IN

Pixie Marshall wishes every day she could turn back time and fix the past. But she can't. And the damage is done. She's hoping that a summer of free room and board working with her aunt at the Willow Inn will help her forget. Except there's a problem: the resident handyman is none other than Levi Andrews. The handsome quarterback was once her friend-and maybe more--until everything changed in a life-shattering instant. She was hoping to avoid him, possibly forever. Now he's right down the hall and stirring up feelings Pixie thought she'd long buried . . .

Levi can't believe he's living with the one person who holds all his painful memories. More than anything he wants to make things right, but a simple "sorry" won't suffice--not when the tragedy that scarred them was his fault. Levi knows Pixie's better off without him, but every part of him screams to touch her, protect her, wrap her in his arms, and kiss away the pain. Yet even though she's so close, Pixie's heart seems more unreachable than ever. Seeing those stunning green eyes again has made one thing perfectly clear--he can't live without her.
Review:
I loved this book.  It was beautiful, raw, sexy, funny and utterly heartbreaking.  But the most astonishing thing to me, was my ability to connect with the storyline and characters on a level I never have before.  Of course I've felt characters pain, happiness and horror, but this felt as though their emotions became embedded in my soul.  Their joy and despair were mine, long after I closed the book.  I'm not sure if it was the seamless writing, the characters that I understood inside and out, or a personal connection I have to what took place in their past, or maybe it's all three meshed together?  But whatever it was, reading this book was truly astonishing.  I will remember Pixie and Levi's story for as long as I live.
Haunted eyes stare back at me in the mirror as I slowly finish shaving.
I wish I would have known back then how significant Pixie was going to be.
I wish I would have known a lot of things. – Levi
Pixie and Levi have known each other forever.  They were best friends since childhood.  Until an event that was beyond painful and horrifying made them fall apart.  But now they are now faced with seeing each other every day.  Working and living together is bound to lead them down a path they are unsure of.  Because feelings don't just disappear, they continue to build and now they are a ticking time bomb waiting to go off.
Pixie's been living here for only twelve days and I already want to stab myself with a spoon. Not because she keeps blowing the fuse, though that reoccurring shenanigan of hers is certainly stab-worthy, but because I can't do normal around Pixie.
But fighting? That I can do. – Levi
Pixie had me cackling like a mad woman in the first chapter alone.  Her inner thoughts, along with the games she played against Levi to annoy him were hilarious.  Like tears pouring down my face because I'm laughing so hard hilarious.  I loved those moments.  And they were much needed because they still drowned from so much pain.  The pain you could feel radiating from the both of them was intense and devastating.  I have never cried and felt a pain as deep as theirs in a book.  It honestly felt as though my heart kept breaking apart and I just needed them to take that step to fix the other, so I could heal too.
My eyes drop to her mouth, her throat, her hands. Every instinct I have is screaming to touch her. To cross the space between us and wrap my arms protectively around her small frame. To shield her from all the bad things, the sorrowful things. All the things I'm made of.
But that can't happen. We can't happen. – Levi
But it's hard to move on when there's still so much broken history and unsaid words between them.  And within that history, is a desire for one another.  Their sexual tension was intense!  It was fun but edgy, and that combination gave me sweaty palms and a smile that couldn't be knocked off my face.  But in the next instance, the mood would switch and it felt as though they were on the edge of the precipice and I was terrified to breathe.  Because I kept thinking it was all going to crash to the ground eventually, and in some irrational way I believed any movement or breath from me would provoke the situation.  Oh yeah, I was that deep into this book.
Our eyes meet beneath the dimmed lights, colliding in a tangle of shared emotions too raw to touch. How did we get so broken. – Levi
Even though I was obsessed with Pixie and Levi, I loved that we got to watch their coworkers and best friends became wrapped up in their lives.  The familiarity of it all worked perfectly, and they felt like an extension of true "family".  They stuck up, argued, and meddled (loved Mable!) with each other.  It was constant entertainment!
I used to know him. I don't anymore. – Pixie
Best Kind of Broken was a flawless story of ones hopes, crushed hearts, and being lost while desperately trying to find your way out of the dark.  It was impossible not to have my emotions tangled throughout these pages and love every broken moment of it.  Even the snippets of their past were woven throughout the story beautifully.  An important memory placed here and there never once distracted me from the story, and I loved learning as much as I could about their past.  Because they use to be the truest of friends, and watching them trying to find their way back to each other was incredible.
Related Posts