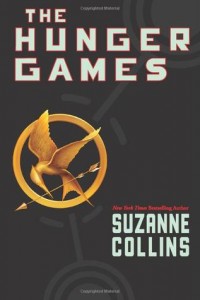 The Hunger Games
(
The Hunger Games #1
)
by
Suzanne Collins
Purchase on:
Amazon
, 
iBooks
, 
Book Depository
Add to:
Goodreads
Synopsis:

Winning will make you famous.
Losing means certain death.

The nation of Panem, formed from a post-apocalyptic North America, is a country that consists of a wealthy Capitol region surrounded by 12 poorer districts. Early in its history, a rebellion led by a 13th district against the Capitol resulted in its destruction and the creation of an annual televised event known as the Hunger Games. In punishment, and as a reminder of the power and grace of the Capitol, each district must yield one boy and one girl between the ages of 12 and 18 through a lottery system to participate in the games. The 'tributes' are chosen during the annual Reaping and are forced to fight to the death, leaving only one survivor to claim victory.

When 16-year-old Katniss's young sister, Prim, is selected as District 12's female representative, Katniss volunteers to take her place. She and her male counterpart Peeta, are pitted against bigger, stronger representatives, some of whom have trained for this their whole lives. , she sees it as a death sentence. But Katniss has been close to death before. For her, survival is second nature.

★ As The useless chick who wouldn't survive a round: Anna (2nd!)
★ AsThe determined movie-whore: Harriet (1st!)
★ As The deadly shot new recruit : Jen  (1st!)
★ As The enthusiastic newbie: Jenny (1st!)
★ As The foxface unknown: Kat (2nd!)
★ As The die-hard fan: Laura (3rd!)
Annnnnnddd ME!- ★ As The absolute fanatic: Chelsea (4th!)
ALL TIME FAVORITE SERIES ALERT. YOU'VE BEEN WARNED.
"You have a…remarkable memory."
"I remember everything about you. You're the one who wasn't paying attention."
Soooo…I said I wasn't going to write a long-winded review that tarnished the simplistic, yet epic, nature of my all time favorite series. And I don't plan to-REALLY. But right before I started to get deep into GR, I found this wonderful piece of literature that stole my heart and I never really got to express how it changed my life. And I think it deserves at least a few words for that.
I don't want to lose the boy with the bread.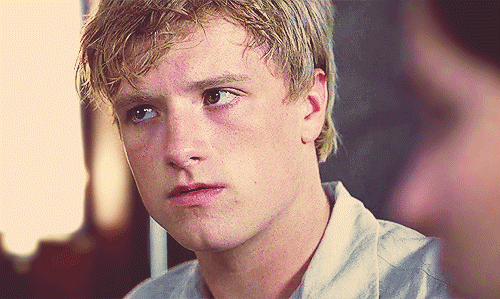 I have always been a reader-even as a little girl I could hole up in my room with the best of them if I needed to finish an (even then I knew) epic book. But I was always active in sports, encouraged to balance my time, to not be a total recluse-And I will always thank my parents for that. But now that I am older and can read before bed as I please with my own bank account to manage, I find that I read more than I even watch tv or even shop-which I also love doing
Then he smiles as if he'd be happy to lie there and gaze at me forever.
But for a while, life was more important-Sports, schoolwork, getting into college, finding my now husband…..and while I read, it was more like the common population was. I got to read, but didn't get to flourish. And then my best friend (ex Best Friend now) in college MADE me read THG. My argument was, 'Why in the hell would I want to read about a bunch of kids killing each other?' The barbarics of it astounded me and the inhumanity it must have taken to write it (or so I thought) appalled me. But then I picked it up-begrudgingly-and my world was flipped on it's axis. Nothing has ever been the same. I read this series in a week-two or three days, to be exact-and I couldn't be bothered with life, my husband, or ANYONE. And then, because it literally consumed my soul, I read it two weeks later-in full-again. I. Could. Not. Think. About. Anything else. Because how could a book about the MURDER of children be this good??
"Stay Alive."
But that's where I was one hundred percent wrong. This book is so much deeper than death-it's about life, it's about doing everything you can to survive, to save your family and those you care about. It's about love and compassion and the question of humanity and what you are willing to do to survive and keep those you care about out of harm's way. It's about a spark. A revolution. A girl on fire that no one saw coming….Katniss fucking Everdeen.
"No. Now, shut up and eat your pears."
This book, even after having read it three times, was just as good as in 2012. I still laughed. I still cried. I still couldn't breathe. The feels haven't went anywhere and there are still scenes that the movie couldn't capture or touch with a ten foot pole (Even though I do love the movies). The cave scene. The creek scene. The 'hunting as a pair' scene. Even the end couldn't hold as much weight as the book. And for those of you who have only seen the movies, yeah, it's amazing. Best book to movie adaption ever, in my opinion (all of them thus far, especially 2). But…I can't help feeling sorry for you. You will never know the deep attachments that were formed and just how much depth there is to such a simple story. And…sorry. I feel sorry for you. So, no, I couldn't not write something, because this series is everything to me and why I read like a lunatic now, always looking for my next fix that will make me feel like this again. I don't know if it's possible…but I'm up for the challenge.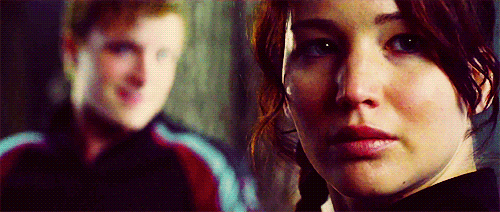 *********************************
MAY THE ODDS
BE EVER
IN OUR FAVOR
Oh my feels. They hurt.
Related Posts