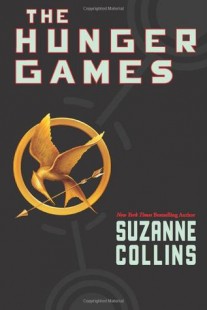 The Hunger Games
(
The Hunger Games #1
)
by
Suzanne Collins
Purchase on:
Amazon
, 
iBooks
, 
Book Depository
Add to:
Goodreads
Synopsis:

Winning will make you famous.
Losing means certain death.

The nation of Panem, formed from a post-apocalyptic North America, is a country that consists of a wealthy Capitol region surrounded by 12 poorer districts. Early in its history, a rebellion led by a 13th district against the Capitol resulted in its destruction and the creation of an annual televised event known as the Hunger Games. In punishment, and as a reminder of the power and grace of the Capitol, each district must yield one boy and one girl between the ages of 12 and 18 through a lottery system to participate in the games. The 'tributes' are chosen during the annual Reaping and are forced to fight to the death, leaving only one survivor to claim victory.

When 16-year-old Katniss's young sister, Prim, is selected as District 12's female representative, Katniss volunteers to take her place. She and her male counterpart Peeta, are pitted against bigger, stronger representatives, some of whom have trained for this their whole lives. , she sees it as a death sentence. But Katniss has been close to death before. For her, survival is second nature.

✬✬✬ EPIC BUDDY READ/REREAD ✬✬✬


★ As The useless chick who wouldn't survive a round: Anna (2nd!)
★ As The absolute fanatic: Chelsea (4th!)
★ As The determined movie-whore: Harriet (1st!)
★ As The enthusiastic newbie: Jenny (1st!)
★ As The foxface unknown: Kat (2nd!)
★ As The die-hard fan: Laura (3rd!)
AND ME!! ★ As The deadly shot new recruit : Jen (1st!)
Review:
This review is for all of you out there that have held out, like I did, because you weren't sure whether you wanted to read this book.  Whether it was the hype or you didn't want to step into a world where kids brutally murdered other kids (I'm the latter). Where there could only be one winner out of twenty four contestants.  Where you're afraid it's filled with viciousness and that the pages will haunt you or make you cry.  Because that's where I was.  But my lovely blog buddy, Chelsea, pushed me out of my comfort zone.  She bought me this trilogy and then after I still hadn't read it, she organized a buddy read with five other of our friends.  There was no backing out after that.  While I was always morbidly curious what all the hype was about, I decided to plunge head first and hope that I'd make it out while clinging onto my sanity.  While I was an emotional mess through much of the story, it won me over.  And I hope you'll step out of your comfort zone and read it too!   
"Katniss, it's just hunting. You're the best hunter I know," says Gale.
"It's not just hunting. They're armed. They think," I say.
"So do you. And you've had more practice. Real practice," he says. "You know how to kill."
"Not people," I say.
So what won me over?
 A heroine I can respect.  First and foremost Katniss is one of the main reasons I fell in love with this book. She's a survivor who stepped up and is the sole reason her family is alive and didn't starve to death after her father died.  I respected how much responsibility she took on at a young age and how it morphed her into a determined, tough woman.  But she isn't just a hunter and provider.  She's a good friend to her best friend and fellow hunter, Gale.  And she is like a second mom to her little sister, Prim.  It was easy to like Katniss and to sympathize with her.  Especially when she stepped up and volunteered to take her sister's place in The Hunger Games.
 The simplistic aspect of the storytelling.  The way the story is delivered makes it easy to fall into their world.  The details are enough to get a good grasp on everything, but never to the point where it is overwhelming or will bore you.  It honestly reads as though I was having a movie play in my head.
 A fast paced story that you'll constantly be thinking about. It was impossible to put this book down.  There was so much going on that I had to know what would happen next.  And when I did have to put this book down due to life, boo, the scenes kept replaying in my head.  I kept trying to guess what was going to happen next, and it became all consuming!
 A boy you will want to put your faith in, I think?   Peeta, her fellow district competitor, constantly had my attention and I struggled with how to view him.  At times he could appear so selfless and heartfelt and other times he would appear cold, calculating and a true opponent.  He will keep you intrigued and make you want to learn more about him.  Because in one moment he'll be melting your heart and other times he will turn it to ice!  I loved Peeta because I'm twisted like that ha!
 Peril that will leave you breathless.  This is what made me the most nervous to start the story.  I was terrified that my palms would never stop being sweaty or that my stomach would constantly be twisted in horror.  And I'm not going to lie, I was an emotional wreck.  I sobbed quiet a few times and it was hard to catch my breath at other times.  I never knew if there was ever going to be a break in the insanity that is their lives.  But when I read that final page, it was worth all of the emotional pain.  Because the story that unfolded, is one that will stick with me.  Even in the darkest moments of The Hunger Games, I was struck by the sincerity of some of their interactions.  Even when they were at their worst, people kept surprising me and gave me faith in humankind.
So to all my friends out there that haven't read this, I beg you to take a chance.  You'll meet characters you love and find a story that will stay with you in your heart. And I'm already counting the seconds until I can pick up the second book.  Good luck, and may the odds be ever in your favor.
The Mockingjay used to make Anna's picture can be found here.
Save
Save
Related Posts