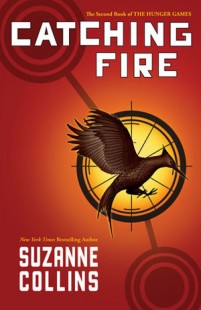 Catching Fire
(
The Hunger Games #2
)
by
Suzanne Collins
Purchase on:
Amazon
, 
iBooks
, 
Book Depository
Add to:
Goodreads
Synopsis:

Against all odds, Katniss Everdeen has won the annual Hunger Games with fellow district tribute Peeta Mellark. But it was a victory won by defiance of the Capitol and their harsh rules. Katniss and Peeta should be happy. After all, they have just won for themselves and their families a life of safety and plenty. But there are rumors of rebellion among the subjects, and Katniss and Peeta, to their horror, are the faces of that rebellion. The Capitol is angry. The Capitol wants reveng
Review:
I was nervous to step into this world.  But now that I am more than fully immersed, I find myself obsessed.  Whether it is the side characters that I care deeply care about.  The politics that become all consuming.  Villains that I want to murder myself.  Or the peril that fills the pages that somehow tops the insane intense moments from the The Hunger Games.  It all makes me look back at myself and laugh.  THIS is what I love.  Why did I ever let the notion of kids killing kids affect my want to read this series? Welllllll I still struggle with that aspect, BUT as I've said before – it's worth it!  Even after that last page.  And that last page left me wanting to lay on my side and curl into a tiny ball.  But instead of doing that, which if I'm being truthful I'm still contemplating, I am stuck awake thinking back over every part of Catching Fire.  And these are by far my favorite aspects:
 

A boy worthy of being swoon worthy.


"I just want to spend every possible minute of the rest of my life with you," Peeta replies.

Peeta won my heart over in The Hunger Games.  He was selfless and tried his hardest to protect Katniss.  Even when death was knocking on his door, he could be overheard whispering her name.  And even after being given a somewhat cold shoulder at times, nothing could erase his love for Katniss.  In Catching Fire, he pulls out all of the stops to protect the woman he loves.  He weaves lies to protect her.  He pours his heart out to her again.  And he puts himself on the line to save her again.  Peeta was butterfly inducing and most definitely swoon worthy.  He is my definition of what a book boyfriend should be.

 

Intense and action packed.


"Convince me," he says.  He drops the napkin and retrieves his book.  I don't watch him as he heads for the door, so I flinch when he whispers in my ear.  "By the way, I know about the kiss."  Then the door clicks shut behind him.

I learned the hard way about never expecting any breaks in the action.  Because just when I thought they were getting a tiny reprieve, I was gravely mistaken.  Catching Fire seemed to move at a more intense speed than The Hunger Games, at times, and I loved it!  I constantly found myself in a death grip, clutching on for dear life.

 

A heroine whose choices and decisions are respectful.


Life in District 12 isn't really so different from life in the arena.  At some point, you have to stop running and turn around and face whoever wants you dead.  The hard thing is finding the courage to do it.

Katniss proved herself in The Hunger Games by taking her sister's place and saving Peeta's life.  But in Catching Fire, she ups her game.  She puts herself in an even more selfless position.  It made me so conflicted because I love the way she thought yet at the same time it terrified me for what would happen to her.  She is a heroine that continues to surprise me!

I love this book! Hopefully my love for the series will continue till the final page in Mockingjay!
Related Posts