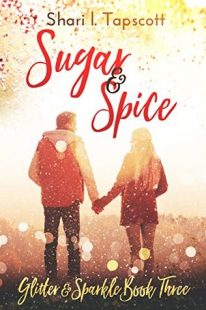 Sugar and Spice
(
Glitter and Sparkle #3
)
by
Shari L. Tapscott
Purchase on:
Amazon
Add to:
Goodreads
Synopsis:

Fueled by love and determination, twenty-one-year-old Harper took a great leap of faith and transferred home from college to finally declare her feelings to Brandon, the boy who's adored her since they were children.

There was only one thing that could derail her perfect plan, and that was Brandon showing up with a new girlfriend the very same weekend.

Now slightly bitter and irked at the world, Harper focuses her time and attention on making her sister's childhood dream come true: she's going to meet Mason Knight, former lead singer of the wildly popular Forever Now band. All Harper has to do is bake her way onto the nationally televised, holiday cookie competition he happens to be judging. Easy. Until she finds herself partnered with Sadie--Brandon's vapid, wide-eyed, hair-of-many-bottle-blond-colors girlfriend.

Just when Harper's ready to throw in the towel, she collides with entitled, pretty-boy, celebrity-judge Mason. Except he's not entitled, and with his sharp eyes and chiseled jaw, there's nothing pretty about him. Suddenly, Harper doesn't just want in the competition--she wants to win. Even if that means she has to play nice with Sadie to accomplish it...
Review:
Sugar and Spice made me laugh, smile and fall hopelessly in love with these characters. And when I closed the book, I was left wanting to spin circles with my arms out and smiling up at the sun. Seriously. It was that adorable! While the story felt a tad unrealistic at times, I didn't care at all. I love this series with my whole heart and I can't get over how much fun each book is! And while each one can easily be read as a standalone, I highly recommend going back and starting with Glitter and Sparkle. This series revolves around a group of friends and you don't want to miss any second of it!
I don't have to meet him to know his type—entitled, rich-boy snob. And can he change a tire? Throw a football? Start a fire? Basically do half the things Brandon can with his eyes closed? I think not, and therefore, he holds none of my interest.
We've had many glimpses of Harper in the last two books. She's Riley's sister, a friend of Lauren's and she has crushed on Lauren's brother, Brandon, since forever. Harper transferred back home to a local college and she was going to confess her feelings to Brandon, but now he had a girlfriend. Unfortunately Harper can't ignore Brandon, they were embedded in each other's lives. Their parents and even sisters were best friends and they did everything together from bbqs to even the holidays. And through a twist of events, Harper found herself entering a baking competition with Brandon's girlfriend, Sadie. Which landed Harper and Sadie on a TV show for a Christmas Cookie Competition (think Food Network Cookie Bake-Off….tons of fun!).
He's not at all what I expected, and I'm not sure what to think about that.
The judges could be so harsh and I kept hoping they'd make it to the next round. I was also super nervous for how Harper and Sadie would work together. Shockingly they worked together seamlessly. Out of the kitchen though it was a different story. Sadie tried her hardest to make friends with Harper, but I more than got Harper's hesitation. I mean she wanted Sadie's boyfriend, so there was all kinds of awkwardness there. And during those moments, especially the heart aching ones, Harper found herself turning to Mason.
Sadie stares at me, mouth gaping open. She steadies herself on the wall with one hand and fans her face with the other. "Mason Knight just hit on you."
And as much as I hate to admit it, I liked it.
A lot.
Mason was America's teen heart throb and was the judge of the baking competition. He went from being in a boy band to a solo career and ironically he was from the same little town in Montana that Harper was from. Right from the start I was laughing at Harper and Mason's interactions. Their moments together were a little bit awkward, but also completely giggle and sigh worthy. And after just that first meeting, with an inside joke already established, it all felt so playful every time they were near each other. Yet there was an undercurrent of sexual tension since there was a natural pull between them. And it left me feeling as though I couldn't wait to see what happened next!
"We'll have to be careful not to appear overly friendly in public," he whispers, his words tickling my ear.
My mouth goes dry, and I swallow before I answer. "Shouldn't be a problem. I don't even know you. You certainly don't know me."
"Oh, but I plan to."
I loved that Mason was thoughtful, a good listener and such a good friend to Harper. He could be so sweet and down to earth and exactly what she needed with her cynical ways. Harper found herself spilling her whole heart and soul to him. And each time it pulled them that much closer to together and I found myself a huge smiling, laughing, sighing mess. While they formed a strong friendship quickly, it all felt so natural. Especially since Mason could be so enchanting. His sexiness easily possessed my heart! But Harper was hesitant. How could her and Mason ever have a real relationship? Their worlds were entirely different.
I'm smart enough to know I can't expect a relationship from Mason—our lives are too different. We met at a crossroad—a beautiful, magical, amazing crossroad—but eventually, we're going to go our separate ways. Before I give in to this, I must prepare myself for the loss at the end.
So yes, I absolutely loved this book and this whole series! I can't recommend them enough! I found myself addicted to the story line and all of the characters. Especially since Shari L. Tapscott has a way of creating males that makes me fall head over heels in love with them! And again I absolutely loving the epilogue! It was beyond perfect and my heart couldn't be happier! So far I'm 3/3 for loving her books and I can't wait to devour the rest of them!
Related Posts