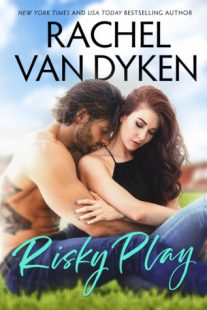 Risky Play
(
Red Card #1
)
by
Rachel Van Dyken
Purchase on:
Amazon
, 
Book Depository
Add to:
Goodreads
Synopsis:

Even one-night stands deserve a second chance in New York Times bestselling author Rachel Van Dyken's novel of sporting desire.

What else can a virgin do when she's ditched at the altar? Seattle heiress Mackenzie Dupont is treating herself to a single-girl honeymoon in Mexico and a desire to relinquish her innocence to a gorgeous one-night stand. Fake names. True pleasure. But when she wakes up alone, Mackenzie realizes just how much anger is left in her broken heart.

Suffering a tragic personal loss, pro soccer player Slade Rodriguez has his reasons for vanishing without a goodbye. Right or wrong, he's blaming the beautiful and infuriating stranger he never wants to see again. They're both in for a shock when Mackenzie shows up as his new personal assistant. And they both have a lot to learn about each other. Because they share more than they could possibly know, including a common enemy who's playing his own games. And he's not afraid to get dirty.

Now there's only one way Mackenzie and Slade can win: to trust in each other and to stop hiding from the lies they've told, the secrets they've kept, the mistakes they've made, and the attraction that still burns between them.
Review:
Risky Play was an emotionally heartfelt story that started out with a bang.  It had everything I've come to love in a Rachel Van Dyken book. Characters that felt real, a story-line that pulled at my heart and scorching hot scenes that made me fan my face.  But there was also a strong hate to love vibe that made this story such a winner. If you're a fan of sports romances, Rachel Van Dyken or hate to love romances then definitely pick this one up!
"More champagne?" He pointed to my hand still clutching the champagne with a vise-like grip.
"Yeah," I croaked.
"Are you by yourself?" he asked a few seconds later.
"Yes." Don't cry. Don't cry. Don't cry.
"Do you want to be?" he asked softly.
I shook my head, no…
Just then he hopped over the partition, swept me into his arms, and lowered his head.
Six months after we watched Mackenzie be ditched at the altar, she treated herself to her honeymoon.  Alone. She met a man named Slade on the airplane and I absolutely loved how their time together progressed, eeks!  With fake names, a whirlwind day of fun and a night that was steamy and romantic, it was absolutely addicting watching them be together.  But that next morning, Slade left without a word.  While they never thought they would see each other again, one month later Mackenzie ended up being Slade's assistant.  And it definitely wasn't a warm and fuzzy reunion.
He was barely touching me, and my body hummed to life.
I stepped away.
I had to.
I didn't trust him.
I couldn't.
While Mackenzie was the heiress to one of the largest wine brands, she was completely down to earth and I easily connected with her.  She was kind, patient and I loved that she took risks and was brave.  But my heart hurt for her.  Mackenzie had been burned by men and never seemed to be enough for them.  So when Slade started using Mackenzie as an emotional punching bag, she held nothing back and stood her ground.  She didn't understand why she was now hated. But she'd much rather spend her time with Slade, instead of going back to the winery.  Where she would have be around the man who left her at the alter.
"You're making this harder than it should be." I crossed my arms.
"And you make me harder than I should be. And yet, here I am." He crossed his arms.
Don't look down. Do not. Look. Down.
I gulped.
His smile broke out into a huge grin. "You were saying?"
Oh Slade.  He was such a complex man.  And one that I absolutely loved.  He was the number one soccer player in the world, but his trust was definitely jaded from his past and his fame.  But thankfully we got to see his softer side in the beginning. When he was in Mexico with Mackenzie, Slade was charming, seductive and fun.  But when we saw him a month later, he was cold and callous.  He could be so mean and hurtful to Mackenzie, it hurt to watch.  Since we alternated between Slade and Mackenzie, you'll find out why he is the way he is.  He was so bad, but I also knew just how amazing he could be.
I had to convince myself that the man in Puerto Vallarta didn't exist.
Because if he did?
I wouldn't let him go.
As Mackenzie invaded Slade's life, doing her job, I was so proud that she would continually throw Slade's attitude back in his face.  She never took it lying down.  And probably the most amazing thing about Mackenzie is that she took a bad situation and found a way to be positive about it.  I absolutely loved her! As the story progressed, I loved seeing peeks of the old Slade. The one I fell so hard for. When his charming or seductive side would come out, I couldn't stop the smiles.  But best of all I loved watching the moments when Slade was fiercely protective of those he cared for. It was crazy hot!
Her hands dug into me, clung to me like I was going to let her go, and it broke my fucking heart that she might actually think I would do that because of our history.
I wasn't letting this go.
Her go.
While the sexual tension was absolutely delicious, I loved when Rachel Van Dyken took them a step further.  Not only was it seductive, but I loved how she could seamlessly lace humor into those moments. There was a shower scene that had me laughing so hard I was crying.  But outside of Slade and Mackenzie, there was also friendships that I adored reading about. Matt and Jagger were my two favorite side characters, you have to meet them!  Also you have to meet Slade's dog, Alfie. He was such a cutie! So yes, I definitely recommend this book! Risky Play made me laugh, cry, smile and fall in love.  And it gave me ALL the tears with that ending. It was so perfect!  Now I can't wait to read the next book, which is about Matt.  That man made me crack up and smile so hard, I can't wait to hear every single one of his thoughts!
*I voluntarily read and reviewed an advanced copy of this book, provided by the publisher. All thoughts and opinions are my own.*
Related Posts