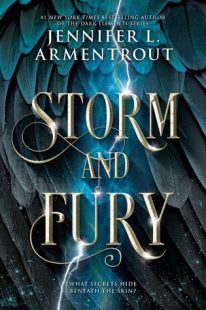 Storm and Fury
(
The Harbinger #1
)
by
Jennifer L. Armentrout
Purchase on:
Amazon
, 
iBooks
, 
Book Depository
Add to:
Goodreads
Synopsis:

Enter a world of gargoyle protectors, rising demons and one girl with an explosive secret.

Eighteen-year-old Trinity Marrow may be going blind, but she can see and communicate with ghosts and spirits. Her unique gift is part of a secret so dangerous that she's been in hiding for years in an isolated compound fiercely guarded by Wardens—gargoyle shape-shifters who protect humankind from demons. If the demons discover the truth about Trinity, they'll devour her, flesh and bone, to enhance their own powers.

When Wardens from another clan arrive with disturbing reports that something out there is killing both demons and Wardens, Trinity's safe world implodes. Not the least because one of the outsiders is the most annoying and fascinating person she's ever met. Zayne has secrets of his own that will upend her world yet again—but working together becomes imperative once demons breach the compound and Trinity's secret comes to light. To save her family and maybe the world, she'll have to put her trust in Zayne. But all bets are off as a supernatural war is unleashed…
Review:
Storm & Fury was an addicting, emotional ride!  I absolutely loved being back in this world and that Zayne got his own story.  It was so much more than I ever could have hoped for!  There was a slow burn romance, a kick ass girl, a sexy protective male and friendship, lust, sacrifice, trust and banter filled the pages.  If you're a fan of JLA or paranormal romance, then you definitely have to add this one to your tbr!
"Are you sure you've had years of training?"I taunted, steadily approaching him.
Several strands of hair had fallen free, brushing his cheeks as he faced me. "Are you sure you've just had a few training sessions?"
"Guess what?"I darted under his swing and hit the floor, planting my palms on the mat as I kicked out, taking his legs out from underneath him. "I lied."
We started out this book meeting Trinity Marrow, who was going blind, but could see and communicate with ghost and spirits.  She lived in the middle of nowhere and within a Warden community, even though she wasn't a Warden.  Wardens were gargoyle shape-shifters who protected humankind from demons. But if the demons ever discovered Trinity, they would destroy her.  So when three men I cherished from The Dark Elements Series came to her compound, her whole life was about to change.  They informed her clan that something out there was hunting Wardens and demons, and before she knew it, it became critical that they work together.
Zayne let go of my hand . "Only you would argue with me over the condition of your back." He placed the jar on the counter. "I need you undressed from the waist up."
"What?" I gaped at him. "Usually a guy tells me I'm pretty before he demands that I take my shirt off."
He shot me a bland look. "Is that all it takes for you to take your shirt off? You're very pretty, Trinity."
My eyes narrowed as I placed my OJ on the sink so that I wouldn't throw it in his face.
I absolutely adored Trinity.  This whole story was from her point of view and I loved how she was so easy to connect with.  Trinity was kind, smart, compassionate, but she was also brave and had so much heart.  I loved that she could be fearless, especially when it came to her diminishing eyesight.  She didn't let not being able to fully see hold her back, whether it came to training, fighting or even just life in general.  She was someone one could look up to.
"What are you going to do if it does get worse?" he asked.
"Maybe I'll get myself a seeing-eye gargoyle."
Zayne chuckled. "I can be that for you."
"Uh, yeah, I feel like you'd grow very bored of that."
"I don't think so." His fingers curled around my chin, bringing my gaze back to his. Air hitched in my throat. "I don't think… there's ever a boring second around you."
When Trinity and Zayne met, sparks flew.  There was a lot of friction between them, and they didn't get off on the best foot.  So they constantly threw barbs at each other and it was hilarious and addicting to watch.  It was impossible not to smile at their antics.  But underneath that banter was an element of lust.  And there were some moments that left me fanning my face.  As they got to know each other, I couldn't help swooning and hoping they'd turn into something more.
His touch was featherlight, but I stirred restlessly. Lust pricked my skin as he moved his fingertips down my throat, over my shoulder. A small sigh escaped me.
Zayne always had a special place in my heart from the White Hot Kiss Series.  But I was never on Team Zayne.  Not because I wasn't obsessed with him, it was just that I always felt like Layla and Roth were meant to be together forever.  So after everything went down in the previous series, I desperately wanted Zayne to get his happily ever.  Especially since I had fallen so hard for him.
I…I wanted him.
I'd never really felt desire before, but it was burning me up from the inside. Want. Need. This was what had been missing when I'd kissed someone before. This was what yearning really felt like, and as I lifted my head off the mat, bringing our mouths so close that I could taste his breath on my lips, I thought I might drown in it. Zayne didn't pull away. Instead, it seemed as if he became even more still.
I kissed him.
While Zayne was jaded from his past, he was still beautiful inside and out.  And it was addicting how he was not only sexy but tenacious and brave.  But there were so much more to him, like I absolutely loved how he could be funny, and then in the next breath he could be so emotionally deep.  When Zayne opened up, even a little bit, it always stole my heart and soul.  I was obsessed with Zayne and I thought Trinity would be the perfect fit for him.
"This seems very un-Warden-like," I whispered.
The hand at my hip tightened. "You'd be shocked by all the un-Warden-like things going through my head right now."
I shuddered, feeling dizzy and warm and alive. "Then show me."
And he did.
While you can technically read this spin-off series as a standalone, I highly recommend you start with The Dark Elements Series first.  There were so many little moments or references that linked us to that first series.  And I loved how things pulled at my heart, made me smile or I had tears in my eyes because I was able to realize the importance of a certain moment since I had already read The Dark Element Series.  Even if it happened in the blink of an eye, the significance was there.  On top of that, I loved that we got to see all of our favorites!  Roth and Layla played such an important role!  Cayman was still making me laugh so hard.  And we even got to see Bambi, I've missed that snake so much!  But there was also new characters in this world, like Peanut, who I came to adore with all of my heart.  Peanut was hilarious and made me laugh so much.  And I loved how he helped out Trinity.  He was such a good friend, even if he was a ghost.
His breath coasted over my lips as he spoke. "We got this, Trin. We only have to stop the end of the world with little to no direction."
"No big deal."
He chuckled, and my lips curved up at the sound and the feel. "None at all."
Action and moments that made my toes curl swirled together and it made this book beyond phenomenal!  And by that last page we had a lot of questions answered and stopped at a spot where I could breathe.  So while we got some closure to some issues, I can't wait for that next book so we can dive into more of the unknowns.  And hopefully we'll also get some more sigh inducing moments between Zayne and Trinity.  Fingers crossed!  So yes, I definitely recommend this book and I can't wait to see how the rest of this series goes!
*I voluntarily read and reviewed an advanced copy of this book, provided by the author. All thoughts and opinions are my own.*
Related Posts