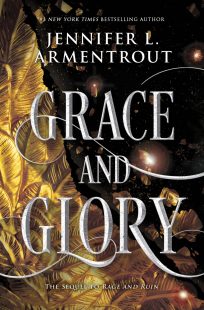 Grace and Glory
(
The Harbinger #3
)
by
Jennifer L. Armentrout
Purchase on:
Amazon
, 
iBooks
Add to:
Goodreads
Synopsis:

Trinity Marrow has lost the battle and her beloved Protector. Even with both demons and Wardens on her side, Trin may not win the war against the Harbinger.

Bringing Lucifer back to the world to fight the Harbinger is probably a really, really bad idea, but they're out of options—and the world's ultimate fallen angel is the only being powerful enough to impact the outcome.

As Trin and Zayne form a new and more dangerous bond and Lucifer unleashes Hell on earth, the apocalypse looms and the world teeters on the end of forever. Win or lose, one thing is certain—nothing will ever be the same.
Review:
Grace and Glory was a stunning conclusion to The Harbinger Series! With tears, laughter, friendship and love splashed across the pages, this book was such a huge win! If you're a fan of Jennifer L Armentrout or paranormal stories then you definitely need this series in your life!
"You can't just be anger and hatred. That can't be all that you are. You didn't just start existing the moment you landed in the park. You had an entire life. You are kind and good and fair. You love. You grieve. You—"
"I am none of those things!" he roared, wings snapping out and spreading wide.
Zayne was back and alive, but not the same. He was fallen. So when he threatened Trinity, my heart was in my throat not knowing how this was going to be fixed. I desperately needed Zayne and Trinity back together. Not only did it feel as though the whole world was falling apart around them, but I desperately wanted them to get their HEA. With obstacles along the way, and even Lucifer coming topside, this book kept me glued to the pages!
This was him. It was his skin against my palms, and it was warm, no longer cool to the touch, his breath coasting over my cheek. It was him holding me.
It was Zayne.
Zayne will forever be one of my favorite book boyfriends. But he had so much anger and hatred when he came back. And while I should hate him for how he treated Trinity, there's a huge but. Even while Zayne didn't seem like himself, their physical need for each other was still there. Some of the scenes may have felt wrongish, since he was threatening to kill her lol, BUT they were sooooo scorching hot *fans face*. Zayne and Trinity had this love hate thing going on and I have to admit I loved every minute of it.
"You are all I ever wanted, even before I knew what I wanted. It was you. It was always you," he whispered, voice raw.
The amount of sacrifice and risks they took blew my mind. We watched as Trinity had to have faith in herself and the love she had with Zayne, while she fought for them and the world. She was truly a heroine you could look up to and respect. And Zayne, he fell, it seemed like the greatest of sacrifices. I loved watching them fully embrace who they had both become. Ultimately I kept hoping that their love was powerful enough to conquer all. We all know how much Zayne suffered, even back in The Dark Elements Series. So I had tears at times because I just wanted them back together and happy.
Slowly, I lifted my head to Roth. I'd never been more disappointed in my life.
"They don't get out much," he said with a shrug.
"Kittens?" I whispered. "And a baby dragon? Seriously? You brought kittens and a baby dragon as backup? Are they a snack for Bambi?"
The black kitten hissed at me.
Zayne and Trinity thankfully had their friends by their side too. Layla, Roth, Bambi, Cayman and so many Wardens that wove their way into my heart. I loved them all so much. We even got to see a character from The Dark Elements Series, who I shouldn't have been excited to see but I was lol. Plus Peanut, who I adored! And then there was Lucifer, who we weren't supposed to like….right?! But he cracked me up and while I wanted more time with him, Lucifer also showed us his horrifically cruel side. It was a hard pill to swallow and left me feeling confused towards him. So make sure you hold on, because this cast of characters will take you on a wild and crazy ride!
"So, I'm told I'm needed to save the world."
"Yeah," I said hoarsely.
Lucifer smiled, and I'd never seen anything so beautiful and so equally frightening before. Goose bumps broke out over my f lesh. "Then let's raise some Hell."
With twists I didn't see coming, deals to be bargained, risks that seemed too great and even betrayal, I loved every minute of this story! Grace and Glory owned every part of me! Plus I'm so happy that there was an element left open, so there can be a spinoff down the road. I'm keeping my fingers crossed that someday that will happen!
*I voluntarily read and reviewed an advanced copy of this book, provided by the author. All thoughts and opinions are my own.*
Other Favorite Quotes:
"You're going to wear yourself out." His lips ghosted across the curve of my jaw, sending a fairly inappropriate shiver dancing over my skin . "And then what, little nephilim? No grace. No daggers. It'll just be me and you."
"It's always been just you and me, Zayne."
"There's no way Roth is planning to get Lucifer topside. That would make no sense, right?" Zayne looked at me, and I shrunk as far as I could into the cushion. "Because wouldn't that jump-start the biblical apocalypse and cause us to have even more problems to deal with?"
"Weeelll," I repeated. "We're sort of hoping that God will overlook his presence since we're trying to save mankind and Heaven, and you know."
"No. I do not know." Zayne stared at me.
"I am not worthy of you."
"That's the farthest thing from the truth."
"It's not. You're brave and strong. Fearless. You're intelligent, kind and loyal." His large hands slid to my hips. "You're breathtaking." He kissed my neck , and I shuddered. "I want you, now and always."
"So, Lucifer did come topside, and good news is he did agree to help. Was actually pretty enthusiastic about it."
There was a pause and then Nicolai said, "Okay?"
"But we, uh…" My entire body and brain cringed. "We sort of lost Lucifer."
Zayne's gaze met mine when I looked up. He nodded as he said, "Agreed. We need to go at him fast and hard."
"That sounds dirty, Stony," Roth purred.
I shook my head at the phone.
Related Posts