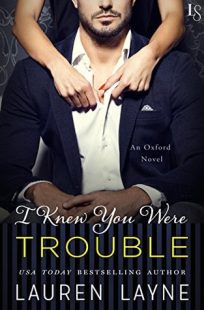 I Knew You Were Trouble
(
Oxford #4
)
by
Lauren Layne
Purchase on:
Amazon
, 
iBooks
Add to:
Goodreads
Synopsis:

Taylor Carr has it all—a sleek job in advertising, a stunning Manhattan apartment, and the perfect man to share it with: Bradley Calloway. Even after Bradley dumps her for a co-worker on move-in day, Taylor isn't worried. She'll get her man eventually. In the meantime, she needs a new roommate. Enter Nick Ballantine, career bartender, freelance writer—and longtime pain in Taylor's ass. Sexy in a permanent five-o'clock-shadow kind of way, Nick knows how to push Taylor's buttons, as if he could see right through to the real her.

Nick's always trying to fix people, and nobody could use a good fixing more than Taylor. Sure, she's gorgeous, with mesmerizing silver eyes, but it's her vulnerability that kills him. Now that they're shacking up together, the chemistry is out of control. Soon they're putting every part of their two-bedroom apartment to good use. Then Taylor's ex comes crawling back to her, and Nick figures she'll jump at the chance to go back to her old life—unless he fights for the best thing that ever happened to him.
Review:
I Knew You Were Trouble was flirty, sexy, angsty and absolutely fabulous!  This was a classic LL book, and I devoured it in one night.  And when I finished the epilogue, I was left feeling beyond ecstatic and happy.  I had the hugest smile on my face.  So if you are a fan of enemies to lovers, or if you have fallen for any of her past releases, then you definitely want to pick this one up!
"If you weren't dating him, would you have dinner with me?"
"I don't like you," she whispered.
He eased closer until his mouth was inches from her ear. "Liar."
It was a whisper, and it sent shivers down her spine and then back up again. The good kind of shivers, the kind that made her want to lean into him and beg him to put his mouth all over her.
I was suprised that the beginning started out a little bit different.  It was a brilliant idea that quickly connected me to all of the characters, and it made me feel like I'd known them forever.  So the first 6 "chapters" was a countdown from over a year ago in Taylor Carr's life to present day.  We got to watch Taylor transition into the Oxford world, make friends, and interact with her coworkers.  We also got to see how her hate relationship with Nick Ballentine started, and we watched how Bradley Calloway became her boyfriend.  When the official first chapter started, I felt as though I completely understood and loved her inside out.
She hated being the newcomer— hated feeling vulnerable in any way for fear that someone would see right through her shield of confidence and call her out as a fraud. To expose her as what she really was on the inside: lonely. Maybe a little unlovable, if she wanted to get melodramatic about it.
Which I'm so thankful for, because I was a little nervous at first.  You see, I thought Taylor was going to be too harsh for me.  She could be so brutal at times, and I didn't think I could relate or connect.  Oh how wrong I was!  While she portrayed herself as this tough, strong female, which she was, she was also so much more.  She was a kind, wonderful friend…..I adored the friendships she had with Brit and Daisy!  And I loved that she faltered, that she broke down and that she could be unsure of herself at times.  But what I loved most about Taylor, was how she threw fire and ice at Nick!
Damn, but she really was beautiful.
"And I don't get to be happy?" she said. "Bitchy Taylor deserves to be miserable, is that it?"
"Nah," he said quietly, studying her. "I'm just not sure you'd recognize actual happiness if it bit you in your perfectly shaped ass."
She slapped his hand away from her face. "Get. Out."
He did.
Not because she'd told him to. But because for one idiotic moment, Nick had wanted nothing more than to kiss all that pouty anger right off Taylor Carr's saucy mouth.
You see, Nick knew how to push Taylor's buttons.  And yes he could be a complete jerk at times.  But oh my gosh, the man was charming and oh so sexy.  Even when you didn't want him to be.  And underneath it all, you got glimpses of his beautiful, kind heart.  So I was beyond ecstatic that Nick was going to move in with Taylor, since her boyfriend dumped her on move in day and she needed a roommate.  Because them moving in together meant that there would be even more fireworks.  And I also assumed that the sexual tension would get turned up a notch or ten.  And that's exactly what happened.
He'd been kind to her last night— hell, he'd been kind to her a lot more often than she deserved. But he'd never shown any interest in her as a woman, and . . . well, it bothered her.
While they were a roller coaster of emotions that I definitely enjoyed riding, I also had fun watching them learn more about each other.  Especially since their enemy status almost started to look friendly at times.  And lucky for us, we got to know what both of them were thinking, since we spent chapters with both of them.  So yes, I definitely recommend this book!  And I'm going to hold out hope and think positive that Brit Robbins and Hunter Cross are going to get their own book some day!  Fingers crossed!!
PS I loved that Lincoln and Cassidy gave Nick advice from time to time.  I adore those Oxford men!
*ARC kindly provided by Random House Publishing – Loveswept via Netgalley in exchange for an honest review*
Related Posts