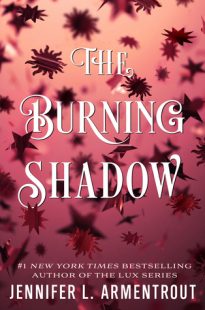 The Burning Shadow
(
Origin #2
)
by
Jennifer L. Armentrout
Purchase on:
Amazon
, 
iBooks
Add to:
Goodreads
Synopsis:

#1 New York Times, USA Today, and internationally bestselling author Jennifer L. Armentrout returns to the world of the Lux with The Burning Shadow, the steamy, shocking second installment of the Origin series that will leave readers reeling.

When Evelyn Dasher crossed paths with Luc, she was thrown headfirst into the world of the Lux―only to discover that she was already far more involved in their world than she ever suspected.

Because the Luxen aren't the only ones with a hidden past. There's a gap in Evie's memory, lost months of her life and a lingering sense that something happened, something she can't remember and nobody is willing to tell her. She needs to find out the truth about who she is―and who she was. But every answer she finds only brings up more questions.

Her search for the truth brings her ever closer to Luc, the Origin at the center of it all. He's powerful, arrogant, inhumanly beautiful, extremely dangerous…and possibly in love with her. But even as Evie falls for him, she can't help but wonder if his attraction is to her, or to the memory of a girl who no longer exists.

And all the while, a new threat looms: reports of a flu-like, fatal virus that the government insists is being spread by Luxen. A horrifying illness that changes whoever it touches, spreading panic across a country already at its breaking point.
Review:
The Burning Shadow was absolutely brilliant. It started out slow and steady and grew into an intricate story that was deep and emotional. I loved the ties into the Lux Series and that we got to see all of our old friends. It felt like coming home. But this book toyed with my emotions in the best way ever! Lies, love, betrayal, friendship and secrets splashed across the pages and it was beyond impossible to put this book down.
"Evie." Luc said my name as if it were a prayer and a curse.
I took a breath, but it went nowhere. His forehead touched mine, and I swore my heart stopped right then and there.
Within those first few pages, I was already laughing so hard. That's because the story started right where The Darkest Star ended. With Evie's mom, Sylvia, making lunch for Evie and Luc. Sylvia and Luc butted heads in the most horrific ways. They were a disaster in the making and I couldn't look away from that train wreck or stop the laughs that were bubbling out of me.
I wanted him to kiss me. I wanted to lose myself in him. I wanted to forget, and I wanted to remember.
From there, we were taken on the most epic adventure. So I was beyond grateful that Evie and Luc got moments where they could sit back for a few minutes and enjoy each other. Their banter was smile inducing, but they also had these deep, emotional conversations that gutted and elated me. Especially when Luc gave Evie little pieces of her past. It felt like we truly got to know everything there was about them and they brought so many emotions out of me. It wasn't a surprise that I kept finding myself with tears falling down my face.
"Tell me what you want." His lips brushed mine in the darkness. "You need to say the words, Evie."
"You," I whispered into the space between our mouths, while my heart beat so fast I didn't understand how it could keep going. "I want you."
But there was also heart pounding action that made it feel like I was standing on the edge of the cliff. I was so scared I was going to fall with them down into the abyss, so I was that glued to the pages. And as the story unfolded, we were given little clues. When those clues started to come together I literally had chills. And while some of the twists I figured out, a few of them knocked me on my butt. My mind was blown. So hold on because this book turned into a wild and twisted ride.
"You," he spoke. "It's only ever been you. Before. Now. Later. There's been no one else. There . . . just can't be."
Luc is still holding onto my number one spot for favorite book boyfriend ever (sorry Daemon!). The lengths he would go to protect the ones he loved was astronomical. He did everything to keep them safe, and while sometimes it was selfish, I loved him more for it. I also loved that he had no idea how to be modest lol. With hysterical t-shirts, cheesy pickup lines, and being naughty and listening into Evie's thoughts I seriously loved everything about him. Even when he was a little too matter of fact or being violent. His actions shouldn't have made me laugh, broken hand scene cough cough, but it's Luc. I couldn't help smiling and laughing every time he was around.
"Because I've already waited forever for this— for you. I've done nothing but watch and wait, and I am not walking away again. If I kiss you, if I touch you again, I will not be able to go back to the way things are now." The next breath he took trembled as much as I was. "I won't be able to pretend that you aren't my everything."
I couldn't breathe.
Evie was on a huge emotional journey and grew so much! She definitely struggled trying to figure out who she truly was. She had her past and Evelyn Dashed mixed into who she was and my heart hurt for her. But Evie was strong, resilient and she grew in leaps and bounds. I was rooting for her every step of the way! And I loved that she never once lost her confidence, snark or sassiness!
Daemon was quiet for a long moment. "Luc and I would do anything to protect the people we love."
I stilled, unable to take more than a shallow breath as I stared at the male Luxen. I didn't know how to respond to that.
"I would beg, plead, barter, and kill to protect Kat," he continued, voice low, but every word struck me like thunder. "Nothing in this world would stop me, and there's nothing that I wouldn't do— and it's the same for Luc when it comes to you."
The side characters rounded out this story perfectly. Zoe was the ultimate bff, I loved Heidi too and everyone from The Lux Series. You guys. My heart was elated with how many we got to see, I was screaming. Ohhhh and be prepared because when Luc and Daemon go head to head, I didn't know whether to laugh or hold my breath because of what would happen next. So yes, I loved this book! It definitely didn't suffer from second book syndrome. I loved every twist and turn and I couldn't wait to see what happened next, The Burning Shadow will definitely keep readers hooked and become an instant favorite!
"Evie." Luc's voice was quiet but strong.
Drawing in a deep breath, I nodded. "I'm okay. I'm ready."
And then I stepped forward, hand in hand with Luc, into the unknown.
PS Diesel gets a part in this book and it was so perfect!
PPS I love their Halloween costumes!
*I voluntarily read and reviewed an advanced copy of this book, provided by the author. All thoughts and opinions are my own.*
Related Posts