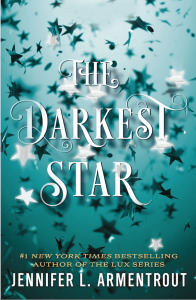 The Darkest Star
(
Origin #1
)
by
Jennifer L. Armentrout
Purchase on:
Amazon
, 
iBooks
, 
Book Depository
Add to:
Goodreads
Synopsis:

In the world of the Lux, secrets thrive, lies shatter, and love is undeniable.

#1 New York Times, USA Today, and internationally bestselling author Jennifer L. Armentrout brings her trademark drama and intrigue to a new romantic YA science fiction series with The Darkest Star. A girl pulled into in a world she doesn't understand finds herself confronted by long buried secrets, a betrayal that could tear her life apart...and Armentrout's most swoonworthy book boyfriend yet.

Seventeen-year-old Evie Dasher knows firsthand the devastating consequences of humanity's war with the aliens. When she's caught up in a raid at a notorious club known as one of the few places where humans and the surviving Luxen can mingle freely, she meets Luc, an unnaturally beautiful guy she initially assumes is a Luxen...but he is in fact something much more powerful. Her growing attraction for Luc will lead her deeper and deeper into a world she'd only heard about, a world where everything she thought she knew will be turned on its head...
Review:
The Darkest Star was breathtakingly emotional!  It was swoon worthy and filled with action, banter, love, friendships, lies and deceit.  This book pulled me right in from the start and held me in its clutches till that last page.  I was beyond lost to the world around me and I couldn't be happier because this was my most anticipated book of the year.  It more than lived up to my expectations.  Seriously. My mind was blown and I loved every single tiny detail.  I'm happy to say that The Darkest Star is my favorite book of the year!
How in the world did I end up here? What series of really bad life choices had I made that led me to this very moment?
While you don't have to read The Lux Series first, because Jennifer does an amazing job of catching you up, I highly recommend you do.  This book took place a few years after The Lux Series ended and I have to confess that I literally screamed out loud every single time we saw or heard about a character from the past.  I loved the familiarity of it all, but at the same time, so many things were different. It was now known that aliens lived among humans, a percentage of the population was lost in the war and there were new laws and regulations put in place for the aliens that lived among us.  I was fascinated seeing what the world now looked like.
"You're still so incredibly stubborn."
"You . . . don't know me," I gritted out.
I had no clue how I would feel towards Evie, aka Evelyn Dasher.  Her father played a horrific role in The Lux Series and I hated him with a passion.  But right from that first page, I loved Evie.  She was just so relatable, logical, sweet, kind and had the hugest heart ever.  I was so happy that I also liked her friends and her mom. And just a few pages into the story, Evie found herself going with a friend to a club.  Yet it turned into so much more than she could have imagined. Not only did she meet Luc, but he claimed to know her. Even though she had no clue who he was.  And so began the journey of unraveling the truths and the lies and I loved every minute of it!
"You tried to kidnap me, Luc."
"Hmm," he murmured. "That means I like you."
I arched a brow. "Okay. That's messed up on about a thousand different levels."
"Probably. I don't people well."
"Gee, really," I replied dryly.
Luc was EVERYTHING!  I can't wait for you to meet him all grown up.  Yes his people skills could still be super awkward, but he was hilarious, sigh worthy and charming without even trying.  My heart was already broken for him, because of his past and the way he was raised.  But he had so much light in him. He made me laugh, sigh and when I started to see how much he protected those he cared for, it was astounding.  You guys, Luc was the ultimate book boyfriend.  While I never ever thought I would say this, because Daemon has been my #1 bbf for the last four years, Luc not only challenged him but he has grabbed first place.  I feel so disloyal saying that, but Luc was beyond amazing. And I can see countless others falling for his charm too.
Our stares connected , and the effect was instantaneous. Everything around us faded, and there was just us, and this . . . this sensation of falling. I couldn't look away as this feeling surfaced, rushing to the top.
I've been here before.
My breath caught as a wave of tight shivers rippled over my skin. That thought didn't make sense. I hadn't been here with him before.
When Evie and Luc were together, they were completely entertaining.  I loved that Evie didn't just fall for Luc. The boy definitely drove her crazy at times lol.  But there was this amazing chemistry and pull between them.  Between that and their banter, I always felt like Evie and Luc's interactions were smile inducing.  And I was left wanting to know what was going to happen between them next.
Every part of my body was aware of his. The strength in his hand, the hardness of his thigh, and the steady dancing of his breath, and we were lying together like we'd done this a thousand times.
There is so much I'm not even touching on, like the side characters I adored and the mysteries that were fun to figure out.  But I don't want to give anything away. Just know that The Darkest Star was action packed while also having so many heart-felt moments, it was such an easy book to love.  And rest assured, the book stopped at the perfect spot. While we learned some answers, there was still so much of the story we need to hear. And I for one can't wait to read the next book!  Especially since I spent those last few pages with tears in my eyes and with the hugest smile ever. So yes, I definitely recommend The Darkest Star and if you're a fan of The Lux Series, this is a must read!
I wanted more than kissing. I wanted—
"What do you want?" he asked, his gaze holding mine.
"You," I whispered, cheeks burning.
"You have me." His thumb dragged along my lower lip. "You've always had me. Always."
PS I would LOVE to read Luc's POV of this book!  If that was ever an option I'd pre-order that book faster than I could blink!
His shirt read NO DRAMA LLAMA. That shirt was a lie. This boy was all about the drama llama.
PPS Luc's shirts were all kinds of awesome!  I looked forward to seeing what he was going to wear next!
*I voluntarily read and reviewed an advanced copy of this book, provided by the author. All thoughts and opinions are my own.*
Other favorite quotes I had to include……..
That was what I wanted at some point in my life, for someone to look at me like I looked at tacos.
✮✩✮
"Sit," Luc said, and that one word was spoken in the kind of voice that probably left a trail of really bad decisions in its wake.
I sat.
✮✩✮
Groaning, I jabbed my fist into his lower back and was rewarded with another grunt. "I'm going to hurt you!"
Luc chuckled.
He actually chuckled as he walked into a room. I swore to God and the Holy Ghost, I was going to ninja kick him in the face.
✮✩✮
"Then why didn't you give it to me afterward?" I demanded.
A smirk formed. "Well, I was just messing with you then."
"Oh my God." I shook my head, glancing over at Daemon. "Are you hearing this?"
He held up his hand. "I'm just an innocent, enraptured viewer of this."
A lot of help he was.
✮✩✮
"I kinda like the arm-grabbing thing," he replied, shoving his hands into the pockets of his jeans. "Very dominant of you. Maybe I'm the submissive type in, you know, the—"
"Shut up," I hissed. "Why are you here?"
"How can I shut up and answer your question at the same time?"
I shot him a death glare. "Luc."
Related Posts