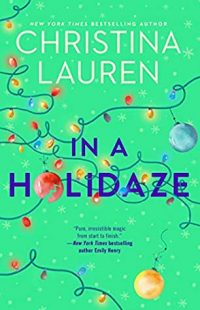 In a Holidaze
by
Christina Lauren
Purchase on:
Amazon
Add to:
Goodreads
Synopsis:

One Christmas wish, two brothers, and a lifetime of hope are on the line for hapless Maelyn Jones in In a Holidaze, the quintessential holiday romantic novel by Christina Lauren, the New York Times bestselling author of The Unhoneymooners.

It's the most wonderful time of the year…but not for Maelyn Jones. She's living with her parents, hates her going-nowhere job, and has just made a romantic error of epic proportions.

But perhaps worst of all, this is the last Christmas Mae will be at her favorite place in the world—the snowy Utah cabin where she and her family have spent every holiday since she was born, along with two other beloved families. Mentally melting down as she drives away from the cabin for the final time, Mae throws out what she thinks is a simple plea to the universe: Please. Show me what will make me happy.

The next thing she knows, tires screech and metal collides, everything goes black. But when Mae gasps awake…she's on an airplane bound for Utah, where she begins the same holiday all over again. With one hilarious disaster after another sending her back to the plane, Mae must figure out how to break free of the strange time loop—and finally get her true love under the mistletoe.

Jam-packed with yuletide cheer, an unforgettable cast of characters, and Christina Lauren's trademark "downright hilarious" (Helen Hoang, author of The Bride Test) hijinks, this swoon-worthy romantic read will make you believe in the power of wishes and the magic of the holidays.
Review:
In a Holidaze was brimming with Christmas cheer, family, laughter and love!  From that first chapter I felt like I was watching a movie.  It all played out so vividly in my head.  So I couldn't help but gasp, laugh out loud and fall madly in love with this book.  If you're looking for a fun Christmas story that has romance in the pages, then definitely add this one to your tbr!
What am I doing with my life? Please. I want…
I'm not even sure how to finish the sentence. I want to be happy, and I'm petrified that the path I'm on now is going to leave me bored and alone.
So I ask the universe, simply: Can you show me what will make me happy?
Every single Christmas, Mae's family got together with her parent's college best friends and their families.  They celebrated the holidays together in the mountains and were so close knit.  They loved each other deeply and had so many rituals and activities that they looked forward to each year.  Except this year…..Mae messed up big time. And with it looking like this would be their last time together, Mae's heart was bleeding.  But then, her whole life got turned upside down and inside out.  With a touch of magic, that reminded me of Groundhogs Day, I had absolutely no clue what was going to happen next!
The display says that today is December 20. But this morning was December 26.
"Wow." I lean back, looking around. Panic presses in at the edges of my vision, turning the world black and fuzzy.
Breathe, Mae.
I loved Maelyn Jones, aka Mae, right away.  She was resilient, caring, and followed her heart.  It was so easy to feel everything right along with her.  So when life got crazy, I more than understood why she lost it.  Seriously, what in the world was going on?!  How many times would she have to repeat certain moments?  And while I felt her anguish and suffering, I couldn't help but laugh throughout this whole ordeal.  They were so many hilarious moments!
I want to capture this moment. I want to put it in a snow globe and be able to see it just like this, forever.
The romance in this story was slow and addictive.  And I found myself falling in love right along with them.  Well technically Mae already had loved Andrew forever, but you'll see what I mean.  Andrew had been friends with Mae practically his whole life.  He always saw her as a friend, but with magic or was it fate intervening, I kept my fingers crossed he'd start to see her in another light.  You guys, Andrew was most definitely book boyfriend material!  He was sexy, patient, thoughtful, sweet and kind.  And I loved how he always paid attention to Mae.
His eyes sparkle, and sensation zips up my spine. I swear he's never looked at me like this, like he's seeing me for the first time.
With sledding, picking out a Christmas tree, making snow critters, mistletoe and more, I loved all of the Christmas festivities in the pages!   It added to the fun of how the story played out and I kept finding myself smiling and laughing out loud.  On top of Mae and Andrew, we had their families, another family and then Benny.  I loved, loved, loved Benny!  He was their parent's best friend who gave me this Cheech and Chong mixed with Mr Rogers persona lol!  Bennie warmed my heart and made me feel like Mae was safe. He was someone she could trust and confide in during these crazy times thank goodness.
His breath comes out warm against my neck, voice shaking: "It never occurred to me that you might be mine."
It was so easy to fall in love with these characters and their story!  And it ended with an epilogue that had all of my hopes and dreams swirled together. Seriously.  It was that fabulous!  So if you're looking for a Christmas story, or a romance that will make you smile, laugh and fall in love then definitely pick this one up!  I'm so glad I did!
Going still, he breathes in uneven bursts against my neck. "I've loved you my whole life, but this new thing…" He sucks in a deep breath. "It's amazing and scary."
PS I actually went into this book with NO knowledge at all, besides my co-blogger Arielle saying it was a must read. The hold at my library was 13 weeks out and I was number 17 on the wait list lol. I was emotionally not in a great place at all, so when I got a notice that Chelsea, my other co-blogger, gifted me this book, I cried all the happy tears and started it right away! *All the Christmas hugs Chelsea's way, I love you!*
Related Posts