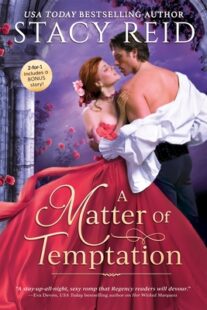 A Matter of Temptation
(
Unforgettable Love #1
)
by
Stacy Reid
Purchase on:
Amazon
Add to:
Goodreads
Synopsis:

Miss Wilhelmina "Mina" Crawford is desperate. Having been ruined in the eyes of society years ago for one foolish, starry-eyed mistake, she spends her days secreted away at her family's crumbling estate, helping her brother manage the land but not able to truly live life the way she's always dreamed. When her brother admits to just how dire their finances have gotten, she takes it upon herself to procure employment…but the only one who will even consider the scandalous idea of a female secretary is the brilliant, ruthless, and infuriating Earl of Creswick.

Simon Loughton, the Earl of Creswick, needs help if he wants to finally pass the reform bill he's been championing for years and secure the vote for England's most vulnerable constituents. Too bad help comes in the form of a woman with breathtaking nerve, fiery red hair, and a sense of humor to match.

Now temptation―disguised as a lovely, clever-mouthed devil―lives and works under Simon's very roof. And Mina finally feels as though she's truly living life to her wildest dreams. But even the most incendiary of kisses can't incinerate Mina's past…or the shocking secret that could ruin them both.
Review:
A Matter of Temptation was a forced proximity historical romance that was laced with laughter and love!  With fabulous banter, a wonderful storyline and characters that were so easy to like, this was another huge win from Stacy Reid.  If you're a fan of historical romance, you definitely need her books in your life!
"Most men would have been appalled."
"I am not most men." His quiet voice held a sardonic note. "And allow me to say: you are not most women."
Miss Wilhelmina "Mina" Crawford felt like she had to right her wrongs from the past.  She had eloped, and now she wasn't able to help her family financially by marrying someone.  So watching her fix her twin brother's issue was so much fun.  I absolutely loved how Mina gained employment working for Simon Loughton, the Earl of Creswick….but I won't say how.  Other than it had me cheering for Mina every step of the way!  And from that first meeting, it was glaringly obvious that there were sparks between them!  Working with him was already pushing the envelope.  Nothing more than that could ever develop between them.
Yet when his gaze met hers, his eyes gleamed with an expression Mina dearly wished she could interpret. A sharp sensation wrenched in the vicinity of her heart and Mina had to quickly look away.
Mina was so easy to love!  I loved how bold, quick witted and insightful she was!  It was so wonderful watching how passionate she was about her work and I loved seeing how happy she was with what she was able to accomplish.  As Mina worked side by side with Simon, she seemed to read him so well.  And established the beginnings of a wonderful friendship.  So when there was some perilous action within the pages, I loved how it changed the trajectory of Mina and Simon.  Not only did it show that she could be brave and fierce, but how Simon reacted will warm readers' hearts!
He reached out and touched her cheek. "I love laughing with you."
Such simple words, yet they slammed into her heart with the force of a hammer, for it sounded like he'd never had reason to laugh before.
Simon thought he could maintain distance from Mina, so I loved how he told her not to smile.  As if that would work lol.  His efforts were futile!  Especially when he spent so much time with her, loved how hard she worked, and respected how clever she was.  All the while thinking she was too pretty.  So from the moment he had the scene with the puppy, I was a goner.  Simon made me cry happy tears, he was such a good and kind man.  Who also has a dirty mouth too.  Yet Simon was to marry someone that went along with his station and reputation.  His grandmother even had contenders picked out.  And with the work he was doing, his image was everything.
When he kissed her, it was with such aching softness that her chest squeezed.
As they worked together, they couldn't help falling for the other.  Simon tried everything to ignore his need for Mina, but his desire ran too deep for her. So I loved watching them connect and become even more entwined with one another.  And some of my favorite moments involved the bucket list.  Kissing.  Confessions.  Gambling.  But at the same time, the world was separating them.  Because of who they both were and what was expected of them.  I wasn't sure how they could make it work, especially with Mina's past, but I kept my fingers crossed!
"Don't you know who I am?"
"The Earl of Creswick," she whispered.
"I will be the shelter for the storm over our heads, Mina, you need not fear what I might lose. What I know I cannot lose is you."
A Matter of Temptation was a fabulous, swoon worthy and steamy historical romance!  And within these pages there was also politics showing the inequality of social and gender issues back then.  I loved how that added to the story.  I can't wait to read whatever Stacy Reid releases next!
Related Posts