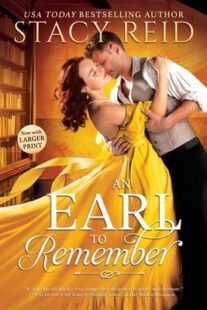 An Earl to Remember
(
Unforgettable Love #2
)
by
Stacy Reid
Purchase on:
Amazon
Add to:
Goodreads
Synopsis:

Miss Georgianna Eleanor Heyford may be naught but a gentleman's daughter, but even she's heard the rumors about the Earl of Stannis's exceptional charm and good looks. Surely she can cater his luxurious yacht party without getting swept away. But a terrible misunderstanding leaves Georgianna fired, furious, and with little recompense. Which is precisely when her opportunity for vengeance washes ashore…

Daniel Rutherford, the Earl of Stannis, has absolutely no memory of who he is. They tell him he must have fallen overboard, and the only person he seems to recognize is the lovely Georgianna―who strikes a chord of familiarity…and the faintest memory of heating his blood. Only now this inelegant, poorly dressed woman claims to be his wife!

But the truth is, Georgianna is finally getting her revenge. The dashing earl will work off the money he owes her and no one will be the wiser. Except the longer he stays with her and her younger sisters, the more it feels like he belongs there. And that perhaps he'd find a forever place in Georgianna's heart…at least, until his memory returns...

Each book in the Unforgettable Love series is STANDALONE:
* A Matter of Temptation
* An Earl to Remember
Review:
How can I be so silly to wish that this… to wish that you…were real?
This gender swap of Overboard was so much fun!  I'm a huge fan of the movie, and I loved seeing so many of the elements play out in the pages!  So if you're a fan of the amnesia trope, historical romance, and love defying all odds, then definitely put this one on your tbr! An Earl to Remember was charming, steamy and absolutely entertaining. 
"You and Hetty are good friends, Mr. Stannis. I am certain she misses you."
"Hetty? The fowl has a name?"
"Yes."
He paused and stared at her carefully bent head and subtly shifting shoulders. Was Miss Heyford laughing?
Miss Georgianna Eleanor Heyford seemed to have the weight of the world on her shoulders.  She was responsible for caring for her three younger sisters, since her parents had passed away.  When she got a job catering for Daniel Rutherford, the Earl of Stannis, her sister was worried.  Daniel had the reputation of a rake.  So when a moment between Daniel and Georgie quickly escalated, she got to see his true colors afterwards.  How he thought of those with her station.  How anything physical meant nothing to him.  And how he had no problem not paying her the full amount of her work, all because his lover was jealous.  When Daniel washed up on the shores and in her cousin's doctors office, Georgie took charge of her life. She saved herself from being ruined and was going to have Daniel payback what he owed her by working around her house.
As Georgianna watched him retreat from the kitchen, she realized that not once in the madness of this scheme had she feared her heart or virtue might be in peril with the earl. How foolish she had been.
Oh God, I must never allow him too close.
Georgie was a woman who was determined to get what she wanted. When Daniel recognized Georgie, it went along perfectly with the lies she created while also mixing in a little bit of the truth from time to time.  The strawberry birthmark was the first of many moments that had me loving this book even more, because of the ties to Overboard!  So I was cackling every time Georgie messed with Daniel.  She told him he was broke.  She gave him a huge list of chores he was to do around the house and land.  The shock that came from Daniel had me dying from laughter.  A man like him chasing around a chicken?  Breaking up a pig and chicken fight?  It was all so much fun! He definitely got what he deserved!  Yet Daniel did it all without complaints.  He worked from sun up to sun down to take care of his wife and family. 
Laughter pealed from her, and he realized he had wiped whatever the hell was on his hand on his face. His mouth curved in an unwilling smile. "I cannot help feeling as if I am in a special hell and wonder what I did, hmm?"
She stilled, staring at him with wide eyes.
Daniel went from someone I loathed to someone that made my heart cheer with how he took care of his family.  I loved watching his transformation.  I loved that he showed us he was capable of being a good and honest man. That he respected Georgie. And how he became someone she could depend on.  Whether it was the emotional weight Georgie carried, or helping around the house, he was kind to her.  He always tried to do what was best for her. So when he kissed her, as her "husband", my heart soared.  And the moment he defended someone's honor, that was it.  I was a goner.  There was no way I couldn't fall head over heels in love with Daniel!
"Are you saying you believe in me?"
This was asked with such incredulity, a rush of amusement went through him. "Is the idea so astonishing to you, wife?"
I liked Georgie right away, even when she was tricking Daniel. I may have judged her lol, but I definitely didn't fault her for the decision she made.  As she became friends with Daniel, liked him and relied on him, I was terrified for her.  This was not her true life.  And while she knew she should tell him the truth, she couldn't.  She was attached.  So I held my breath waiting for the other shoe to drop and it all to blow up in Georgie's face.  And when it did, I didn't see it going that way and my mouth was left hanging wide open!
"Have you ever wanted something so much it hurt to want it, and you also feel incredibly foolish because you know it is not yours to have and it will never be?"
The lines of his face sharpened as he leaned in closer. "Tell me what it is you want, wife, and I will give it to you," he vowed, his gaze steady on hers.
It is you.
One of my favorite things about this book was that Daniel's dirty mouth was phenomenal!  He had a way with words that made things erotic and crated so much heat.  So there were plenty of scenes in this book that were seductive and steamy.  The details had me fanning my face, they were explicitly hot!  And in all, it was the perfect amount for this story!  Another thing I loved was Georgie's younger siblings Anna and Sarah. They were so adorable, and I loved watching Daniel connect with them.  And Lizzie, while older and was someone Georgie could confide in, she had a tiny little story that made my heart so happy!  Add in that we got to see Simon and Minas from the previous book A Matter of Temptation, aww I loved it all!  Just know that you definitely don't have to read the previous one before this!
"I miss the taste of you." The words came from him before he had the presence of mind to censure his desire.
While alternating between Daniel and Georgie, this book was so much fun! An Earl to Remember had the most fabulous of endings and the epilogue will make readers close this book smiling! I can't wait to see what Stacy writes next!
*I voluntarily read and reviewed an advanced copy of this book, provided by the author. All thoughts and opinions are my own.*
Related Posts