About Us
Welcome to our blog! We are a group of women from all around the globe whose love of reading brought us together. We met on a site called Goodreads, where we each review, buddy-read, and most importantly: gush shamelessly over books!  On here, you will find that our posts contain Reviews, Recommendations, Giveaways, Kindle Deals, Upcoming Releases and Cover Reveals.
Our reviews are honest and we do not receive compensation other than the occasional arc copy from an author or publisher. Each of our reviews are spoiler-free, but if you'd like further details on a book, don't hesitate to send us an email!
Although stories with romance is what we gravitate towards most, you will find an array of genres and categories being reviewed here … from Paranormal, Dystopian, Contemporary Romance, Young Adult, New Adult, Adult, Fantasy, Science Fiction, Thrillers and more.
We are always in search of great books and hidden gems. If you love to gush over books as much as we do, feel free to follow along and join us!
Personal Bio's:
I'm a BB, a Bestie Pea, a Chester/Chelster, Chelz, and Chela, the auto-corrected Marvel-and most publicly-I'm Chelsea (Peril Please) on Goodreads and from the US. I love all things romance and have a sad obsession for books, movies, movie posters, and quotes for any and all of the above. All my best Goodreads friends are officially sharing this site with me and I couldn't be more ecstatic-we come from all around the US, UK, France, Germany, and I am so unbelievably happy I met them all. They will be my best friends for life.
When it comes to books? We all differ on our opinions and we may disagree (sometimes greatly) from time to time, but we always have one thread in common: Romance. It may be in varying degrees, but whether it's hand-holding or a hardcore erotic scene, the end all is romance.
I am the most masochistic in the group-my favorite books have the most action, peril, and end of the world romance. Dystopian and paranormal tend to be my favorite, but I slip in a YA/NA from time to time. My favorite scene will always be at the end of a perilous journey where the hero is desperate to save the heroine even at the cost of losing his own life-or vice versa-Call me crazy, but nothing makes me happier when it comes to a book or movie (Yeah, you guessed it, I ADORE superhero movies).
And that's a little bit of me.
---
 I'm a mom to two crazy little boys, I am highly successful at my life goal of being a beach bum, I've been with my husband forever,  I'm from the US, I love snowboarding while listening and signing to music I'm way too old for, and I love to dance.
But the thing I'm obsessed about?  My true addiction?  Reading.  I love to read.  I love to become lost in another world.  Not being able to knock that darn smirk off my face, crying my eyes out or feeling every emotion under the sun with characters usually signifies that I have fallen for a book.  But my all-time favorite books usually have the same theme.  A jerk.  A jerk that makes me fall helplessly head over heels in love with him when he softens for the ones he loves.  I'm a HUGE sucker for those books and they will always be my favorite.  I always finding myself seeking out Paranormal books, but I also love Dystopian, Fantasy, Romance, YA, NA & some Science Fiction.
I am SO lucky to have met these lovely ladies through Goodreads.  ♥
---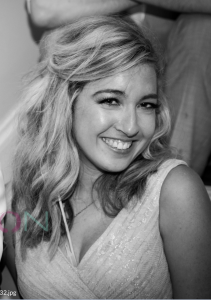 Hi! My name is Brittney but I'll answer to almost anything (britt/hey you/blondie/crazylady…) I'm an avid book obsessor and you can find me reading anything with magic, princes, castles, and well, you get the picture. Reading has become a dear hobby to me and has gotten me through some rough times. Not only that, but it has introduced me to some of my dearest friends from around the world!
The best part though has been introducing my hubs to reading! He and I have been together for over ten years and I've finally gotten him to start reading with me! (I'm the proudest wife ever.) So far, his favorite books are Shades of Magic (V.E. Schwab), The Grisha Trilogy (Leigh Bardugo) and Ready Player One (Ernest Cline) – though he really enjoyed the battle scenes in Throne of Glass (Sarah J Maas). One day I'm going to convince him to do a youtube channel. (Don't tell him I said that.)
When I'm not reading, I'm smudged up with ink or paint! I'm a designer and hand letterer and I actually have my own etsy shop for bookish art prints! I also run a bookish instagram (@reverieandink) where I show off all my favorite books and even some of my lettering process!
---
Taking a break….
Do you remember that awkward kid who's hiding under his blanket to read a book? That wasn't me. Don't get fooled, I always loved reading but while I was spending hours lost in another world, I always was such a chatterbox.  I had to share all the thoughts which crossed my mind when I met all those new friends – yes, because when you're a child, fictional characters are your friends, obviously. Okay, sometimes when you're a grown-up too, I guess.
But you aren't here to read my entire biography, are you? So, let's get straight : I'm Anna, a teacher-gamer-book worm who spends most of her spare time reading, talking about books and writing reviews. Oh, and by the way, I'm French, so if you feel my sentences don't make any sense sometimes, you're probably right. Sorry about that – But I'm willing to improve, it does count, right?
As for my tastes, well, I guess you have to make your own judgment : Sometimes I love fluffy romances, but sometimes I can't stand them. Sometimes I want to be moved by painful books in crazy worlds, but sometimes I'm like, "Stop this pleaaase! I can't handle it!" But in any case, I need to feel something, to live when I read, and above all that, I need to care about the story and the characters. Don't bore me, make me laugh, make my heart beat faster and I'll give you a chance.
In other words, I'm pretty inconsistent in my tastes, even if I have a soft spot for dystopia and fantasy, mostly YA. But if I'm being fair, the most important aspect of a book for me is the characterization – because I can fall for every kind of book if I feel connected to the characters. The opposite is also true though.
Well, I guess I'm done here. Did I say I was super ecstatic to join this blog?