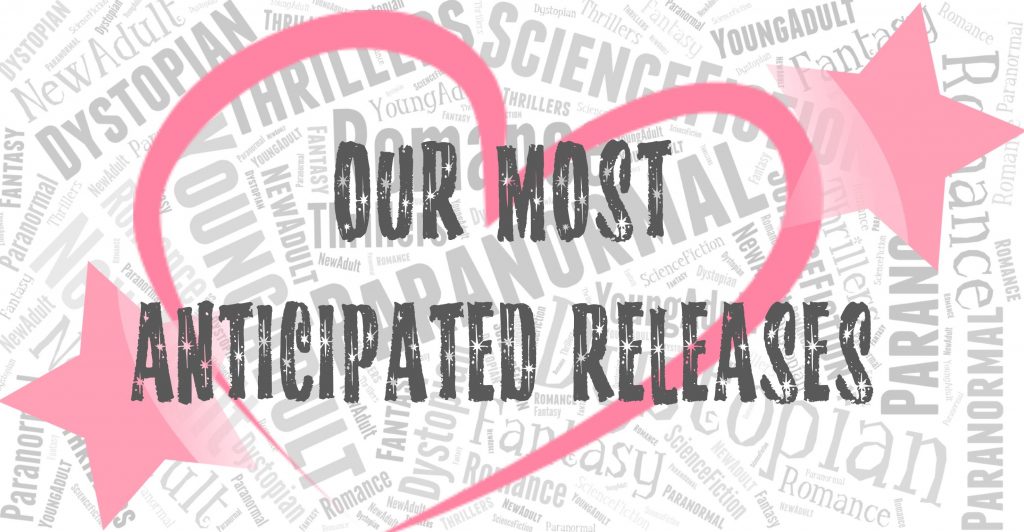 We love talking about books that we can't wait to read! And that includes the ones that haven't been released yet. So around the first day of every month, we'll share with you the books coming out that we're the most excited about. There's a link to Goodreads in case you want to add them to your tbr too! So here are the books we are counting down until they are released in November…..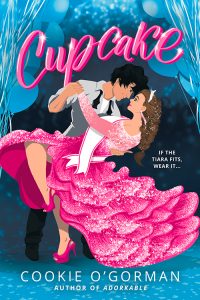 Releases 11/02 – Cupcake by Cookie O'Gorman
I know what you're thinking.
You're thinking this will be just one more story of the ignored, "big-boned " girl, who sheds her glasses and a few extra pounds and finally attracts the notice of the most popular guy in school.
Except it isn't. Because I'm not unpopular. Not all that ignored. And I love the way I look—just as I am.
Then someone puts my name in for Homecoming Court.
The bigger surprise?
People actually vote for me!
Now, I'm a "princess"—whether I like it or not—but the guy I'm paired with isn't exactly Prince Charming.
Rhys Castle is the strong, silent type who always wears a frown—he's certainly never smiled at me. I'm 99.9% sure he hates being on Court and being my partner, but surprisingly…he doesn't switch when he gets the chance.
Turns out Rhys has a secret—something that makes him run hot and cold throughout the entire three weeks of Homecoming festivities. Whether he's stepping on my feet during dance lessons or gallantly escorting me through the Homecoming parade, I can't get a read on this guy, and for the first time, I find my confidence wavering.
But there's more to Rhys than meets the eye. And the more the spotlight shines on me, I realize there's more to me, too.
✩✮✩✮✩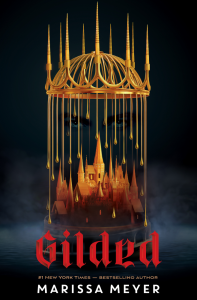 Releases 11/02 – Gilded by Marissa Meyer
Long ago cursed by the god of lies, a poor miller's daughter has developed a talent for spinning stories that are fantastical and spellbinding and entirely untrue.
Or so everyone believes.
When one of Serilda's outlandish tales draws the attention of the sinister Erlking and his undead hunters, she finds herself swept away into a grim world where ghouls and phantoms prowl the earth and hollow-eyed ravens track her every move. The king orders Serilda to complete the impossible task of spinning straw into gold, or be killed for telling falsehoods. In her desperation, Serilda unwittingly summons a mysterious boy to her aid. He agrees to help her… for a price. Love isn't meant to be part of the bargain.
Soon Serilda realizes that there is more than one secret hidden in the castle walls, including an ancient curse that must be broken if she hopes to end the tyranny of the king and his wild hunt forever.
✩✮✩✮✩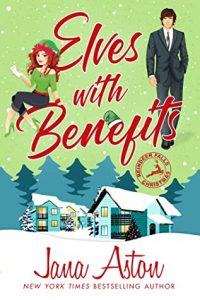 Releases 11/04 – Elves with Benefits (Reindeer Falls #4) by Jana Aston
My name is Ryan Sheppard and I don't care about Christmas. I'm only returning to my over-the-top Christmas-themed hometown to sell the house I inherited from my late uncle so I can get back to the city and the promotion I'm chasing at work.
Unfortunately, there's a flaw in my plan.
Because according to the town Christmas cop, there's a moratorium on selling houses during December. She says it's bad for the aesthetic. She's also slapping an alarming number of tickets on my front door. For being in violation of holiday décor. And I swear on Rudolph himself, one is for 'unsportsmanlike Christmassing.'
To top it all off, this Christmas cop looks like a red-headed elf.
A sexy red-headed elf…
✩✮✩✮✩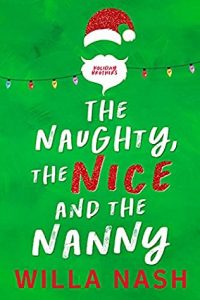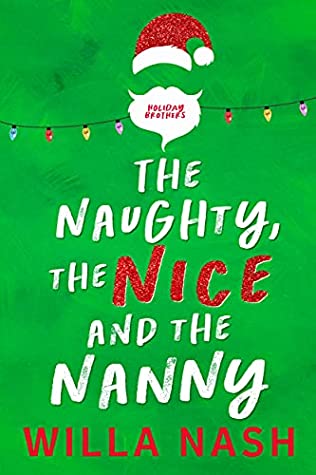 Releases 11/04 – The Naughty, The Nice and The Nanny (Holiday Brothers #1) by Willa Nash
One week with one little girl—an angel, according to my staffing agency. Acting as the short-term nanny for a single dad should have been an easy way to make some extra cash. Until I show up for my first day and face off with a demon disguised as a seven-year-old girl wearing a red tutu and matching glitter slippers.
Oh, and her father? My temporary boss? Maddox Holiday. The same Maddox Holiday I crushed on in high school. The same Maddox Holiday who didn't even know I existed. And the same Maddox Holiday who hasn't set foot in Montana for years because he's been too busy running his billionaire empire.
Enduring seven days is going to feel like scaling the Himalayas in six-inch heels. Toss in the Holiday family's annual soiree, and Christmas Eve nightmares really do come true. But I can do anything for a week, especially for this paycheck, even if it means wrangling the naughty, impressing the nice, and playing the nanny.
✩✮✩✮✩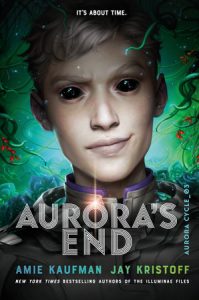 Releases 11/09 – Aurora's End (The Aurora Cycle #3) by Amie Kaufman & Jay Kristoff
Is this the end?
What happens when you ask a bunch of losers, discipline cases, and misfits to save the galaxy from an ancient evil? The ancient evil wins, of course.
Wait. . . . Not. So. Fast.
When we last saw Squad 312, they working together seamlessly (aka, freaking out) as an intergalactic battle raged and an ancient superweapon threatened to obliterate Earth. Everything went horribly wrong, naturally.
But as it turns out, not all endings are endings, and the team has one last chance to rewrite theirs. Maybe two. It's complicated.
Cue Zila, Fin, and Scarlett (and MAGELLAN!): making friends, making enemies, and making history? Sure, no problem
Cue Tyler, Kal, and Auri: uniting with two of the galaxy's most hated villains? Um, okay. That, too.
Actually saving the galaxy, though?
Now that will take a miracle.
✩✮✩✮✩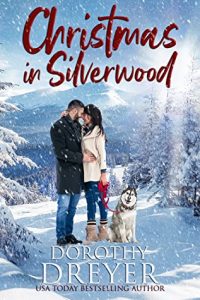 Releases 11/09 – Christmas in Silverwood by Dorothy Dreyer
Holly St. Ives is in a rut. Once a celebrated artist making waves in New York City, she finds herself uninspired and unmotivated. Her recent break-up is the last push she needs to spend Christmas alone in the small mountain cabin her father left her in his will—a family getaway she hasn't visited in years.
After a near accident in Silverwood, she meets Nick, whom she learns is responsible for everything in the small town running like clockwork—including the upcoming Christmas festival and the town's entry in the state-wide tree decorating contest. Holly doesn't have time for Nick's beguiling charm or mouth-watering holiday cupcakes, but after meeting his father, she discovers there's more to the town's obsession with the contest than meets the eye.
Touched by the prospect that the whole town is willing to pitch in for a good cause, Holly can feel her Christmas spirit making a comeback as Nick—and his team of Alaskan Malamutes—works his way into her heart to show her the meaning of Christmas again.
✩✮✩✮✩
Releases 11/11 – One Night with a Nutcracker (Reindeer Falls #5) by Jana Aston
My name is Jake Sheppard and I'm ambivalent about Christmas and the Christmas-themed town I grew up in. But when I find out my late uncle left me an old barn and acres of land, the decision to return home to build my dream golf course is an easy one.
Imagine my surprise when I arrive and find out I have a squatter.
An incredibly sexy squatter, with wavy blonde hair, green eyes, a free spirit… and a herd of goats.
Sutton hates my guts. Apparently evicting a non-paying non-tenant and her goats weeks before Christmas is grounds for war.
Except Sutton's version of war includes flinging her clothing at me and, as it turns out, I might be in way over my head with this girl…
✩✮✩✮✩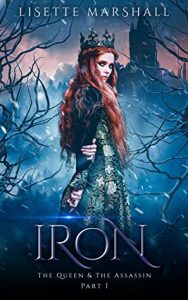 Releases 11/16 – Iron (The Queen & The Assassin, #1) by Lisette Marshall
The Queen
Two years ago she poisoned her violent husband. Now Tamar, Queen of Redwood, rules her kingdom on her own, with an iron fist and a closely guarded heart. Surrounded by scheming nobles, she can never afford to lose control of her court – or of herself. But when an infuriatingly handsome assassin breaks into her room one night, her careful web of authority shatters at once.
The Assassin
Raised in the treacherous Taavi Empire, Runo knows every rule of survival. Don't love, don't get attached. Kill, and live. His newest target may wear a crown, but thanks to a traitor offering him an easy way into her rooms, even the Iron Queen of Redwood will have to make peace with her mortality soon. Except that Tamar turns out to be everything but the easy prey Runo assumed…
A Dangerous Alliance
But as they play their deadly game of survival, a far greater danger looms. With a nameless traitor now out for both their lives, the queen and the assassin have no choice but to close an uncertain alliance. And as shadows of the past draw them deeper and deeper into a tangle of deceit, sizzling hate turns into something much more dangerous…
Iron is the first book of The Queen & The Assassin, a steamy fantasy romance trilogy taking place in the dangerous, passionate world of the Five Kingdoms. Perfect for readers of enemies to lovers fantasy and adult fairy tale romances, it tells a story of deadly intrigue, dark secrets and sizzling forbidden love.
✩✮✩✮✩
Releases 11/16 – Home with You (Winter Valley #2) by Claudia Y. Burgoa & Grahame Claire
When I was a kid I used to doodle pictures of my best friend.
Well, my best imaginary friend: Harley the Hedgehog Fairy.
Turns out that making up stories about her catapulted me into children's book stardom.
Now I'm living my dream and working from home.
I'd rather spend my time creating stories than face the real world.
Except, my agent has other plans. He's booked me on a signing tour across the country.
Six weeks outside of my comfort zone.
I thought that was painful – until I saw Morgan Bradford entering a bookstore holding the hand of a little girl.
He told me he didn't want commitment.
But I guess he didn't want commitment with me.
After five painful minutes, I see him off and hope we never cross paths again.
I'm not that lucky.
A blizzard, a car accident and a concussion send me back to Winter Valley…
And under Morgan's care.
Maybe I am that lucky.
✩✮✩✮✩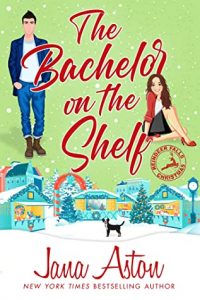 Releases 11/18 – The Bachelor on the Shelf (Reindeer Falls #6) by Jana Astonr
My name is Carter Sheppard and I actually like Christmas and my Christmas-themed hometown of Reindeer Falls. In fact, when I learn I have to return home in order to collect an inheritance—my uncle's dog—it puts life into perspective for me.
Sure, playing professional baseball is great. But it won't last forever and every player needs a long-term game plan.
And I just found mine. Wrapped up in the feisty, bespectacled package of the town librarian.
Unfortunately, she thinks I'm a player in all aspects of the word, but I've got a plan to win her over. Starting with a fake engagement…
✩✮✩✮✩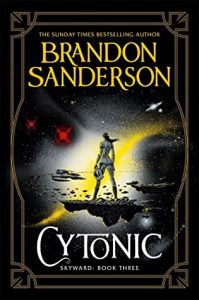 Releases 11/23 – Cytonic (Skyward #3) by Brandon Sanderson
From the #1 New York Times bestselling author of the Reckoners series, the Mistborn trilogy, and the Stormlight Archive comes the third book in an epic series about a girl who will travel beyond the stars to save the world she loves from destruction.
Spensa's life as a Defiant Defense Force pilot has been far from ordinary. She proved herself one of the best starfighters in the human enclave of Detritus and she saved her people from extermination at the hands of the Krell—the enigmatic alien species that has been holding them captive for decades. What's more, she traveled light-years from home as an undercover spy to infiltrate the Superiority, where she learned of the galaxy beyond her small, desolate planet home.
Now, the Superiority—the governing galactic alliance bent on dominating all human life—has started a galaxy-wide war. And Spensa's seen the weapons they plan to use to end it: the Delvers. Ancient, mysterious alien forces that can wipe out entire planetary systems in an instant. Spensa knows that no matter how many pilots the DDF has, there is no defeating this predator.
Except that Spensa is Cytonic. She faced down a Delver and saw something eerily familiar about it. And maybe, if she's able to figure out what she is, she could be more than just another pilot in this unfolding war. She could save the galaxy.
The only way she can discover what she really is, though, is to leave behind all she knows and enter the Nowhere. A place from which few ever return.
To have courage means facing fear. And this mission is terrifying.
✩✮✩✮✩
So these are the books we can't wait to be released this month! Are you excited about any of these releases too? Or is there a book we missed that we should definitely check out? Let us know. ♥