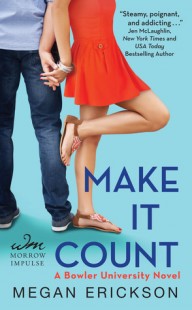 Make it Count

(Bowler University #1)
by Megan Erickson
Purchase on: Amazon, iBooks, 
Book Depository
Add to: Goodreads


Synopsis:

Kat Caruso wishes her brain had a return policy, or at least a complaint hot-line. The defective organ is constantly distracted, terrible at statistics, and absolutely flooded with inappropriate thoughts about her boyfriend's gorgeous best friend, Alec…who just so happens to be her brand new math tutor. Who knew nerd was so hot?

Kat usually goes through tutors like she does boyfriends—both always seem to bail when they realize how hopeless she is. It's safer for her heart to keep everyone at arm's reach. But Alec is always stepping just a little too close.

Alec Stone should not be fantasizing about Kat. She's adorable, unbelievably witty, and completely off limits. He'd never stab his best friend in the back…

But when secrets are revealed, the lines of loyalty are blurred. To make it count, Alec must learn messy human emotions can't be solved like a trigonometry function. And Kat has to trust Alec may be the first guy to want her for who she is, and not in spite of it.
Review:
Fun. Cute. Hilarious.
That's how I'd describe this book in three words. Basically, it's all I want in a New Adult novel and Megan Erickson managed to deliver that perfectly with her witty writing style, funny dialogues and just the right amount of swoon and feels.
"I'd bet my truck that girl is in love with you."
"You hate that rust bucket."
"Right, but it's still a working rust bucket and I don't have money to buy a newer rust bucket, so it's still good collateral."
"So, if I bet my rust bucket are we just going to trade them? That seems really stupid because no one wins."
What I probably value most in a book is its characters. The characters usually make or break a book for me, and sadly a lot of NA books have a really annoying MC that pisses me off and then some. Not Megan's heroine though. No, I can proudly tell you that Kat Caruso is one hell of a woman. She's caring, likable, and most importantly, she's hilarious! I absolutely LOVED being in her head. It was so much fun, seriously. If she was real, I'd totally be her BFF, or maybe her MBF. Sure, she had her dense moments, especially when it came to Alec's feelings for her, but not very many at that. So yeah, she isn't perfect by all means, but duh, who is? It just made her even more real and relatable. I could most definitely relate to Kat, however different our personalities actually are. She has a big heart and is such a great character, I just couldn't help but love her.
"You remembered I had a green smoothie?" He didn't want to tell her he remembered the smoothie was green because it matched the green sweater she was wearing that day. Because that would definitely be weird.
Alec Stone (awesome name, right?) is the love interest of the story, and in the beginning of the book, Kat's boyfriend's best friend. Screams drama, I know. But trust me when I say that this book had the exact perfect amount of drama, not too much and never going so far that it annoyed me. It was perfectly done.
"Yeah, something happened. Max happened."
"I don't-"
"Fucking asshole."
"What-"
"I would have punched him in the face if I didn't think I'd break my hand on his steel-beamed jaw."
The scenes between Alec and Max, Kat's aforementioned boyfriend, were actually some of my favorite moment of this book. Those two are such a pair, really. I adore them so much and can't wait to read more about their friendship in Make It Right. While Max is acting like a total idiot in a huge part of this book, I never ceased to like him and really look forward to reading his story.
Max was shirtless, a big A painted on his chest. Alec remembered Max was so proud to cheer him on, and Alec didn't have the heart to tell him that he should probably read The Scarlet Letter before he walked around with a big red A on his chest.
Alec on the other hand is passé for now and oh boy, is that making me sad. He is such a swoon-worthy hero. Alec is smart. Like wanting-to-become-a-lawyer smart. And he says the cutest things sometimes! So adorable. But what truly warmed my heart was the way he treats Kat. He has so much patience and is such a sweet guy which is basically all you could want in a boyfriend. And yet, he never managed to bore me or anything! Oh no, he and Kat were way too much fun for that. There was not a second of this book that I found boring. There were an infinite amount of scenes that made me burst out in laughter or made me grin like a fool.
"There's no way I'm cool with that." He was only digging his hole deeper. Her face was so red, he thought steam would shoot from her ears. "You're not cool with it. You're not cool with it? You're not cool with it!" She sputtered. He chuckled. "No matter what punctuation you put at the end, that's what I said."
Next to Alec and Kat, Danica and Lea were my favorite characters. Especially Danica has quite an amount of scenes since she's Alec's friend and she was such an enhancement for the story with her craziness and girl power.
Danica's blue eyes searched his before she exhaled in exhaustion and slung an arm around his shoulder. "Oh, Stone. My misguided, left-brained friend."
If you're in the mood for something fun with kickass characters, don't hesitate! Pick this up. You will not regret it.